Informationweek Influencer
Dept. of Technology (@SFCityCIO)
Twitter Bio:

San Francisco Acting CIO Ken Bukowski (maintained by @ronvinson ) - Dept. of Technology

Location:

San Francisco, CA

Website:
Dept. of Technology's Selections From the Web
Talks of cyberwar and a cyber Pearl Harbor seem to be a regular fixture of news reports in the last few months, with prominent U.S. administration officials like Janet Napolitano or Leon Panetta regularly touting the threat of a cyber attack on the United States. But not everybody is buying it. For one, Howard Schmidt, the former chief cybersecurity advisor to President Barack Obama, is skeptical. "I don't share the viewpoint that we're on the brink of disaster every time a new worm comes out or a new DDoS (distributed denial of service) comes out," he told Mashable. In fact, he even disagrees with the terminology that's being used. "I don't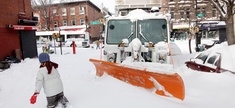 Data from more than 10,000 brain injury patients -- including hundreds of variables and outcomes -- is being tracked in an ongoing government project that began 26 years ago.The base's hangars bear a remarkable resemblance to similar structures on other American drone outposts.With a foot of snow in New York City all but assured by Saturday morning, PlowNYC is about to hit the big time. Unprotected computers at a cybersecurity contractor that services the Defense Information Systems Agency and many other federal agencies were compromised in a way that enabled the company's product to run viruses on customer networks. The incident echoes a
Upcoming Events
This Week's Issue
Free Print Subscription
Subscribe
Special Issue
Current Government Issue
In this issue:
The Government CIO 25: These influential and accomplished government IT leaders are finding ways to be cost efficient and still innovate.
Rethink Video Surveillance: It's not just about networked cameras anymore. New technology provides analytics, automation, facial recognition, real-time alerts and situational-awareness capabilities.
Subscribe Now
Featured Whitepapers
Featured Reports
Video