Informationweek Influencer
Twitter Bio:

Online marketing, content promotion, marketing tools and SEO. Love family and friends, gardening, hiking and the mountains. Texan by birth in Virginia by choice

Location:

Virginia

Website:
debra mastaler's Selections From the Web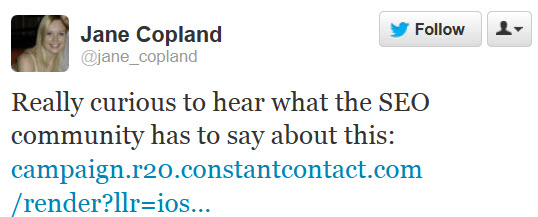 We all read the advice online: don't build crappy links. Don't use short term benefit tactics in SEO. But do we always heed that advice? Can we always afford to?
The latest reality check came in the shape of a small online business in the UK, Children's Furniture Store (CFS). Jane Copland  tweeted about an online letter in which they announce that, due to Penguin update, they are
Upcoming Events
This Week's Issue
Subscribe Now
Current Healthcare Issue
In this issue:
Healthcare CIO 20: Innovation is tough amid today's regulatory checklists. These leaders are getting it done.
Lessons Learned: Boston area CIO John Halamka reflects on the marathon bombing
Subscribe Now
Current Education Issue
In this issue:
Hacking Higher Ed: The cybersecurity challenge on college campuses lies as much with the students as with malicious outsiders.
When Education Gets Too Virtual: Students can use technology to undermine the integrity of education.
Subscribe Now
Featured Whitepapers
Featured Reports
Video