Informationweek Influencer
Twitter Bio:

Teessider, Techknowologist and VMware's Senior Cloud Infrastructure Evangelist. Tweets are my own...

Location:

iPhone: 37.409290,-122.156281

Website:
Mike Laverick's Selections From the Web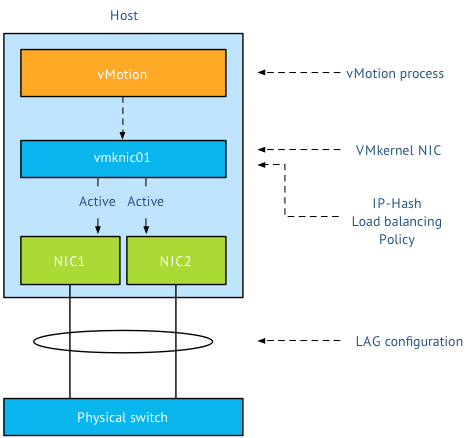 After posting the article "Choose link aggregation over Multi-NIC vMotion" I received a couple of similar questions. Pierre-Louis left a comment that covers most of the questions. Let me use this as an example and clarify how vMotion traffic flows through the stack of multiple load balancing algorithms and policies: A question relating to Lee's post. Is there any sense to you to use two uplinks bundled in an aggregate (LAG) with Multi-NIC vMotion to give on one hand more throughput to vMotion traffic and on the other hand dynamic protocol-driven mechanisms (either forced or LACP with stuff like Nexus1Kv or DVS 5.1)? Most of the time, when I'
Dell is now shipping an EqualLogic storage blade array, and claiming it is much better than HP's equivalent product.The idea is to converge blade form factor servers, storage and networking hardware inside a single rackmount enclosure or chassis that can be bought, installed and managed as a single system. This is easier to do than buying, installing and managing the components individually, and makes sense when you're buying lots of the stuff or need a single miniaturised data centre.Dell's M1000e chassis can contain PowerEdge blade servers, Force10 and PowerConnect network gear as well as the EqualLogic storage blades to provide an easy-to-
The x86 server virtualization infrastructure market includes all x86-based workloads (i.e., application, Web and database servers; hosted virtual desktops [HVDs]; file, print and security servers) deployed on standard x86-based physical servers.
Not included are higher-level management functions, such as operational automation tools that deal with virtual resources, application performance tools that leverage and monitor virtualization, disaster recovery tools that leverage virtualization,
Upcoming Events
This Week's Issue
Free Print Subscription
Subscribe
Special Issue
Current Government Issue
In this issue:
The Government CIO 25: These influential and accomplished government IT leaders are finding ways to be cost efficient and still innovate.
Rethink Video Surveillance: It's not just about networked cameras anymore. New technology provides analytics, automation, facial recognition, real-time alerts and situational-awareness capabilities.
Subscribe Now
Featured Whitepapers
Featured Reports
Video