Bose QuietComfort 35 Wireless Headphones: Music To Business Travelers' Ears
Bose has long pitched its active noise-cancellation headphones as the ideal travel companion, but they were always tied down with wires. The new QuietComfort 35 adds Bluetooth to the equation.
There's nothing quite like settling into your airplane seat, slipping on some noise-cancelling headphones, and snuffing out the din of fellow passengers, flight attendants, and the dull roar of airplane engines.
I've relied on the Bose QuietComfort 15 headphones for years. Silencing the ambient sound of an airplane for your own music, movies, or TV shows can help alleviate the stress of air travel -- until the person in the window seat needs to use the restroom and you get tangled in the cable of your headphones.
Bose's new QuietComfort 35 noise-cancelling headphones have one major benefit over the company's previous efforts: They're wireless.
The QC35s are similar to Bose's QC25s. These over-the-ear headphones completely envelop your years to provide maximum comfort and sound reduction. They add Bluetooth with the A2DP stereo profile and Bose's proprietary codec to create the best possible sound. Pairing is made easy thanks to NFC, and Bose's Android/iOS Bose Free Connect app can help manage the QC35s. Microphones, buried inside and outside the earcups, are able to detect outside noise and issue the opposite audio signal in a fraction of a millisecond. Bose says the QC35s also have a revised digital equalizing system to help keep sound levels balanced.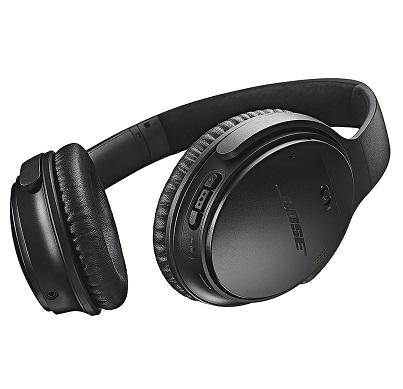 A rechargeable lithium ion battery provides 20 hours of playback, which is on par with competing devices from the likes of Beats and Plantronics. The right earcup includes a remote for jumping tracks, controlling volume, and answering calls. Like many over-the-ear Bluetooth headsets, the QC35s include a 3.5mm backup headphone jack and a case in which to carry them around.
The QC35s come in black or silver and are available for $350 starting Monday, June 6.
Bose introduced three other sets of headphones, including the SoundSport Wireless, SoundSport Pulse, and QuietControl 30.
The SoundSport Wireless is an in-ear Bluetooth headset for fitness buffs.
It includes Bose's "Stay-Hear" wingtips to help them remain in place even during vigorous exercise. Interestingly, the SoundSport Wireless doesn't offer passive sound reduction -- it allows some ambient noise to reach year ear. This might be for safety reasons. It is sweat and water resistant, and includes a microphone and remote for answering calls and managing playback. Bose says the call quality for phones is unsurpassed, and its Bluetooth connection is more reliable than most.
The SoundSport Wireless is good for six hours of playback, which is in line for this segment. It costs $150 and is also available starting today.
[Check out these eight tools for road warriors.]
The SoundSport Pulse, available in September for $200, adds an in-ear heart rate monitor to the SoundSport Wireless. Battery life drops to five hours, but most other features are similar to the SoundSport Wireless.
Both of these are sold with a simple carrying case, but for $50 more you can pick up a charging case from Bose.
Last up is the QuietControl 30 headphones. These are neckband or necklace style, which means the battery and controls rest around your neck and short wires send the earbuds to your ears. The QuietControl 30s will include active noise cancellation and boast 10 hours of battery life. A protective case is included, as are three different eartip sizes. The Quiet Control 30 will go on sale in September for $300.
Bose's new collection of wireless headphones is compelling, but the phones are competing in a crowded market. Bose has always offered premium products, and it charges a premium price to match.
Eric is a freelance writer for InformationWeek specializing in mobile technologies. View Full Bio
We welcome your comments on this topic on our social media channels, or
[contact us directly]
with questions about the site.