Robot Villains: What They Teach Us
This year's National Robotics Week, April 4-12, occurred as warnings against "killer robots" reached a fever pitch. Robots, however, are but tools -- tools that do their masters' bidding, as they have been programmed to do. Here are three examples of the lessons we can learn from fictional robot villains to prevent the apocalyptic future that Neo-Luddites fear.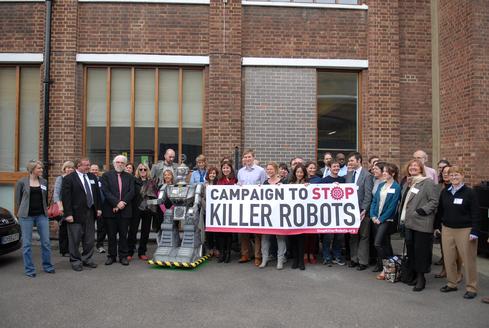 Beware the killer robots!
So goes the warning from figures across academia, nonprofit advocacy, and the technology industry. Notable figures -- including Elon Musk, Stephen Hawking, and Andrew McAfee -- have all spoken out, in some form or another, against the ongoing evolution of artificial intelligence.
As AI becomes increasingly intelligent (indeed, one program "passed" the Turing Test last year), computers and robots are becoming increasingly autonomous.
This is frightening to some.
Advocates released a report this past week urging the United Nations to move towards a wholesale international ban "on the development, production and use of fully autonomous weapons."
Titled "Mind the Gap -- The Lack of Accountability for Killer Robots," the report further advocates that criminal culpability and/or civil liability be assigned to those who would create or program any autonomous device or other AI that can kill. It is jointly published by Human Rights Watch, a New York-based nonprofit advocacy group, and Harvard Law School's International Human Rights Clinic. Human Rights Watch is notable for serving as one of several non-governmental organizations on the Steering Committee of The Campaign to Stop Killer Robots.
For National Robotics Week, we at InformationWeek decided that the concern about killer robots merits a closer look. Earlier this week we took some time to rebut anti-robotics fearmongers' most relied-upon arguments against AI. Now we hope to put a lens to the notion of "killer robots" and to talk more precisely about what should really concern society -- leaving the scary rhetoric aside.
The best way to do this, we determined, was examining examples of villainous killer robots in science fiction. On the following pages, we take a look (in reverse chronological order) at robot villains from the minds of three of the world's most prolific science fiction writers. We highlight what exactly made these fictional robots so villainous and deadly. In so doing, we offer lessons to prevent such robotic lethality ever seeing the light of day in real life.
What do you think about killer robots? Should they be banned? What lessons do you draw from our examples? Did we miss one of your favorite robot villains? Let us know your thoughts in the comments section below.
Joe Stanganelli is founder and principal of Beacon Hill Law, a Boston-based general practice law firm. His expertise on legal topics has been sought for several major publications, including US News and World Report and Personal Real Estate Investor Magazine. Joe is also ... View Full Bio
We welcome your comments on this topic on our social media channels, or
[contact us directly]
with questions about the site.