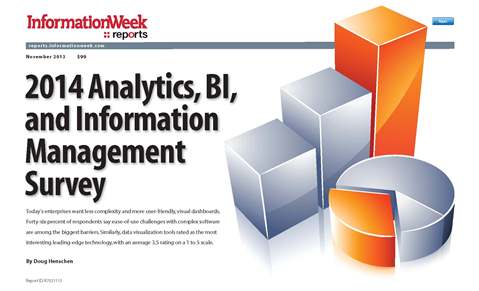 2014 Analytics, BI, and Information Management Survey
The desire to simplify data analytics and business intelligence has been gaining steam for years. But this year, interest in visual data analysis tools came to the forefront, and the use of Hadoop and NoSQL databases made slow but steady gains. While established companies like IBM, Microsoft, Oracle, SAP and SAS are still the top dogs for BI and analytics, smaller and nimbler vendors like Tableau and QlikTech are forcing the giants to innovate.

Audio Interviews
Archived Audio Interviews
Is your IT team driving revenue? At UPMC, the No. 1 company in the InformationWeek 500, generating revenue is an explicit IT goal. Join a live chat with CIO Dan Drawbaugh on this and more.