2/28/2013
12:52 PM



Anonymous: 10 Things We've Learned | Yahoo Flap Misses Bigger Point
QUOTE OF THE DAY

"Reading without reflecting is like eating without digesting." -- Edmund Burke

ALSO SEE JOIN THE CONVERSATION Posted By AustinIT:

"I think it's a forgone conclusion that VoIP is going to relegate the carriers to nothing more than Mobile ISP's in the not too distant future. In that context, it makes sense for them to sign on with any company offering a mobile device."

In reply to: "Mozilla Firefox OS Ignites Carrier Rebellion" View Entire Response

|

Post Your Own Reply
DOWNLOAD INFORMATIONWEEK'S LATEST DIGITAL ISSUE

Software is driving storage innovation, but solid-state technology is infiltrating all levels.

ALSO SEE:

A Better Way To Build Business Software; 3 Ways IT Still Fails Itself

DOWNLOAD NOW FREE (Registration Required)

REPORTS & WHITEPAPERS
MOST POPULAR NEWS
IE10 on Windows 7: 5 Essential Facts
Four months after debuting on Windows 8, Internet Explorer 10 has finally come to Windows 7. Here are the five essential facts users should know.
10 Best Android Apps Of 2012
Check out these 10 gems that stood out from the crowd of 700,000 Android apps.
Code.org Urges Students To Embrace Programming
After tech industry hiring practices left students reluctant to go into software engineering, the industry wants to make up.
Android For Google Nexus UI Re-Imagined
For Android enthusiasts Paranoid Android is a cool re-interpretation / customization of the Android 4.2.X OS. But, the complexity of the install, as well as the requirement to root the device will likely deter many people from using Paranoid Android 3, which is a shame. It's a well thought-out, extremely stable, clever modification to the stock UI. With the addition of the PIE feature in version 3 it gives Android 4.2.X some serious competition.
8 LinkedIn Etiquette Mistakes
LinkedIn is not just another social network like Twitter where anything goes. Avoid these "don'ts" and avoid becoming a LinkedIn pariah.
RESOURCES AND EVENTS
Don't Miss Interop Las Vegas
Attend Interop Las Vegas, May 6-10, and attend the most thorough training on Apple Deployment at the NEW Mac & iOS IT Conference. Use Priority Code DIPR02 by March 2 to save up to $500 off the price of Conference Passes. Join us in Las Vegas for access to 125+ workshops and conference classes, 350+ exhibiting companies, and the latest technology. Register for Interop today!
Get More Details And Register Today
This e-mail was sent to

EmailAddress

InformationWeek Daily

-- Published By

InformationWeek

600 Community Drive

Manhasset, NY 11030

To update your profile, change your e-mail address, or unsubscribe,

click here.

Thoughts about this newsletter?

Give us feedback.

Keep This Newsletter Out Of Your SPAM Folder

Don't let future editions of InformationWeek Daily go missing. Take a moment to add the newsletter's address to your anti-spam white list:

email@techwebnewsletters.com

If you're not sure how to do that, ask your administrator or ISP.

Or check your anti-spam utility's documentation.

We take your privacy very seriously. Please review our

Privacy Statement.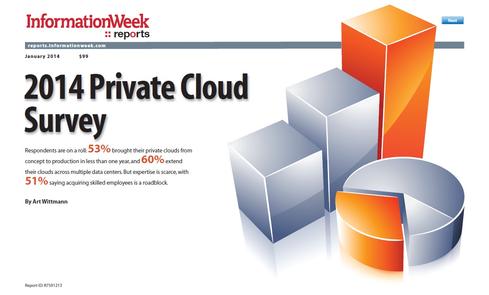 2014 Private Cloud Survey
Respondents are on a roll: 53% brought their private clouds from concept to production in less than one year, and 60% ­extend their clouds across multiple datacenters. But expertise is scarce, with 51% saying acquiring skilled employees is a roadblock.

Audio Interviews
Archived Audio Interviews
Penske Truck Leasing revitalized its e-commerce experience this year, and this session will bring you both tech and marketing executives discussing the ups and downs of its effort. Penske Truck Leasing is the No. 4 company in the current InformationWeek 500 ranking. Join us as we talk with Bill Stobbart, senior VP of information technology, and Ann Walsh, VP of interactive marketing, about what we can learn from Penske Truck Leasing's journey.



To save this item to your list of favorite InformationWeek content so you can find it later in your Profile page, click the "Save It" button next to the item.
If you found this interesting or useful, please use the links to the services below to share it with other readers. You will need a free account with each service to share an item via that service.

Tweet This