3/25/2013
12:26 PM



Big Data Debate: Will Hadoop Dominate?
QUOTE OF THE DAY

"A successful man is one who can lay a firm foundation with the bricks others have thrown at him." -- David Brinkley

JOIN THE CONVERSATION Posted By PJS880:

"Regardless of how many changes Apple makes to their map application, I will never use it. Due to their past performance of unreliability, they have killed any loyalty to the application at all."

In reply to: "Apple Maps Slowly Improving" View Entire Response

|

Post Your Own Reply
INSIDE THIS WEEK'S ISSUE OF INFORMATIONWEEK

Companies want more than they're getting today from big data analytics. But small and big vendors are working to solve the key problems.

Also in the new, all-digital issue of InformationWeek: Jay Parikh, the Facebook's infrastructure VP, discusses the company's big data plans.

DOWNLOAD NOW FREE (Registration Required)

REPORTS & WHITEPAPERS
FEATURED REPORTS
Security Implications Of Big Data Strategies
To understand how to secure big data, you have to understand what it is - and what it isn't. As organizations set about building big data clusters, they're finding that many of the best practices for securing such clusters are the same used to secure any corporate data. However, there are some big differences as well.
Download Now (Registration Required)



Buyer's Guide: PaaS Providers
The platform-as-a-service value proposition is so strong, and so aligned with business and developer interests, that it's a matter of when, not if, PaaS becomes the standard for Web applications. It's time to evaluate your options and plan a migration strategy. This report, the companion to our online comparison, explains the 7 key factors to consider.
Download Now (Registration Required)
MOST POPULAR NEWS
RESOURCES AND EVENTS
This e-mail was sent to

EmailAddress

InformationWeek Daily

-- Published By

InformationWeek

600 Community Drive

Manhasset, NY 11030

To update your profile, change your e-mail address, or unsubscribe,

click here.

Thoughts about this newsletter?

Give us feedback.

Keep This Newsletter Out Of Your SPAM Folder

Don't let future editions of InformationWeek Daily go missing. Take a moment to add the newsletter's address to your anti-spam white list:

email@techwebnewsletters.com

If you're not sure how to do that, ask your administrator or ISP.

Or check your anti-spam utility's documentation.

We take your privacy very seriously. Please review our

Privacy Statement.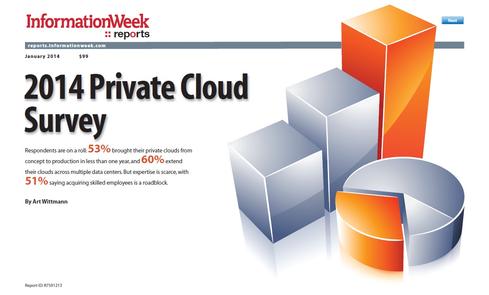 2014 Private Cloud Survey
Respondents are on a roll: 53% brought their private clouds from concept to production in less than one year, and 60% ­extend their clouds across multiple datacenters. But expertise is scarce, with 51% saying acquiring skilled employees is a roadblock.

Audio Interviews
Archived Audio Interviews
Penske Truck Leasing revitalized its e-commerce experience this year, and this session will bring you both tech and marketing executives discussing the ups and downs of its effort. Penske Truck Leasing is the No. 4 company in the current InformationWeek 500 ranking. Join us as we talk with Bill Stobbart, senior VP of information technology, and Ann Walsh, VP of interactive marketing, about what we can learn from Penske Truck Leasing's journey.



To save this item to your list of favorite InformationWeek content so you can find it later in your Profile page, click the "Save It" button next to the item.
If you found this interesting or useful, please use the links to the services below to share it with other readers. You will need a free account with each service to share an item via that service.

Tweet This