12/14/2012
12:49 PM



Facebook Tweaks Privacy Again | 5 Reasons Outsourcing Is Here To Stay
QUOTE OF THE DAY

"Justice without force is powerless; force without justice is tyrannical." -- Blaise Pascal

ALSO SEE JOIN THE CONVERSATION Posted By AustinIT:

"If Dell wants to be more successful in the consumer and SMB space (where they are lagging), they need to completely overhaul their approach to those markets... starting with a complete revamp of their Web properties."

In reply to: "Michael Dell: Our Transformation Is Complete"View Entire Response

|

Post Your Own Reply
DOWNLOAD INFORMATIONWEEK'S LATEST DIGITAL ISSUE

Tech spending is looking up, but IT must focus more on customers and less on internal systems. Also in the new, all-digital issue of InformationWeek: Five painless rules for encryption.

DOWNLOAD NOW FREE (Registration Required)

REPORTS & WHITEPAPERS
FEATURED REPORTS
Strategy: 5 Keys to Painless Encryption
Even as mobility and cloud take off, too many companies still leave data in the clear, spooked by operational and performance concerns. Yes, key management remains a problem. But here are five ways to use encryption without breaking your existing infrastructure, plus a look ahead at the next big thing: identity-based encryption.
Download Now (Registration Required)



Review & Analysis: 3 MDM Suites
Nine in 10 IT pros think mobile will increase in importance, but fewer than half have deployed or are in the process of deploying mobile device management systems. Our review of suites from Good Technology, Symantec and Research In Motion, plus analysis of the most important MDM capabilities, reveals why some companies are holding off.
Download Now (Registration Required)
MOST POPULAR NEWS
7 Cheap Cloud Storage Options
You have a multitude of cloud storage choices beyond Dropbox, for enterprise and personal use. But make sure you understand the differences.
8 Cloud Tools For Road Warriors
Cloud services have become indispensable for doing business on the move. Check out these valuable tools.
GM To Hire 1,500 IT Pros In Michigan
IT development center in Warren is the latest location in General Motors' plan to ramp up staff and reduce its use of outsourcing.
13 Big Data Vendors To Watch In 2013
From Amazon to Splunk, here's a look at the big data innovators that are now pushing Hadoop, NoSQL and big data analytics to the next level.
12 Best iPhone, iPad Apps Of 2012
You already know about Skype, Instagram and Angry Birds. Check out these business-friendly iPhone and iPad apps you may not have tried, plus an amusing diversion or two.
5 Times More Data, Lower Costs

Data isn't just rapidly growing but also evolving, making storage management increasingly complex and costly. Join our webcast to gain insights on how to maximize efficiency of internal and external storage systems while reducing your overall storage costs. When: 12/18 @ 10AM ET

More Information & Registration
RESOURCES AND EVENTS
Don't Miss Cloud Connect Silicon Valley
Cloud Connect returns to Silicon Valley, April 2-5, 2013, for four days of lectures, panels, tutorials and roundtable discussions on a comprehensive selection of cloud topics taught by leading industry experts. Use priority code DIWEEK by Jan. 1 to save up to $700 with Super Early Bird Savings.
Register Today!
This e-mail was sent to

EmailAddress

InformationWeek Daily

-- Published By

InformationWeek

600 Community Drive

Manhasset, NY 11030

To update your profile, change your e-mail address, or unsubscribe,

click here.

Thoughts about this newsletter?

Give us feedback.

Keep This Newsletter Out Of Your SPAM Folder

Don't let future editions of InformationWeek Daily go missing. Take a moment to add the newsletter's address to your anti-spam white list:

email@techwebnewsletters.com

If you're not sure how to do that, ask your administrator or ISP.

Or check your anti-spam utility's documentation.

We take your privacy very seriously. Please review our

Privacy Statement.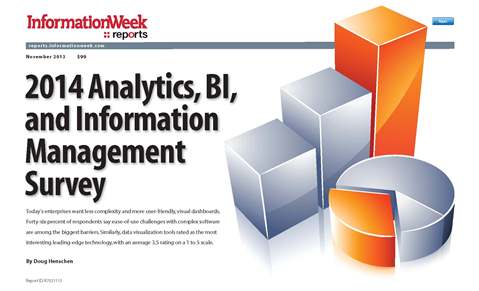 2014 Analytics, BI, and Information Management Survey
The desire to simplify data analytics and business intelligence has been gaining steam for years. But this year, interest in visual data analysis tools came to the forefront, and the use of Hadoop and NoSQL databases made slow but steady gains. While established companies like IBM, Microsoft, Oracle, SAP and SAS are still the top dogs for BI and analytics, smaller and nimbler vendors like Tableau and QlikTech are forcing the giants to innovate.

Audio Interviews
Archived Audio Interviews
Is your IT team driving revenue? At UPMC, the No. 1 company in the InformationWeek 500, generating revenue is an explicit IT goal. Join a live chat with CIO Dan Drawbaugh on this and more.




To save this item to your list of favorite InformationWeek content so you can find it later in your Profile page, click the "Save It" button next to the item.
If you found this interesting or useful, please use the links to the services below to share it with other readers. You will need a free account with each service to share an item via that service.

Tweet This