11/26/2012
12:48 PM



How To Land A CIO Role | 10 Cloud Computing Pioneers

NEXT VALLEY VIEW: NOVEMBER 28
Tune into Valley View, coming up Nov 28 at 11 am Pacific Time! As always, we'll feature some new technology in our Elevator Pitch segment, where we ask companies to pitch us (as if we were in an elevator) and then face our judging committee. For this month's segment, we've got a couple of big data players: Kaggle and Clearstory, each with a unique approach to this incredibly interesting market. Finally, SugarSync, one of the early players in the personal cloud movement will talk about how they're evolving to take on fierce competitive forces.

We'll also have Ben Milne, CEO of online payments startup, Dwolla; Justin Kan, CEO of concierge service startup, Exec; Greg Sullivan, senior marketing manager for Microsoft's Windows Phone; and Dipti Vachani, VP and GM at Texas Instruments.

We've got other guests as well, and as usual, we'll feature a few companies in our Elevator Pitch segment, and we'll be giving away an Apple Mini iPad.
Don't Forget To Register For Prizes
REPORTS & WHITEPAPERS
FEATURED REPORTS
Design on a Dime: 12-Step Plan to Cut Software Costs
Controlling nondiscretionary IT spending is a perennial top priority for CIOs, but the cost of software licensing, operations and maintenance is a particularly sore topic. Two main keys: Spend smart up front, then tightly manage enterprise software licensing and maintenance.
Download Now (Registration Required)



Research: 2012 Social Staffing Survey
The rise in social technology adoption is not reflected in IT hiring - yet - but this is one area where savvy business users could break into IT: While just 9% of respondents to our survey say they plan to increase staff in the area of social/collaboration in the next year, 92% of those who identify it as a top area of staffing increase say no specialized industry certs are required, and 84% are willing to train.
Download Now (Registration Required)
MOST POPULAR NEWS
10 Best Apps For Samsung Galaxy Notes
Check out these 10 great apps that take advantage of the Samsung phablet's S Pen stylus.
10 Wearable Health Tech Devices To Watch
Wearable medical technology is becoming a hot commodity. As these devices come to market, they have the potential to help both patients and clinicians monitor vital signs and symptoms.
8 Cool Windows 8 Tablets
As Microsoft and its hardware partners produce Windows 8 devices in droves, here's a look at some of the more noteworthy launches.
Black Friday: Unusual Apple Deals
Apple rarely discounts its products, but Black Friday is the one day of the year you can save some green on a new iPad Mini, iPhone, or Mac computer.
Netflix Wants You To Adopt Chaos Monkey
Netflix has made its own automated disaster testing service, Chaos Monkey, available as a free public download. Should you turn it loose on your own systems?
Why Big Data Doesn't Have to Mean Big Security Challenges

As big data environments ingest more data, organizations will face significant risks and threats to the repositories containing this data. Failure to balance data security and quality reduces confidence in decision making. Join us as we discuss several requirements security and risk professionals must do to create an awareness and understanding of the associated responsibilities and risks at the highest levels of the organization. It happens Wednesday, December 12, 2012.

More Information & Registration
RESOURCES AND EVENTS
Don't Miss Cloud Connect Silicon Valley
Cloud Connect returns to Silicon Valley, April 2-5, 2013, for four days of lectures, panels, tutorials and roundtable discussions on a comprehensive selection of cloud topics taught by leading industry experts. Use priority code DIWEEK by Jan. 1 to save up to $700 with Super Early Bird Savings.
Register Today!
This e-mail was sent to

EmailAddress

InformationWeek Daily

-- Published By

InformationWeek

600 Community Drive

Manhasset, NY 11030

To update your profile, change your e-mail address, or unsubscribe,

click here.

Thoughts about this newsletter?

Give us feedback.

Keep This Newsletter Out Of Your SPAM Folder

Don't let future editions of InformationWeek Daily go missing. Take a moment to add the newsletter's address to your anti-spam white list:

email@techwebnewsletters.com

If you're not sure how to do that, ask your administrator or ISP.

Or check your anti-spam utility's documentation.

We take your privacy very seriously. Please review our

Privacy Statement.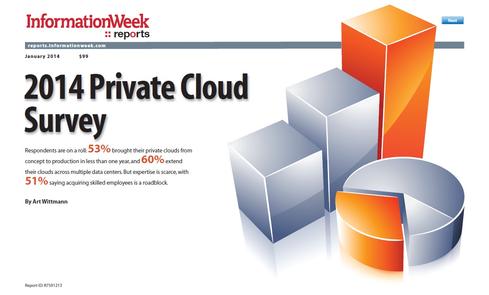 2014 Private Cloud Survey
Respondents are on a roll: 53% brought their private clouds from concept to production in less than one year, and 60% ­extend their clouds across multiple datacenters. But expertise is scarce, with 51% saying acquiring skilled employees is a roadblock.

Audio Interviews
Archived Audio Interviews
Penske Truck Leasing revitalized its e-commerce experience this year, and this session will bring you both tech and marketing executives discussing the ups and downs of its effort. Penske Truck Leasing is the No. 4 company in the current InformationWeek 500 ranking. Join us as we talk with Bill Stobbart, senior VP of information technology, and Ann Walsh, VP of interactive marketing, about what we can learn from Penske Truck Leasing's journey.



To save this item to your list of favorite InformationWeek content so you can find it later in your Profile page, click the "Save It" button next to the item.
If you found this interesting or useful, please use the links to the services below to share it with other readers. You will need a free account with each service to share an item via that service.

Tweet This