2/14/2013
12:30 PM



HP's New Android Plans | Windows 9: Are Businesses Waiting?
QUOTE OF THE DAY

"A loving heart is the beginning of all knowledge." -- Thomas Carlyle

ALSO SEE JOIN THE CONVERSATION Posted By Dr Cube:

"Michael Dell can see the writing on the wall: the PC market is in rapid decline and server computing is moving to the Cloud where the big PaaS and IaaS utilities like Amazon, Microsoft and Verizon can buy servers at 70-80% discounts."

In reply to: "Dell's Future: 3 Wild Cards CIOs Should Understand" View Entire Response

|

Post Your Own Reply
DOWNLOAD INFORMATIONWEEK'S LATEST DIGITAL ISSUE

Terabytes are growing into petabytes: The era of big data has arrived in government. Make sure you have a plan to keep up and the skills to make it work.

ALSO:

Federal gun control won't succeed without an IT overhaul.

DOWNLOAD NOW FREE (Registration Required)

REPORTS & WHITEPAPERS
FEATURED REPORTS
Research: Security Staffing Survey
Hiring the wrong security pro can be a costly mistake that could set your company back years in terms of risk reduction. But finding the right person isn't easy. But don't despair. We'll walk you through the steps you need to take to find the best security professionals.
Download Now (Registration Required)



Strategy: One-Click Disaster Recovery
Automation and orchestration are all the rage among IT architects these days. One of the best places to apply the technology is to disaster recovery. Most organizations still want a "go" button, but after that, timely recovery requires automation. Here's what you need to know to make it happen.
Download Now (Registration Required)
MOST POPULAR NEWS
What Does Big Data Mean To Your Business?

The onslaught of data growth is challenging CIOs to look for new ways to manage and scale their IT infrastructure. In this live Webcast on Thursday, February 21, 2013, we'll discuss key storage challenges, the requirements of a modern IT infrastructure, and the targeted next steps IT leaders must take in order to provide value to the business.

More Information & Registration
RESOURCES AND EVENTS
Don't Miss Interop Las Vegas
Attend Interop Las Vegas May 6-10, and attend the most thorough training on Apple deployment at the NEW Mac & iOS IT Conference. Use Priority Code DIPR02 by Jan. 26 to save up to $500 off the price of Conference Passes. Join us in Las Vegas for access to 125+ workshops and conference classes, 350+ exhibiting companies, and the latest technology.
Get More Details and Register Today
This e-mail was sent to

EmailAddress

InformationWeek Daily

-- Published By

InformationWeek

600 Community Drive

Manhasset, NY 11030

To update your profile, change your e-mail address, or unsubscribe,

click here.

Thoughts about this newsletter?

Give us feedback.

Keep This Newsletter Out Of Your SPAM Folder

Don't let future editions of InformationWeek Daily go missing. Take a moment to add the newsletter's address to your anti-spam white list:

email@techwebnewsletters.com

If you're not sure how to do that, ask your administrator or ISP.

Or check your anti-spam utility's documentation.

We take your privacy very seriously. Please review our

Privacy Statement.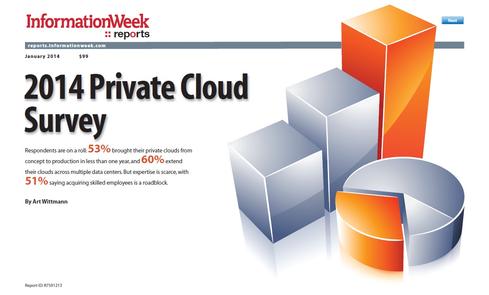 2014 Private Cloud Survey
Respondents are on a roll: 53% brought their private clouds from concept to production in less than one year, and 60% ­extend their clouds across multiple datacenters. But expertise is scarce, with 51% saying acquiring skilled employees is a roadblock.

Audio Interviews
Archived Audio Interviews
Penske Truck Leasing revitalized its e-commerce experience this year, and this session will bring you both tech and marketing executives discussing the ups and downs of its effort. Penske Truck Leasing is the No. 4 company in the current InformationWeek 500 ranking. Join us as we talk with Bill Stobbart, senior VP of information technology, and Ann Walsh, VP of interactive marketing, about what we can learn from Penske Truck Leasing's journey.



To save this item to your list of favorite InformationWeek content so you can find it later in your Profile page, click the "Save It" button next to the item.
If you found this interesting or useful, please use the links to the services below to share it with other readers. You will need a free account with each service to share an item via that service.

Tweet This