1/9/2013
12:37 PM



Inside U.S. Bank Hacks | 8 Key Changes In MS SharePoint 2013
QUOTE OF THE DAY

"Courage is being scared to death, but saddling up anyway." -- John Wayne

ALSO SEE JOIN THE CONVERSATION Posted By Sherry Nouraini:

"I don't think consumers really care whether a business can afford a security certification or not, they just want privacy and if they cannot get it they won't shop at a site that does not make them feel safe!"

In reply to: "Gigya Certification Aims To Allay Social Login Fears"View Entire Response

|

Post Your Own Reply

REPORTS & WHITEPAPERS
FEATURED REPORTS
Fundamentals: Cloud ID Management
Worried about controlling access to all the cloud applications your employees use? IT has a variety of options to help manage cloud-based identities, including Active Directory synchronization, federation and purpose-built cloud services that provide single sign-on for online applications.
Download Now (Registration Required)



Research: 2012 Application Security Survey
Tried-and-true methods like defense in depth can provide breathing room while you get a secure SDLC in place-a job still facing 56% of our 475 respondents. And they'd better get moving, because 51% of those with secure SDLC programs on their radar have developed and/or assumed responsibility for securing 11 or more Web apps.
Download Now (Registration Required)
MOST POPULAR NEWS
10 Best Android Apps Of 2012
Check out these 10 gems that stood out from the crowd of 700,000 Android apps.
Big Data Analytics Masters Degrees: 20 Top Programs
These one-year and two-year graduate programs are just what's needed to close the big-data talent gap. Read on to find a school that fits your ambitions and background.
CES 2013: 7 Standout Technologies
What happens at CES 2013 doesn't stay in Vegas. From giant tablets to $20,000 televisions, take a peek at a few early standouts for gadget lovers.
CES 2013: 9 Cool Gadgets
Consumer Electronics Show is a tech smorgasbord. Here are nine products that attest to the show's overwhelming variety.
12 Best iPhone, iPad Apps Of 2012
You already know about Skype, Instagram and Angry Birds. Check out these business-friendly iPhone and iPad apps you may not have tried, plus an amusing diversion or two.
Is Your Network Ready for BYOD?

Simply preventing personal devices from accessing your network might not be the best option for your business. A well thought out BYOD policy and the proper wireless security strategy can empower your employees, save costs, and increase productivity while maintaining security and control. Join us January 24 to find out what you need to consider when implementing a BYOD policy.

More Information & Registration
RESOURCES AND EVENTS
This e-mail was sent to

EmailAddress

InformationWeek Daily

-- Published By

InformationWeek

600 Community Drive

Manhasset, NY 11030

To update your profile, change your e-mail address, or unsubscribe,

click here.

Thoughts about this newsletter?

Give us feedback.

Keep This Newsletter Out Of Your SPAM Folder

Don't let future editions of InformationWeek Daily go missing. Take a moment to add the newsletter's address to your anti-spam white list:

email@techwebnewsletters.com

If you're not sure how to do that, ask your administrator or ISP.

Or check your anti-spam utility's documentation.

We take your privacy very seriously. Please review our

Privacy Statement.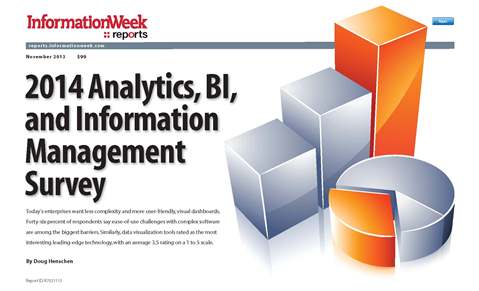 2014 Analytics, BI, and Information Management Survey
The desire to simplify data analytics and business intelligence has been gaining steam for years. But this year, interest in visual data analysis tools came to the forefront, and the use of Hadoop and NoSQL databases made slow but steady gains. While established companies like IBM, Microsoft, Oracle, SAP and SAS are still the top dogs for BI and analytics, smaller and nimbler vendors like Tableau and QlikTech are forcing the giants to innovate.

Audio Interviews
Archived Audio Interviews
Is your IT team driving revenue? At UPMC, the No. 1 company in the InformationWeek 500, generating revenue is an explicit IT goal. Join a live chat with CIO Dan Drawbaugh on this and more.




To save this item to your list of favorite InformationWeek content so you can find it later in your Profile page, click the "Save It" button next to the item.
If you found this interesting or useful, please use the links to the services below to share it with other readers. You will need a free account with each service to share an item via that service.

Tweet This