4/22/2013
01:22 PM



New iPad To Be Thinner, Lighter | How To Avoid IT Project Failures
INSIDE THIS WEEK'S ISSUE OF IWK GOVERNMENT

Urban transformation requires IT innovation. Discover how five U.S. cities are forging ahead.

ALSO:

Video surveillance provided valuable clues to the Boston Marathon bombings, serving as a lesson to other cities.

Log In Or Register To Download
------------------------------------------------
This issue is sponsored by TechAmerica Foundation
------------------------------------------------
The Eleventh Annual Technology and Government Dinner
is the leading Washington DC technology networking event.
Join us at the Ronald Reagan Building on June 20.
REPORTS & WHITEPAPERS
MOST POPULAR NEWS
RESOURCES AND EVENTS
Don't Miss Mobile Commerce World
Attend Mobile Commerce World, June 24-26 in San Francisco, to learn how to develop and deploy your company's mobile commerce strategy. Spend three days learning from key players at Walmart, Amazon, Zappos, 1-800-FLOWERS, Advance Auto Parts, Alex and Ani, Groupon, REI, Vegas.com and more who are harnessing the power of mobile commerce. Use code MP_BTMEDIWKAXE to register and save $200 on an All Access pass.
Get more information and register.
This e-mail was sent to

EmailAddress

InformationWeek Daily

-- Published By

InformationWeek

600 Community Drive

Manhasset, NY 11030

To update your profile, change your e-mail address, or unsubscribe,

click here.

Thoughts about this newsletter?

Give us feedback.

Keep This Newsletter Out Of Your SPAM Folder

Don't let future editions of InformationWeek Daily go missing. Take a moment to add the newsletter's address to your anti-spam white list:

email@techwebnewsletters.com

If you're not sure how to do that, ask your administrator or ISP.

Or check your anti-spam utility's documentation.

We take your privacy very seriously. Please review our

Privacy Statement.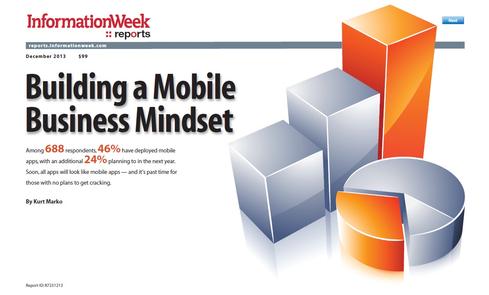 Building A Mobile Business Mindset
Among 688 respondents, 46% have deployed mobile apps, with an additional 24% planning to in the next year. Soon all apps will look like mobile apps Ė and it's past time for those with no plans to get cracking.

Audio Interviews
Archived Audio Interviews
How do you use big data analytics to drive real-world business results? At ConocoPhillips, it came down to collecting more data points, more often, and then figuring out what story the data told. Join us as we talk with ConocoPhillips CIO Mike Pfister about what people across various industries can learn from the company's analytics strategy.


To save this item to your list of favorite InformationWeek content so you can find it later in your Profile page, click the "Save It" button next to the item.
If you found this interesting or useful, please use the links to the services below to share it with other readers. You will need a free account with each service to share an item via that service.

Tweet This