6/12/2013
12:49 PM



NSA's Big Data Tools, Defended
MUST READ Apple iOS 7's Dramatic Design: Visual Tour By Thomas Claburn

With iOS 7, Apple wants to shore up doubts about its ability to innovate in design. Take a closer look.

RELATED • 5 Ways iOS 7 Will Change Social• 8 Apple Changes That Matter Defending NSA Prism's Big Data Tools

The more you know about NSA's Accumulo system and graph analysis, the less likely you are to suspect Prism is a privacy-invading fishing expedition.

NSA Prism: Patriot Act Author Questions Scope

White House says NSA's surveillance programs implement FISA and Patriot Act -- but Patriot Act author is not sure. Meanwhile, privacy groups turn up the heat.

Samsung Zoom: Camera Phone To New Level

Samsung's Galaxy S4 Zoom targets users who care more about a top-notch camera than a cutting-edge smartphone.

Palm's Rubinstein Laments 'Wasted' Sale To HP

Palm's former CEO wishes the company had never been sold to HP.

Amazon Cuts Prices On Relational Database Service

Amazon's slashes prices 18%-28% on its popular cloud database service, which includes Oracle, MySQL and SQL Server.

iRobot, Cisco Create Telepresence Robot

The day we send robots to work in our places might be closer we think, if Cisco and iRobot's hallway-roaming video-equipped robot, the Ava 500, proves a hit.

Google Buys Waze

As a company built largely on the latent labor in Web links, Google sees value in contributed traffic reporting.

REPORTS & WHITEPAPERS
MOST POPULAR NEWS
RESOURCES AND EVENTS
Don't Miss Mobile Commerce World
Attend Mobile Commerce World, June 24-26 in San Francisco, to learn how to develop and deploy your company's mobile commerce strategy. Spend three days learning from key players at Walmart, Amazon, Zappos, 1-800-FLOWERS, Advance Auto Parts, Alex and Ani, Groupon, REI, Vegas.com and more who are harnessing the power of mobile commerce. Use code MP_BTMEDIWKAXE to register and save $200 on an All Access pass.
Get More Details and Register Today
This e-mail was sent to

EmailAddress

InformationWeek Daily

-- Published By

InformationWeek

600 Community Drive

Manhasset, NY 11030

To update your profile, change your e-mail address, or unsubscribe,

click here.

Thoughts about this newsletter?

Give us feedback.

Keep This Newsletter Out Of Your SPAM Folder

Don't let future editions of InformationWeek Daily go missing. Take a moment to add the newsletter's address to your anti-spam white list:

email@techwebnewsletters.com

If you're not sure how to do that, ask your administrator or ISP.

Or check your anti-spam utility's documentation.

We take your privacy very seriously. Please review our

Privacy Statement.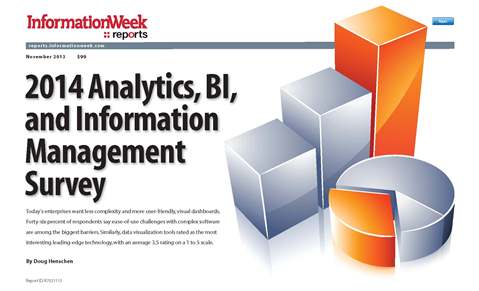 2014 Analytics, BI, and Information Management Survey
The desire to simplify data analytics and business intelligence has been gaining steam for years. But this year, interest in visual data analysis tools came to the forefront, and the use of Hadoop and NoSQL databases made slow but steady gains. While established companies like IBM, Microsoft, Oracle, SAP and SAS are still the top dogs for BI and analytics, smaller and nimbler vendors like Tableau and QlikTech are forcing the giants to innovate.

Audio Interviews
Archived Audio Interviews
Is your IT team driving revenue? At UPMC, the No. 1 company in the InformationWeek 500, generating revenue is an explicit IT goal. Join a live chat with CIO Dan Drawbaugh on this and more.




To save this item to your list of favorite InformationWeek content so you can find it later in your Profile page, click the "Save It" button next to the item.
If you found this interesting or useful, please use the links to the services below to share it with other readers. You will need a free account with each service to share an item via that service.

Tweet This