4/24/2013
12:39 PM



Samsung Galaxy S4: Hands-On | Women In Tech: Elite Execs' Career Advic
MUST READ Women In Tech: Career Advice From Elite Execs By Chris Murphy

Work-life balance is a myth, risk-taking is vital and other lessons women (and men) must learn.

RELATED • 8 IT Mistakes: Must-Have Lessons From Top CIOs • 5 Social Blunders Job Hunters Must Avoid Samsung Galaxy S4 Oozes Innovation

Samsung Galaxy S4 may be today's best smartphone, with solid hardware and software tricks such as eye tracking and a gesture UI.

Twitter Preps Two Factor Authentication After AP Hoax

Security move follows a rash of high-profile account takeovers, including a hoax tweet from the Associated Press' account about White House explosions.

Huawei Will Ignore U.S. Market

Exit follows a string of rulings by the U.S. government that stopped Huawei from bidding on both public and private contracts.

Apple CEO Promises Fresh Product Crop

Reporting strong earnings, Apple says it plans to boost its stock with a $55 billion increase in its capital return plan.

CA's Future: DevOps, Mobile, Analytics Key, CEO Says

Mike Gregoire says company already analyzes massive amounts of network, system, security and application management data.

ARM Earnings Rise As PC Market Falls

Chip designer's Q1 profits jump 44% -- another data point illustrating how mobile devices are eroding the traditional Wintel PC empire.

Chicago CIO Pursues Predictive Analytics Strategy

The city's IT team is using open source to build an analytics platform aimed at predicting and preventing big city problems.

Cyber Strikes Like Nuclear Bombs, Says Chinese General

Chinese official calls for better Internet security, denies reports that China-affiliated attackers are targeting Western competitors.
INSIDE THIS WEEK'S ISSUE OF IWK GOVERNMENT

Urban transformation requires IT innovation. Discover how five U.S. cities are forging ahead.

ALSO:

Video surveillance provided valuable clues to the Boston Marathon bombings, serving as a lesson to other cities.

Log In Or Register To Download

REPORTS & WHITEPAPERS
MOST POPULAR NEWS
RESOURCES AND EVENTS
Don't Miss Mobile Commerce World
Attend Mobile Commerce World, June 24-26 in San Francisco, to learn how to develop and deploy your company's mobile commerce strategy. Spend three days learning from key players at Walmart, Amazon, Zappos, 1-800-FLOWERS, Advance Auto Parts, Alex and Ani, Groupon, REI, Vegas.com and more who are harnessing the power of mobile commerce. Use code MP_BTMEDIWKAXE to register and save $200 on an All Access pass.
Get More Details and Register Today
This e-mail was sent to

EmailAddress

InformationWeek Daily

-- Published By

InformationWeek

600 Community Drive

Manhasset, NY 11030

To update your profile, change your e-mail address, or unsubscribe,

click here.

Thoughts about this newsletter?

Give us feedback.

Keep This Newsletter Out Of Your SPAM Folder

Don't let future editions of InformationWeek Daily go missing. Take a moment to add the newsletter's address to your anti-spam white list:

email@techwebnewsletters.com

If you're not sure how to do that, ask your administrator or ISP.

Or check your anti-spam utility's documentation.

We take your privacy very seriously. Please review our

Privacy Statement.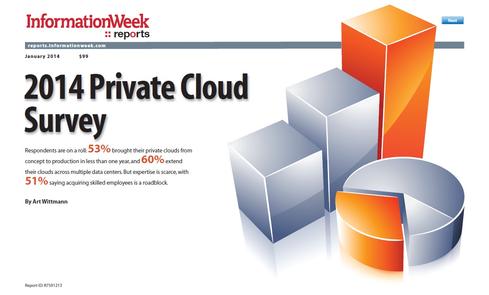 2014 Private Cloud Survey
Respondents are on a roll: 53% brought their private clouds from concept to production in less than one year, and 60% ­extend their clouds across multiple datacenters. But expertise is scarce, with 51% saying acquiring skilled employees is a roadblock.

Audio Interviews
Archived Audio Interviews
Penske Truck Leasing revitalized its e-commerce experience this year, and this session will bring you both tech and marketing executives discussing the ups and downs of its effort. Penske Truck Leasing is the No. 4 company in the current InformationWeek 500 ranking. Join us as we talk with Bill Stobbart, senior VP of information technology, and Ann Walsh, VP of interactive marketing, about what we can learn from Penske Truck Leasing's journey.



To save this item to your list of favorite InformationWeek content so you can find it later in your Profile page, click the "Save It" button next to the item.
If you found this interesting or useful, please use the links to the services below to share it with other readers. You will need a free account with each service to share an item via that service.

Tweet This