2/20/2013
12:25 PM



Twitter Attacks: 6 Key Facts | Microsoft Swings Hard At Gmail
MUST READ Microsoft: Outlook Making Progress Vs. Gmail By Michael Endler

With Outlook.com, Microsoft takes aim at Google's search and email dominance. Redmond already claims more than 60 million users, but will more Gmail users defect?

RELATED • Windows 8: Microsoft's Progress Debated • Are Businesses Waiting For Windows 9? Apple, Facebook Twitter Attacks: 6 Key Facts

FBI investigates how hackers compromised an iOS developer website to exploit Java plug-in vulnerabilities and breach major social networking and technology companies.

iPhone Beats Galaxy S III, But Victory May Be Fleeting

Apple's iPhone 5 was best-selling smartphone worldwide during closing months of 2012, but Samsung is readying its iPhone-killer for 2013.

Big Data Startup Eyes Genome Analysis In 4 Hours

Bina Technologies introduces analytics platform designed to cut human genome processing time, make personalized medicine more accessible.

Oracle, Apple Issue Java Security Patches

Oracle updates Java 7 and issues the final-ever public update for Java 6, while Apple releases its own Java 6 update for OS X users.

Apple iWatch: Readers Speak Out

Does a smartwatch make sense in the new world of smartphones and tablets? Does anyone even wear a watch anymore? Readers weigh in.

Interop Preview: Expert Advice On Building Private Cloud

Dave Roberts, founder of cloud blogging site LeverHawk, discusses the type of framework an enterprise can use to build a private cloud environment.

Readmissions Don't Measure Quality, Harvard Doctor Says

Noted health policy researcher Ashish Jha says new Medicare penalties on 30-day hospital readmissions promote accountability, but may not improve patient outcomes.

QUOTE OF THE DAY

"If you wish to make an apple pie from scratch, you must first invent the universe." -- Carl Sagan

ALSO SEE JOIN THE CONVERSATION Posted By KitechSang:

"In the past you buy a $500 PC or laptop that comes with Windows because it cost $150+ for Windows upgrade. Now Windows upgrade is $30-70 only!! So many people just buy the upgrade and re-use that PC that came with Windows XP."

In reply to: "Windows 8: Microsoft's Progress Debated" View Entire Response

|

Post Your Own Reply
DOWNLOAD INFORMATIONWEEK HEALTHCARE'S DIGITAL ISSUE

In our new, all-digital 'Big Data Analytics' issue:

As large healthcare providers test the limits, many smaller groups question the value.

ALSO:

Ask these six questions about natural language processing before you buy.

DOWNLOAD NOW FREE (Registration Required)

REPORTS & WHITEPAPERS
FEATURED REPORTS
Research: Apple In The Enterprise iOS, OS X Buyer's Guide
Our latest survey and analysis of 13 top Apple offerings, from the iPhone to the Mac Pro, show IT pros accustomed to the Windows world getting a crash course, not just on iOS but OS X systems. Do you have a plan to cope? And what's the outlook for a successful marriage of enterprise IT and consumer titan?
Download Now (Registration Required)



Strategy: 3 Steps To A Hands-Free Cloud
Virtualization let IT automate the entire life cycle of a server, from provisioning and initialization through steady-state and change management to termination. But this is only the first step on the path to fully coordinated, automated and managed systems. The ultimate goal: orchestration, where business needs can be defined and executed without human intervention. We'll examine the essential elements of orchestration, focusing on public and private clouds.
Download Now (Registration Required)
MOST POPULAR NEWS
RESOURCES AND EVENTS
Take Our Backup Technologies Survey -- You Could Win A Nexus 7!
There's no excuse for a half-hearted business continuity strategy given today's advanced data protection technologies, including disk-to-disk-to cloud, software dedupe and more. Our 2013 InformationWeek Backup Technologies Survey seeks to gauge use of these and other methods to ensure a disaster doesn't put your business down for the count. Take our survey and you could win a 32GB Google Nexus 7 tablet!
Survey ends Feb. 22.
This e-mail was sent to

EmailAddress

InformationWeek Daily

-- Published By

InformationWeek

600 Community Drive

Manhasset, NY 11030

To update your profile, change your e-mail address, or unsubscribe,

click here.

Thoughts about this newsletter?

Give us feedback.

Keep This Newsletter Out Of Your SPAM Folder

Don't let future editions of InformationWeek Daily go missing. Take a moment to add the newsletter's address to your anti-spam white list:

email@techwebnewsletters.com

If you're not sure how to do that, ask your administrator or ISP.

Or check your anti-spam utility's documentation.

We take your privacy very seriously. Please review our

Privacy Statement.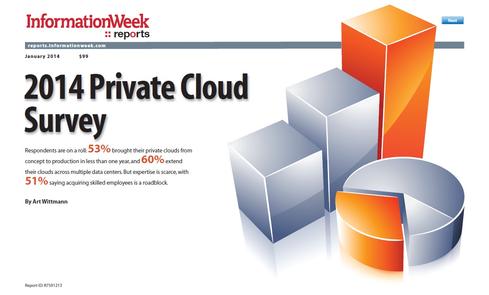 2014 Private Cloud Survey
Respondents are on a roll: 53% brought their private clouds from concept to production in less than one year, and 60% ­extend their clouds across multiple datacenters. But expertise is scarce, with 51% saying acquiring skilled employees is a roadblock.

Audio Interviews
Archived Audio Interviews
Is your IT team driving revenue? At UPMC, the No. 1 company in the InformationWeek 500, generating revenue is an explicit IT goal. Join a live chat with CIO Dan Drawbaugh on this and more.




To save this item to your list of favorite InformationWeek content so you can find it later in your Profile page, click the "Save It" button next to the item.
If you found this interesting or useful, please use the links to the services below to share it with other readers. You will need a free account with each service to share an item via that service.

Tweet This