5/15/2013
12:47 PM



VMware Fights BYOD Hassles | SAP Gives ERP A Facelift
QUOTE OF THE DAY

"Computers can figure out all kinds of problems, except the things in the world that just don't add up." -- James Magary

ALSO SEE JOIN THE CONVERSATION Posted By AustinIT:

"Office 365 is an outstanding service that, coupled with Office, is a true powerhouse. MS doesn't need to defend it (currently). But, MS is just being MS by heading off any threat to its dominance early on and with force."

In reply to: "Microsoft Office 365 Steps On Google Enterprise Ambitions" View Entire Response

|

Post Your Own Reply
INSIDE THE LATEST ISSUE OF INFORMATIONWEEK EDUCATION

The cybersecurity challenge on college campuses lies as much with the students as with malicious outsiders.

Also

in the new, all-digital issue of InformationWeek Education: Students can use technology to undermine the integrity of education.

Log In Or Register To Download

REPORTS & WHITEPAPERS
FEATURED REPORTS
2013 IT Spending Priorities Survey
IT departments stuck playing catch-up will never be able to innovate and become a true strategic partner to the business, but that's the situation many of our survey respondents find themselves in: 43% say their budgets are flat, 58% say improving security is on the to-do list and 40% say IT faces tougher spending oversight than other departments.
Download Now (Registration Required)



10 Emerging Threats Your Company May Not Know About
The devil you know is better than the one you don't. Never was that adage truer than in today's complex, ever-changing computing landscape. Unfortunately, new (and sometimes renewed) security threats are rising every day, putting IT and security pros in a defensive posture. In this Dark Reading report, we examine 10 emerging threats that you should have on your radar now.
Download Now (Registration Required)

FEATURED WHITEPAPERS Delivering An Integrated Infrastructure For The Cloud

Cloud computing has emerged as one of the prevailing IT trends today. But IT departments determined to take advantage of these benefits are at risk of losing control of their infrastructure. Read this white paper to understand how to, enable your organizations to simplify its IT infrastructure, and reduce their management burden.


Download Now (Registration Required) Managing Threats In The Digital Age

Security and security breaches are much more than a purely technical issue that exists only in the domain of the IT organization. Rather, security is an emerging C-level priority. Read this executive report to learn why organizations need a systematic, proactive approach to addressing security threats.


Download Now (Registration Required)
MOST POPULAR NEWS
Software-Defined Storage: The Power Of Family Values

IT infrastructures have become onerously complex. The time has come to explore new, innovative ways to break the cycle of increased complexity and explosive data growth. Join us for this webinar and see if IBM Smarter Storage is the solution to driving down your costs and improving service levels. Register and you'll get access to InformationWeek's 2013 State of Storage report!

More Information & Registration
RESOURCES AND EVENTS
Don't Miss Mobile Commerce World
Attend Mobile Commerce World, June 24-26 in San Francisco, to learn how to develop and deploy your company's mobile commerce strategy. Spend three days learning from key players at Walmart, Amazon, Zappos, 1-800-FLOWERS, Advance Auto Parts, Alex and Ani, Groupon, REI, Vegas.com and more who are harnessing the power of mobile commerce. Use code MP_BTMEDIWKAXE to register and save $200 on an All Access pass.
Get More Details and Register Today
This e-mail was sent to

EmailAddress

InformationWeek Daily

-- Published By

InformationWeek

600 Community Drive

Manhasset, NY 11030

To update your profile, change your e-mail address, or unsubscribe,

click here.

Thoughts about this newsletter?

Give us feedback.

Keep This Newsletter Out Of Your SPAM Folder

Don't let future editions of InformationWeek Daily go missing. Take a moment to add the newsletter's address to your anti-spam white list:

email@techwebnewsletters.com

If you're not sure how to do that, ask your administrator or ISP.

Or check your anti-spam utility's documentation.

We take your privacy very seriously. Please review our

Privacy Statement.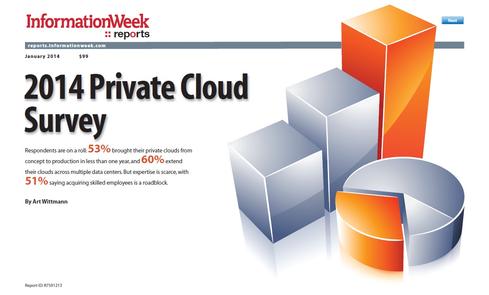 2014 Private Cloud Survey
Respondents are on a roll: 53% brought their private clouds from concept to production in less than one year, and 60% ­extend their clouds across multiple datacenters. But expertise is scarce, with 51% saying acquiring skilled employees is a roadblock.

Audio Interviews
Archived Audio Interviews
Penske Truck Leasing revitalized its e-commerce experience this year, and this session will bring you both tech and marketing executives discussing the ups and downs of its effort. Penske Truck Leasing is the No. 4 company in the current InformationWeek 500 ranking. Join us as we talk with Bill Stobbart, senior VP of information technology, and Ann Walsh, VP of interactive marketing, about what we can learn from Penske Truck Leasing's journey.



To save this item to your list of favorite InformationWeek content so you can find it later in your Profile page, click the "Save It" button next to the item.
If you found this interesting or useful, please use the links to the services below to share it with other readers. You will need a free account with each service to share an item via that service.

Tweet This