1/15/2013
12:55 PM



Why Apple Needs More iPhones | 10 Facts: Secure Java For Business
DOWNLOAD INFORMATIONWEEK GOVERNMENT'S LATEST DIGITAL ISSUE

Mobile applications are the new way to extend government information and services to on-the-go citizens and employees.

Also: A new initiative aims to shift the 17-member Intelligence Community from agency-specific IT silos to an enterprise environment of shared systems and services.

DOWNLOAD NOW FREE (Registration Required)

REPORTS & WHITEPAPERS
MOST POPULAR NEWS
CES 2013: 7 Standout Technologies
What happens at CES 2013 doesn't stay in Vegas. From giant tablets to $20,000 televisions, take a peek at a few early standouts for gadget lovers.
CES 2013: 5 Dumbest Ideas
CES launches some of the coolest gadgets on the planet. But with more than 3,000 exhibitors this year, not everyone could be a winner.
10 Best Android Apps Of 2012
Check out these 10 gems that stood out from the crowd of 700,000 Android apps.
CES 2013: 9 Cool Gadgets
Consumer Electronics Show is a tech smorgasbord. Here are nine products that attest to the show's overwhelming variety.
Oracle Fixes Zero Day Java Flaws: Patch Now
Java 7 update, released Sunday, fixes bugs widely targeted by crimeware toolkits. Other critical bug updates coming later this week from Oracle and Microsoft.
Is Your Network Ready for BYOD?

Simply preventing personal devices from accessing your network might not be the best option for your business. A well thought out BYOD policy and the proper wireless security strategy can empower your employees, save costs, and increase productivity while maintaining security and control. Join us January 24 to find out what you need to consider when implementing a BYOD policy.

More Information & Registration
RESOURCES AND EVENTS
This e-mail was sent to

EmailAddress

InformationWeek Daily

-- Published By

InformationWeek

600 Community Drive

Manhasset, NY 11030

To update your profile, change your e-mail address, or unsubscribe,

click here.

Thoughts about this newsletter?

Give us feedback.

Keep This Newsletter Out Of Your SPAM Folder

Don't let future editions of InformationWeek Daily go missing. Take a moment to add the newsletter's address to your anti-spam white list:

email@techwebnewsletters.com

If you're not sure how to do that, ask your administrator or ISP.

Or check your anti-spam utility's documentation.

We take your privacy very seriously. Please review our

Privacy Statement.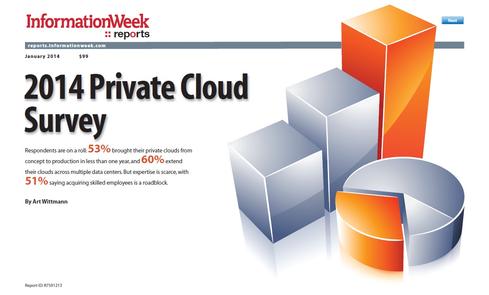 2014 Private Cloud Survey
Respondents are on a roll: 53% brought their private clouds from concept to production in less than one year, and 60% ­extend their clouds across multiple datacenters. But expertise is scarce, with 51% saying acquiring skilled employees is a roadblock.

Audio Interviews
Archived Audio Interviews
Penske Truck Leasing revitalized its e-commerce experience this year, and this session will bring you both tech and marketing executives discussing the ups and downs of its effort. Penske Truck Leasing is the No. 4 company in the current InformationWeek 500 ranking. Join us as we talk with Bill Stobbart, senior VP of information technology, and Ann Walsh, VP of interactive marketing, about what we can learn from Penske Truck Leasing's journey.



To save this item to your list of favorite InformationWeek content so you can find it later in your Profile page, click the "Save It" button next to the item.
If you found this interesting or useful, please use the links to the services below to share it with other readers. You will need a free account with each service to share an item via that service.

Tweet This