3/7/2013
12:39 PM



Windows 8 Convertible Test Drive | IT Talent Shortage: Real Or Fake?
QUOTE OF THE DAY

"Everyone thinks of changing the world, but no one thinks of changing himself." -- Leo Tolstoy

ALSO SEE JOIN THE CONVERSATION Posted By tslate:

"If you're arguing that you're just as productive at home or worse more productive, then as an employer I would argue it's your attitude and personal dynamics that are the issue and not the location of the work."

In reply to: "Yahoo Flap: Should IT Leaders Ban Work At Home?" View Entire Response

|

Post Your Own Reply
INSIDE THIS WEEK'S ISSUE OF INFORMATIONWEEK: GET (TRULY) SOCIAL

Companies must build more social networking bridges to customers, suppliers and partners -- not just among internal users.

Also in our new, all-digital issue:

Instead of worrying about overseas hackers, worry about the sorry state of your information security defenses.

DOWNLOAD NOW FREE (Registration Required)
REPORTS & WHITEPAPERS
MOST POPULAR NEWS
RESOURCES AND EVENTS
Don't Miss Interop Las Vegas
Attend Interop Las Vegas, May 6-10, and attend the most thorough training on Apple Deployment at the NEW Mac & iOS IT Conference. Use Priority Code MPIWK by March 22 to save up to $200 off the price of Conference Passes. Join us in Las Vegas for access to 125+ workshops and conference classes, 350+ exhibiting companies, and the latest technology.
Get More Details And Register Today
This e-mail was sent to

EmailAddress

InformationWeek Daily

-- Published By

InformationWeek

600 Community Drive

Manhasset, NY 11030

To update your profile, change your e-mail address, or unsubscribe,

click here.

Thoughts about this newsletter?

Give us feedback.

Keep This Newsletter Out Of Your SPAM Folder

Don't let future editions of InformationWeek Daily go missing. Take a moment to add the newsletter's address to your anti-spam white list:

email@techwebnewsletters.com

If you're not sure how to do that, ask your administrator or ISP.

Or check your anti-spam utility's documentation.

We take your privacy very seriously. Please review our

Privacy Statement.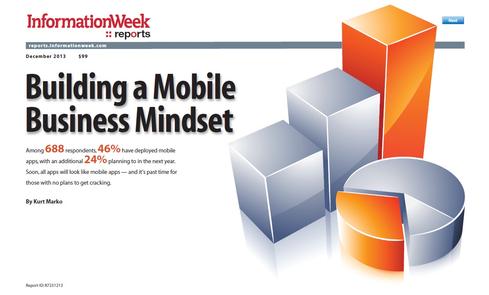 Building A Mobile Business Mindset
Among 688 respondents, 46% have deployed mobile apps, with an additional 24% planning to in the next year. Soon all apps will look like mobile apps Ė and it's past time for those with no plans to get cracking.

Audio Interviews
Archived Audio Interviews
How do you use big data analytics to drive real-world business results? At ConocoPhillips, it came down to collecting more data points, more often, and then figuring out what story the data told. Join us as we talk with ConocoPhillips CIO Mike Pfister about what people across various industries can learn from the company's analytics strategy.


To save this item to your list of favorite InformationWeek content so you can find it later in your Profile page, click the "Save It" button next to the item.
If you found this interesting or useful, please use the links to the services below to share it with other readers. You will need a free account with each service to share an item via that service.

Tweet This