Windows 10 Insider Build 10565: Cortana, Skype Updates
Microsoft releases Insider Preview Build 10565 to the Fast ring and delivers updates to Skype, Microsoft Edge, and Cortana.
As Microsoft built Windows 10 throughout the earlier part of 2015, feedback from its Windows Insider program provided key insights for development.
Insiders tested preview builds of the OS and shared their opinions to inform the look and functionality of Windows 10. Participants in the Fast Ring received changes as soon as they were ready. Those in the Slow Ring waited for bug fixes to be addressed before trying new features.
The Insider program continued after the public rollout of Windows 10, as part of Microsoft's Windows-as-a-Service strategy. Insiders test and review new OS features before they are delivered via public update.
Microsoft has rolled out the latest bundle of Windows 10 features and fixes to the Fast Ring of Windows Insiders. Insider Preview Build 10565 delivers Skype integration and improvements to Cortana and Microsoft Edge, among other updates.
[Microsoft: PCs have potential, mobile is uphill battle.]
While most of the updates to arrive so far have provided minor bug fixes, the latest preview build packs several new features worth exploring. If you're willing to brave the bugs, here's what you can expect to see in Build 10565.
A New Edge for Edge
The Microsoft Edge browser got a couple of new capabilities, one of which is an upgraded tab preview. If you hover your mouse over an open tab, a small window will drop down with a preview of what's on the page. An updated sync feature in Edge lets you sync Reading List items and Favorites.
Skype Integration
Microsoft had previously announced Skype messaging, calling, and video would be integrated into Windows 10 through the universal apps for Messaging, Phone, and Skype video. The apps would enable free calls and messages between Skype users across 3G/4G connections, phones, and WiFi-connected tablets and PCs.
These features are still buggy but ready for preview in Build 10565. Microsoft reports the integrated Skype tools will soon be available in an upcoming Windows 10 Mobile Insider Preview build.
Cortana Improvements
You can now use the Surface Pen to scribble notes to Cortana. The digital assistant will recognize dates, locations, and numbers, and suggest making calendar appointments or setting reminders. It also promises to keep track of movie times, and other ticketed events, by scanning your email confirmations.
Easier Device Activation
In Build 10565, Microsoft has made it easier to download Windows 10 for free with the use of a Windows 7, Windows 8, or Windows 8.1 product key. If you install Build 10565, and it doesn't automatically activate, you can enter the product key from a Windows 7, Windows 8, or Windows 8.1 device to activate a prior version of Windows before activating Windows 10. You can do this by going to Settings > Update & Security > Activation and choosing Change Product Key.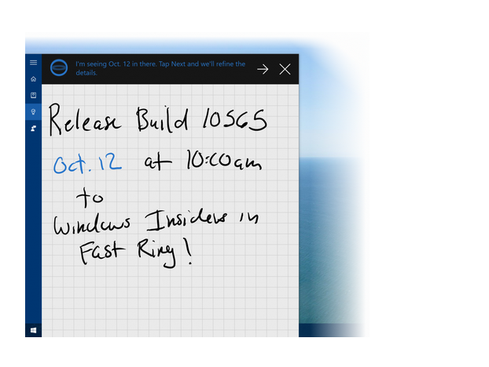 "If you do a clean install of Windows 10 by booting off the media, you can also enter the product key from prior Windows versions on qualifying devices during setup," continued Microsoft's Gabe Aul, head of the Windows Insider program.
Default Printer Management
A new setting changes your default printer to the last printer you used. If you don't like this option, you can revert back to original default printer settings by accessing Settings > Devices > Printer & Scanners.
Fixes
In addition to new features, the latest Insider build introduces several key fixes. Here are some of them:
Background audio playback will work when apps are minimized.
No longer is there a warning message in Windows Update about changed ring settings for preview builds (unless you actually change your settings).
Context menus have been made smaller for mouse use.
Contacts can be pinned to the Start menu from the People app.
You can hide desktop icons via a context menu on the desktop.
Apps will not appear more than once on the taskbar.
Automatic updates are enabled for Windows Store apps.
Known Issues
Insiders who download Build 10565 can expect to run into a few issues. Here are some problems Microsoft has highlighted:
Search box doesn't work if you're in a place where Cortana is unavailable.
WebM and VP9 have been temporarily removed from flight builds. VP9 will soon be available in a future build.
Xbox for Windows 10 will eat up gigabytes of PC memory if you have added Win32 games (not from the Windows Store) in the app. Close the Xbox app to release memory.
Kelly Sheridan is the Staff Editor at Dark Reading, where she focuses on cybersecurity news and analysis. She is a business technology journalist who previously reported for InformationWeek, where she covered Microsoft, and Insurance & Technology, where she covered financial ... View Full Bio
We welcome your comments on this topic on our social media channels, or
[contact us directly]
with questions about the site.