10 More Robots That Could Change Healthcare
These medical robots bring fresh ideas to healthcare. Ready to see one at your local hospital?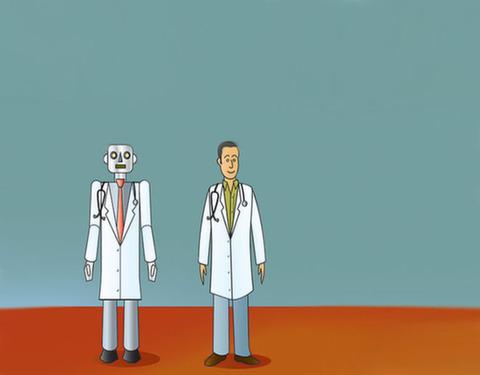 I, for one, welcome our new robot overlords. Still, as they infiltrate everything from our assembly lines to our living rooms, robots can be just a little disconcerting. Now they plan to conquer the hospital. The first time a robot crawls down your throat or carries you from your bed, you'll likely panic. But before you enlist to fight against the robot threat, remember their purpose -- robots go where we can't, either because of danger or physical limitations. So, before they end up taking over the planet and enslaving humans, they are going to do some amazing things to save our lives.
In fact, robots and medicine go so well together this isn't the first medical robot slideshow we've done. Back in 2012, we covered robots that could do anything from reminding you to take a pill to scraping plaque off your arteries. We showcased more medical robots last year. We just can't get enough.
And for good reason. The medical robot field is growing exponentially. The current $1.7 billion medical robot market is expected to rise to more than $3.7 billion by 2018. And this does not include robots in fire and rescue, military training, and robots designed to improve home life.
It is difficult to estimate just how many robots are wandering the halls of our local hospitals, because it depends on how you define robot. For instance, at least 800 hospitals use telepresence robots. These are rolling devices controlled by doctors and equipped with cameras and tools to allow for remote consultations. There are also "robot surgeons" like the da Vinci, which also require a human to operate them remotely. Both of these are innovative, but they aren't robots so much as remotely operated machines. We wouldn't call a remote control toy car a robot.
For the purpose of this slideshow, we're going to focus more on robots that aren't fancy remote controls for doctors. And when we do talk about remote vehicles, they will include novel approaches that are just too good to ignore. (Spoiler: Doctors use robot "maggots" to drill into your head and eat tumors.)
These amazing robots will do everything from clearing cancerous tumors to helping amputees learn to play music again. They perform more mundane tasks, as well, such as helping patients take medicine, and even throwing up. Why do we need a robot that throws up? You'll have to click through the slideshow to find out. But I promise you'll see a set of really exciting ideas.
David has been writing on business and technology for over 10 years and was most recently Managing Editor at Enterpriseefficiency.com. Before that he was an Assistant Editor at MIT Sloan Management Review, where he covered a wide range of business topics including IT, ... View Full Bio
We welcome your comments on this topic on our social media channels, or
[contact us directly]
with questions about the site.