Artificial intelligence deployments are no longer a risky bet for enterprises, but a "must-have" investment. Gartner has reported that 59% of organizations have deployed AI, with the average company expected to have 10 AI projects by the end of this year. Yet organizations in that 59% aren't equal in their adoption success. It's obvious when a company is leading its industry or severely lagging, and both scenarios have clearly defined paths. But what about organizations whose AI is somewhere in the middle? What's holding them back, and how can they become a leader?
Rapid AI adoption presents a challenge for many IT and business leaders. As competitors with robust AI accelerate their momentum, companies in the middle of the pack risk losing ground. A difficult task for many enterprises is recognizing their place on that spectrum. If executives can't identify their AI position, it's difficult to determine whether and where to improve their strategy.
There are several ways the C-suite can recognize whether their company's in the middle of the pack. Here are some of the most common traits:
Hidden holdouts: Sometimes companies have AI programs in place, but adoption isn't seamless. There are many cases in which an AI deployment is technically excellent but doesn't align with human processes. For example, a leading insurance company was able to adopt an AI-centric underwriting model only after adjusting aspects such as decision traceability and process and incentive alignment. To succeed, AI must be deployed in a human-centric ecosystem.
One-dimensional mindsets: Occasionally the C-suite buys into an AI deployment expecting to reduce costs yet fails to consider other valuable uses. We've helped digital CMOs and CFOs leverage AI to improve results but getting to that point required extending their company's AI vision beyond a single use case.
Talent shortage: Organizations may lack the AI talent to take their business to the next level. That's nothing to be ashamed of, as AI-related technicians such as machine learning engineers are in high demand.
Last-mover advantage: New entrants and startups are frequently more agile than established companies. By entering the sector late, they have the freedom to fail fast and adopt agile ways of working, helping them to more-easily embed AI in their products and services. Companies without those same freedoms may struggle to keep up.
If two or more of these traits apply to your company, rest assured there's help. Here are some ways to help accelerate your rise from the middle of the AI pack:
Treat data as a new trust currency: It's well understood that gathering and analyzing data is key when developing products and services. What AI leaders also understand is that data helps build trust for new and proposed deployments. Capturing data from AI pilots and demonstrating its positive impact can build confidence in the new solutions and expand AI's horizon beyond a few use cases.
Create AI evangelists: A leading healthcare provider created "Bot Managers" who demonstrated how Conversational AI could be used in global HR and procurement functions. Developing these AI evangelists across the value stream enables multiple business units to be exposed to AI's value.
Evaluate AI at the strategic level: Companies should create a vision for how AI might proliferate across their business. Having this vision enables companies to eliminate the noise around AI and focus on experiments that will help gauge results. A leading apparel manufacturer deployed an AI-based revenue-prediction model that improved their forecast accuracy to 99%. This validated their vision of extending a data-driven development and planning culture across the enterprise.
Crowdsource AI talent: Don't be afraid to ask for help. Leveraging cross-functional consultants and crowdsourcing platforms like Topcoder has been a key strategy for a major US bank to successfully adopt automation technologies.
AI education as the next frontier: AI will augment human decision-making and help leapfrog some breakthrough innovations. Having a continuous talent-development program for new tools and technologies will make jobs richer and more fulfilling. Many organizations are setting up Talent Academies with a defined level of maturity and certifications.
Look for outside inspiration: Trying to copy the AI deployments of others in your industry puts you at risk of constantly playing catch-up. Having outside examples is important. For example, we've helped a consumer-goods organization apply lessons learned from the fintech industry to better connect with employees.
AI is still evolving, but it is relevant and valuable in the here and now. Having a well-defined AI strategy and investing in business models that leverage AI and data can help companies become intelligent, innovative leaders. Executives owe it to their organization to recognize their place on the AI spectrum and break out from the middle of the pack. Investing in AI is no longer an option for tomorrow, but a requirement for today.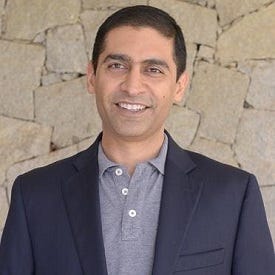 Rajan Kohli, president of Wipro Digital, is responsible for Wipro Digital and Wipro's consulting business globally. Prior to this role, he led the Banking and Financial Services vertical at Wipro. He headed this business globally with the responsibility for client satisfaction, revenue, profitability and capability development. Kohli also has served as Wipro's Chief Marketing Officer. He's a global citizen, who was born and raised in India's first-ever planned city and currently resides in the US. He is a Director of the Wipro US Foundation and is a member of the Digital 50, a member-only community of senior digital transformation leaders.