Among the most significant changes we will see in our lifetime are smart machines that are able to act, learn and reason like a human. Artificial intelligence is poised to fuel a massive digital transformation of business across every industry. The technology we have access to today, as advanced and capable as it is already, is improving at an exponential rate. What we see now, such as intelligent assistants, document readers and computer vision, are rudimentary examples of what will be accessible on astonishingly fast, high bandwidth, low cost cloud networks by almost everyone who has a mobile device in the next 3-to-5 years.
Specifically, Moore's law, the idea that silicon computer chips would get smaller, faster and cheaper at a rapid rate, may be reaching its physical limits, but the industry is quickly adapting to different computing architectures, and it is feasible that we will see the first quantum computers exceed the processing power of Silicon-based, binary computers in the next six years, which will lay the groundwork for the capabilities of AI to reach levels few can imagine.
One of the many applications of AI is Intelligent Automation (IA). IA is generally defined as a combination of AI and robotic process automation (RPA) to automate knowledge-oriented business processes. We see these being deployed in the back office, and in call centers as intelligent, interactive assistants. Business investments in IA are accelerating quickly, with investments on a trajectory to reach $232 billion by 2025. IA technologies, will undoubtedly improve the productivity and quality of business processes. And, it will completely change the role of humans in the workplace and how we interact with machines.
This has massive implications on the workforce as we know it, but not necessarily in negative ways.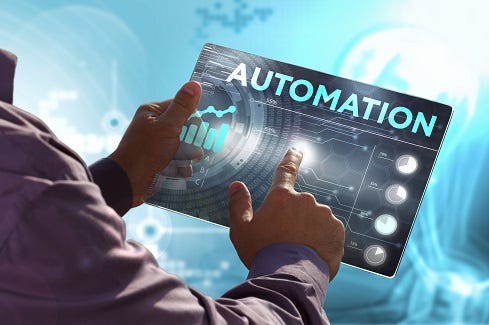 Hidden between the optimism and promise of IA sits the troubling fact that business leaders say they do not have the right talent in place to properly handle these technologies or the changes they will bring. But with such major investments expected over the next several years, businesses can't afford to continue ignoring the changing workplace. Job losses, redesigned roles, and new positions that don't yet exist are inevitable, and companies need to start preparing now to ensure their employees are ready to work alongside machines.
Any startup -- no matter where they are located -- with highly skilled technical, business and creative resources and an Internet connection, has the ability to build the advanced technology and establish the human networks that can disrupt almost any industry. This is playing out in real-time as cloud-based, asset-light, network business models sweep through industry after industry.
It's not an exaggeration to say that what's at stake is nothing less than business survival. If traditional organizations with legacy approaches stick with the status quo, they will fall behind digital-first companies.
Intelligent automation is all about people
Thriving in the automation revolution requires more than simply hiring new employees with specialized technology skills; it demands careful attention to curating and nurturing the right existing talent, employees who understand customer and business processes, and equipping them with the education and training needed to reimagine the way business processes can operate when equipped with these new technologies.
While the challenges seem overwhelming, and indeed the execution is not trivial, it is sometimes helpful to simplify the process and think of it in a few broad principles for change. And, the blueprint for this change is straight forward and not much different from any other major change initiative. Here are four key steps cutting-edge business leaders are taking today to evolve their workforce to adapt to the monumental changes to come:
Establishing a learning culture: Many employees are well-suited for new roles in an IA world, if they embrace a mantra of continuous learning. Companies from AT&T to Flexport have built extensive programs that encourage continuous learning, enabling employees to develop new skills and remain valuable assets in an automated workplace. Such training can also be a great source of excitement within an organization and help address much of the anxiety associated with change. Companies can also leverage new technologies to help employees adapt. For example, augmented reality enables trainers to teach employees even when they are not in the same physical location.
Building centers of excellence. Emerging technologies bring significant operational implications that companies must consider, most notably, how to prioritize, deploy, scale and govern the technologies in a way that adds value to the business. As pilot programs begin to scale, accelerating the deployment of IA and other emerging technologies, governance systems are critical in maintaining stability and confidence throughout the organization. Centers of excellence will many times coordinate the planning, building and maintaining of IA applications, and manage foundational issues like business risks and the impact on the workforce.
Developing new approaches to performance management. In a digital-first world, what metrics should companies use to measure performance in a blended human and machine workforce? Companies are not only reconsidering these metrics, but evaluating organizational structures, HR policies and workplace practices. Developing a strong understanding of this transformation must be a priority to ensure performance is fairly measured and that employees can successfully evolve and adapt to the new world order.
Designing the workforce of the future. Finally, companies preparing now for the changes IA will bring, should create a detailed blueprint of how human and digital labor can be optimally integrated. The blueprint needs to cover structural aspects, such as who sits where and their accountabilities, as well as enabling factors such as information flows, capability building and career path redesign. While only serving as a guide, a blueprint can help you visualize a plan for the future and what changes need to be put in place to get there.
The struggle to balance the role of human and machine is not new, but the increasing prominence of IA in our personal and professional lives has induced a growing anxiety that humans will no longer be needed in the workplace.
This does not have any reasonable basis. While some job categories will experience change and turbulence as automation takes hold, this has happened before and there is no evidence that over the long term that this or any other technology would cause widespread unemployment. In fact, all the historical evidence points to the opposite outcome of higher employment, rising standards of living, never-before-thought-of job categories, and better access to basic human needs.
Despite the undoubtable change IA will bring to the workplace, the need for humans – especially those with specialized skills – is growing. Furthermore, 91 percent of CEOs are confident they can lead radical operating model transformations in their companies.
Success depends on a forward-looking vision that can seamlessly and strategically blend human talent and machine capabilities. It is nothing less than a call to arms for business leaders to take principled and proactive stands. Rather than be reactionary, first responders should lead the conversation and preempt, understand, and manage the changes.
If done right, there is every reason to believe organizations can improve the future world of work.
Cliff Justice is U.S. Leader, Intelligent Automation, for KPMG (US).