Chatbots have become a tool of choice for several industries. Whether it's a financial services company or bank, a retailer, or a healthcare provider -- the technology has enabled organizations of all sizes to converse with customers 24-7, understand their requests, and respond directly to their questions. Through the combined power of artificial intelligence (AI), Natural Language Processing (NLP) and machine learning (ML), these robots can serve as reliable "employees" and deliver a great customer experience if used correctly.
But as many can attest, building and implementing a chatbot can seem like an easy task that can quickly turn into a more complex issue. There are numerous questions and processes that should and do go into ensuring a bot's success, but if these decisions are chosen poorly, customer engagement, satisfaction, and overall trust of the brand are at serious risk.
Setting up the standard functions of expediting and managing multiple customer interactions or anticipating and responding to FAQs around product, price and services are a no-brainer, but organizations must also consider more nuanced pieces like tone, word choice, graphics, cadence and presentation style to drive human connections and reflect and resonate with key customer bases.
For those just starting out, here are five key steps to help elevate and influence customer journeys, and build strong relationships and loyalty with audiences:
Establish your goals. First and foremost, you should have a clear understanding of what you're trying to accomplish for your users and how the bot will help reach your overall goals. Are you helping customers make e-commerce purchases or offering real-time promotional info? Are you answering brief account or payment-related queries as a financial service provider? Or are you empowering users with in-depth and important medical explanations for your healthcare constituents? Depending on the purpose of the chatbot, this will help define how you configure your software and structure the technology.
Map out and visualize the customer journey. Put yourself in your customers' shoes and visualize and contextualize what their journey looks like. This means factoring in human emotion and imagining the levels of angst, curiosity, frustration or confusion they might face before engaging the chatbot and what they'll encounter when they're there. You want to make sure that the bot will effectively enhance customer experience, deepen the relationship and increase customer satisfaction overall. Then consider its functionality; customers will likely know that they are conversing with a chatbot, but it's still important to make this clear when making "introductions." The bot should provide available functions upfront, so that the customers stay on track, ask the right questions, and find what they are looking for with ease.
Be smart with your responses. Once these two are complete, you should build out questions and responses, but be smart with positioning and language -- keeping in mind the appropriate length and depth of the responses. For many, it's best to keep the insight short, clear, factual and on-point. For others, more robust information may be necessary. Linking to other written content, graphics, images, or videos where possible can help strengthen these resources.
Align with the brand's personality: This is one of the most important pieces to ensure continuity. Since a chatbot is an extension of your brand, the language, voices, tone and cadence should directly mirror a brand's personality and values. Alexa, and Siri are female for instance, and female voices are shown to convey empathy or warmth. But perhaps a male voice, with a more authoritative presence is better suited for your brand. It's important to avoid any disconnect, otherwise you likely won't resonate well with your users.
Use thoughtful graphics: As part of the brand's personality, you'll also want to consider which graphics make the most sense to include in the interface and complement the brand. Whether it's a spokesperson or character, the look and "feel" of the bot will play a huge role in recognition and overall interaction and engagement.
No matter its purpose, a chatbot can add to or subtract from the user journey, so it's up to companies to build them with the customer in mind. Only then will they deliver the seamless experiences needed to keep them coming back, and positively impact business results.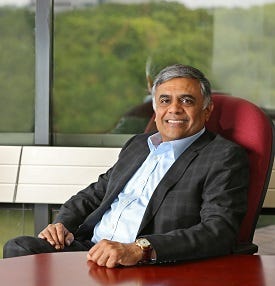 Raj Patil is CEO and president of Orion and a recognized Global business leader with 25+ years of experience in the IT space. Prior to his current role at Orion, he was the President & COO of LiquidHub, a tech firm based out of New York City. Before that, he co-founded aSpark Inc., which was acquired by LiquidHub. His background also includes several senior leadership positions with Mphasis, an HP company, leading its BPO division with over 18,000 employees. He has also received several awards for his contributions to both his profession and the community.