One of the ways that enterprises have used the technologies behind artificial intelligence is as a means to gaining insights. For instance, they use it to listen for early warnings of changing customer preferences or to detect a problem with the supply chain or to predict when an IT asset will require maintenance or need to be taken out of service.
But the insight alone doesn't deliver business value. If organizations want to recognize that business value, they must act on the insight. Those actions aren't an automatic part of AI.
But ServiceNow's Chief AI Officer Vijay Narayanan believes they should be. He joined the ITSM company in March 2020 with a vision to do just that.
Read more about AI in the enterprise here:
How to Create a Successful AI Program
The State of Chatbots: Pandemic Edition
Top 10 Data and Analytics Trends for 2021
"The biggest challenge of AI is the last mile," he told InformationWeek. Turning those AI insights into workflow is what drives value. His goal is to build AI capabilities into the workflow platform itself and optimize them for ServiceNow's customer use cases.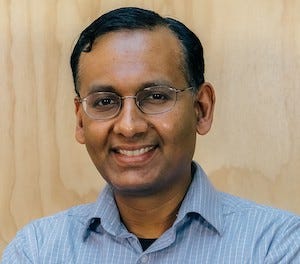 That vision and goal is behind ServiceNow's announced acquisition of Canadian AI pioneer Element AI, a company whose mission is to build artificial intelligence into workflow for enterprise organizations.
The acquisition is as much about the talent as it is about the technology, Narayanan said. Yoshua Bengio will join ServiceNow as a technical advisor as part of the acquisition. The Element AI co-founder and lead fellow is also a winner of an ACM A.M. Turing Award for his contributions to modern AI. Element AI co-founder and CEO Jean-Francois Gagne will also join ServiceNow.
"Element AI's vision has always been to redefine how companies use AI to help people work smarter," Gagne said in a prepared statement.
The deal is one of a handful of AI-focused acquisitions made by ServiceNow since former SAP CEO Bill McDermott joined the company as CEO in October 2019. In early 2020 ServiceNow announced plans to acquire conversational AI platform company Passage AI and AIOps company Loom Systems. In June, ServiceNow announced plans to acquire configuration data management company Sweagle. These acquisitions and the Element AI deal are designed to help ServiceNow build in intelligence that underpins ServiceNow's ITSM and workflow platforms.
Narayanan said that part of ServiceNow's vision, especially with the newest acquisition, is to make AI better.
"It's easy to do dumb AI," he said. "It's hard to do something that's extremely high quality."
For instance, if you ask Google to tell you the height of Mount Everest, Google doesn't point you to a link or a document. It gives you an actual number. It has the capability to go into a link or document and extract the content you are looking for and present it to you in a way that you can easily understand.
ServiceNow's next level of AI will add a higher level of contextual understanding to the artificial intelligence underneath its platform, and also add automated workflow to execute on the insights. In an enterprise context that may take the form of asking a voice assistant to reserve a conference room, without requiring the user to open an app and click through several options to complete the task.
"You say book this room for 3 p.m. tomorrow," Narayanan said. "It understands the availability and books it for you."
Or maybe you spilled coffee on your keyboard and need a replacement. In the scenario Narayanan envisions, the virtual agent understands that your keyboard is broken, knows which one you need, knows where to order it from, and knows your address so it can have it shipped directly to you at your home office.
"There's no need to have a human in the loop," he said.
As part of the Element AI acquisition, ServiceNow will create an AI innovation Hub in Canada to accelerate customer-focused AI innovation in the ServiceNow platform. The company operates similar technology development centers in Chicago; Hyderabad; Kirkland, Washington; San Diego, and Silicon Valley.
"This acquisition will enable us to continue to be on the leading edge solving the last mile problem of AI," Narayanan said. "These are the workflows that drive business value."