The year 2019 was a busy one in the data, analytics, machine learning, and artificial intelligence markets. Yes, there was quite a bit of consolidation among some big players with Salesforce acquiring Tableau, Google acquiring Looker, Qlik acquiring Attunity, among others.
Meanwhile, although the year began with a lot of hype around machine learning getting going hard in the enterprise, that didn't really happen in such a big way in 2019. Indeed, Gartner's CIO survey showed that enterprises weren't growing as quickly in their efforts to get into production with advanced analytics technologies such as machine learning and other types of artificial intelligence.
Recognizing the opportunity, some longtime analytics players such as SAS and IBM pitched their organizations' offerings and services as the path and framework that could lead enterprises out of the morass of unsuccessful efforts to move AI into production. They pitched their platforms as the answer that could manage models and create an ordered, systematic program for deploying AI across an organization. Will their pitch be successful? Stay tuned in 2020.
At the same time, analyst organization Gartner said that it was likely for commercial platforms, not open source, to become the framework for machine learning and artificial intelligence in enterprise organizations. While enterprises may have started with scrappy open source-based pilots, those weren't platforms that could scale. Gartner expects this business will go to public cloud giants like Amazon, Google, and Microsoft.
A lot of changes were afoot in 2019, and 2020 looks like it may be a year of reassessment and retrenching. To get an idea of what to expect in the data and analytics market in 2020, we reached out to Thoughtspot CEO Sudheesh Nair. Thoughtspot was one of just four companies listed in Gartner's 2019 Magic Quadrant report for analytics and business intelligence. Two of those other companies -- Tableau and Qlik -- were part of the big consolidation. Microsoft was the fourth one.
Because Nair is in the middle of the space, he has a unique viewpoint on what happened in 2019. Yet, because his is one of the few companies that didn't do a major consolidation deal during the year, he can provide more of an observer's perspective on what's coming in 2020.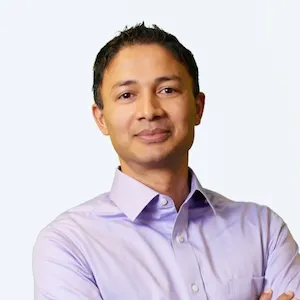 "I think of 2019 in two different universes -- a lot of hype and promise around AI that didn't materialize," he told InformationWeek in an interview. One trouble area was Hadoop, he said, as Cloudera had a tough few financial quarters, and MapR nearly ceased to exist before having its assets be acquired by Hewlett Packard Enterprise. Robotic process automation (RPA) companies experienced similar troubles, he said, as deployment of the technology failed to live up to the hype. WeWork, with its failed IPO and massive debt, was an apt poster child for 2019. Nair said that two things were at play with some of these disappointments.
"It's always easy to fall into the hubris of the Silicon Valley bubble where every problem is just an algorithm away from being solved out of existence," he said. The second part is that we minimized the human experience as less valuable than the algorithmic one.
"Both of those are fallacies," Nair said. "When a person has been in a job for 15 to 20 years, the experience she has will always be valuable."
Nair predicts that in 2020 and beyond a lot of AI and automation companies will start taking human experience more seriously and consider how AI and automation technologies can be used to augment human experience.
Separately, as a world traveler, he sees a lot of optimism in the world that is difficult to explain in the U.S. That's because technology today becomes obsolete in 5 to 6 years. But in developing countries that may not have sunk costs in the form of legacy technology already deployed, they can leapfrog with newer technologies to get ahead of bigger competitors around the world.
For instance, they can implement something completely new, such as a cloud-based data warehouse.
Another big trend that will continue in 2020 is the disintermediation and the hyperpersonalization that is enabled by AI. Consumers have come to expect the kind of service enabled by these two benefits of AI. You can see them when using a car share service like Uber or Lyft. You are less likely to see them if you call your bank or airline. That's an opportunity for other upstart services in 2020 and the decade ahead.
"If United Airlines can't figure out how to deliver that kind of experience to you, that is an opportunity for a different company. Somebody else will figure out how to use the data and do it," Nair said. "Insurance companies and airlines are hogging your personal information as much as they can, but still delivering services as if you are a number."
Hyperpersonalization is the key to fixing this, by helping companies use data to deliver services that show consumers that they are understood and valued, according to Nair. Machine learning will play a big part in this because it enables hyperpersonalization at a large scale.
Finally, Nair said he hopes, rather than predicts, that organizations will pay more attention to algorithmic bias in 2019, because the bias is there, and a backlash is coming.
"We have to remove biases," he said. "This is an area that needs a lot of work."
For more reflections on 2019 and predictions for 2020 and beyond, read:
10 Strategic Technology Trends for 2020
10 Data and Analytics Trends for 2020