AWS Summit Focuses on Smoother Integrations
Amazon touts ease of using custom code on its platform and the acceleration of the speed of execution in the development cycle.
Last week, Amazon brought the AWS Summit to New York, featuring experts from the company as well as partners and clients who shared their experiences with the cloud platform. Datadog, DoorDash, MongoDB, Intel, Moogsoft, and IBM were just some of the exhibitors and presenters at the conference.
The event saw its share of controversy with protesters -- who oppose Amazon furnishing technology to ICE (Immigration and Customs Enforcement) -- lined up along the entryway to the Jacob Javits Convention Center. This included interruptions by protesters during the opening keynote by Amazon CTO Werner Vogels.
After Vogels resumed the planned program, the conference brought clients such as the Financial Industry Regulatory Authority (FINRA) to the stage to share their AWS use cases. FINRA previously migrated to AWS and developed a platform it said adapts with the market while also offering resources for analysts to query vast sets of data.
Vogels discussed how Amazon helps AWS customers who build microservices-style environments and distributed applications. "There's going to be complexity that evolves with that," he said. Consistent communication management, Vogels said, is essential to ensure that all the different components work together. He also spoke about the importance of the tools such as AWS X-Ray that are used to observe and visualize components within such environments.
"In the distributed systems world, it is often hard to see where bottlenecks are and where failures are happening," Vogels said.
With many organizations deploying components beyond AWS that still must function together, Amazon stepped up with a new offering to help with such integrations. Vogels announced the introduction of Amazon EventBridge, which is a service event bus for assessing processing data across AWS services and SaaS applications. The plethora of elements that need to be integrated means there is plenty of custom code, he said, which led to Amazon providing what it believes to be a simpler programming model. "You can stitch together both your code, AWS code, AWS services, and services from third-parties," Vogels said.
He went on to discuss the importance of other aspects, such as operations, in addition to architecture and the building of software that must work together. "The question is, 'What is the best operating model?'" Vogels asked. Organizations have many choices to consider including containers, servers, and serverless containers. He talked up the support and security of AWS that lets developers focus on building their applications.
Sporting an "Encrypt Everything" t-shirt, Vogels doubled down on the necessity for consistent vigilance to maintain the safe integrity of data and applications. "We need to continuously invest in security to make sure we stay ahead of all the bad actors," he said. That includes the commitment of intellectual and financial capital by Amazon to deploy algorithmic reasoning and machine learning to prove it is protecting its customers from data breaches, he said. Security needs to adapt and evolve quickly to safeguard applications from malicious action, he added. That will require change that brings in multiple disciplines such as developers, architects and IT professionals to take responsibility for such protection. "Most of the patterns that we see are no longer brute-force, front-door attacks," he said. "I think security needs to be everyone's job, not just that of the security team."
Over the course of the summit, partners and clients of AWS shared insight on trends and their respective use cases that are highlighted in the slides that follow.
AIOps and Overcoming IT Operational Challenges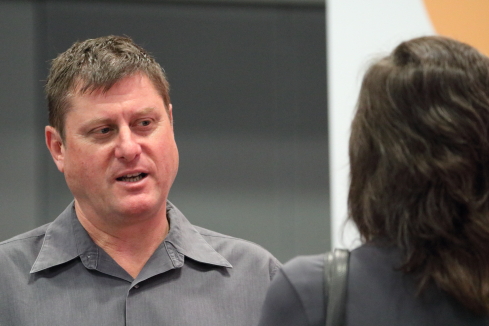 In what is becoming a familiar mantra, Moogsoft offered its perspective on the momentum it sees with AIOps, artificial intelligence for IT operations, to drive change and productivity. Richard Whitehead, evangelist for Moogsoft, spoke at AWS Summit about the escalation of scale and a commensurate increase in moving parts in IT. AI is being used to cut down some of the noise that can bog down operations.
Organizations might have to cope with upwards of five times the amount of data while keeping a tight rein on operational expenses, he said. How operations were managed and monitored in the past might not be viable or cost effective given the pace of change, Whitehead said. That is where he said AIOps can be put to work in a substantial way. "AIOps is not a bolt-on feature," he said. "It's more of a methodology." There are opportunities to incorporate AI, Whitehead said, across a chain of production or the lifecycle of an environment to improve operational efficiency.
Expediting the Development Lifecycle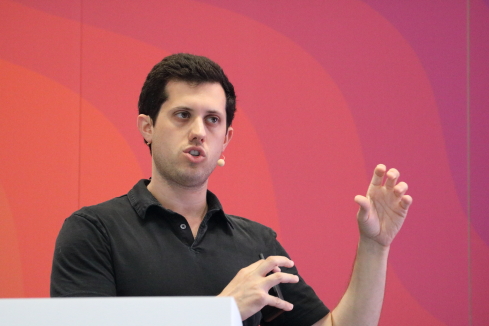 As seen in June, MongoDB is on a mission to show the world that it is a data platform company with more to offer beyond its database. Drew DiPalma, senior product manager for MongoDB, spoke about how to accelerate the development lifecycle in a serverless environment with MongoDB. Application architecture is traditionally divided into segments or layers such as data sources, data access, and business logic, he said. "Typically, if you're building out all these different layers, you have to think about how you scale, how you manage deployment, and how you have the layers interact with each other," he said.
Across different customers, MongoDB sees recurring types of features built into their applications, DiPalma said, which includes ways to access data and hosting integration. Moving those traditional models to a serverless environment removes layers, he said. "Think about how you would want the structures in between data and users to behave." That can lead to simplified integration and services with a streamlined infrastructure
Building at Startup Speed with Enterprise Qualities
It is easy to see why organizations want IT operations to move at a pace seen in the startup world but there may be concerns about loss of functionality and scale that enterprises need and depend on. Ken Robbins, cofounder and president of Go2 Software, spoke about his startup Cloud Pegboard, which serves developers on AWS who are inundated with information.
Cloud Pegboard is a tool for filtering out noise, tracking service changes, and finding information, which can be harder to accomplish as organizations build up technical debt. "We do this by collecting everything there is to know, restructuring the database, and presenting that back with a number of different interfaces," Robbins said. That includes a table view of all service data and data sheets that show all details of a given service in one tab. "You can find information in a single click," he said. "It sounds very simple but it's very empowering."
High-Speed Data Migration to AWS Cloud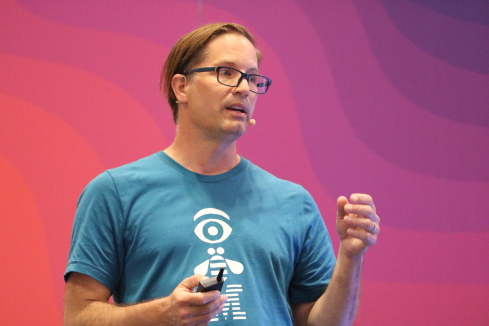 The acceleration of business information via the cloud is driving organizations to leverage infrastructure as a service to build new applications, said Jay Migliaccio, senior product manager at IBM's Aspera high-speed data transfer company. Those new applications are combined with previously created apps and data storage in the cloud but even more could be done as companies go digital. "The trend is clearly established," he said. "There's an increasing move to the cloud to help businesses transform yet only 20% of enterprise workloads have moved to the cloud."
Simple migrations such as the lift-and-shift process, which redeploys software applications that ran in a datacenter to a virtual machine in the cloud. Many startups have been building natively to the cloud. The bulk of companies though have applications that cannot be migrated as-is to the cloud, Migliaccio said, which lends itself to a hybrid approach to transformation. "Many organizations will be in a dual environment for many years to come," he said.
As the race continues to move to the cloud, the volume of companies stampeding to migrate can risk slowing down the process. "At some point there is a natural limit to traffic," Migliaccio said. "If you have the fastest engine on the roadway, you can go very quickly on that highway, but if there are many of you with the same engine that roadway can become congested." He says the visibility and control over users of those networks, provided by a service such as Aspera, can be a solution to this dilemma.
Joao-Pierre S. Ruth has spent his career immersed in business and technology journalism first covering local industries in New Jersey, later as the New York editor for Xconomy delving into the city's tech startup community, and then as a freelancer for such outlets as ... View Full Bio
We welcome your comments on this topic on our social media channels, or
[contact us directly]
with questions about the site.