The business intelligence market is in a serious state of transition, according to the Gartner's 2015 Magic Quadrant for Business Intelligence and Analytics Platforms, published on Tuesday.
Companies are overwhelmingly choosing a new breed of data-discovery and interactive-analysis platforms from companies such as Tableau and Qlik. In fact, they're choosing these platforms even when they're not the most appropriate tools for the job at hand, says Gartner, and despite lingering concerns about how to govern data across the enterprise.
"Business-centric platforms such as Tableau Software, Qlik, and other emerging vendors have a more narrow set of capabilities, but are used more broadly for a range of BI and analytics functions -- including reporting, for which they are not optimal… -- primarily because they are easy to use and deploy," Gartner writes in its report. In contrast, companies using more conventional, IT-centric platforms (such as Cognos or BusinessObjects) that have a broad range of BI capabilities say they apply them to narrow use-cases.
[ Want more on Gartner's other quadrant? Read Gartner Advanced Analytics Quadrant 2015: Gainers, Losers. ]
What's at stake in this transition is not just the survival of well-known, IT-centric BI platforms from the likes of IBM, Oracle, SAP, MicroStrategy, and Information Builders. Gartner says companies will inevitably have to reconcile why they have separate system-of-record reporting platforms and data-discovery platforms, because "no single vendor fully addresses both [needs]."
What the data-discovery platforms like Tableau and Qlik tend to lack is the ability to scale and govern data for a variety of applications across the enterprise, according to Gartner. The conventional IT-centric platforms, meanwhile, are attempting to replicate the business-user-friendly attributes of the data-discovery platforms, but mostly these have been "pale imitations" and thus "have had limited adoption."
Against this backdrop, and based on more than 2,000 customer interviews over the last year, Gartner says its latest Quadrant is based on broader expectations on its horizontal "completeness of vision" axis and higher expectations on the vertical "ability to execute" axis. For this reason, the analyst firm cautions that comparing vendor positions from last year to this year is "not particularly useful." In essence, most vendors moved down and to the left relative to these rising expectations.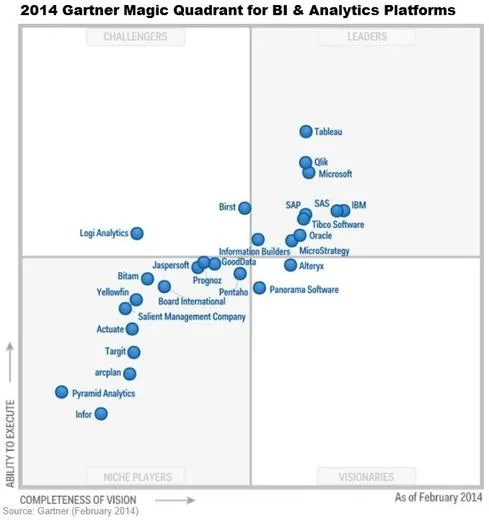 However, a few standouts moved up and to the right, and some vendors moved down and left more than others. By all means follow Gartner's advice to put the vendor "strengths" and "cautions" detailed in the report into the context of your business and IT needs. But here's a quick rundown on the notable movement within the Leaders, Visionaries, Challengers, and Niche-Players quadrants:
Leaders:
SAS is now the leader on the BI vision axis. Gartner cites customer praise for SAS's market understanding, its product functionality and quality, and the ability of its BI and analytics platform to address diverse use-cases. Cautions include license costs and reported difficulty migrating to the latest platforms. SAS also is a leader on Gartner's just-released Advanced Analytics Magic Quadrant.
SAP runs a close second on the vision axis. Gartner cited strengths, including SAP Lumira self-service data-prep and infographics features, and new predictive analytics capabilities gained through SAP's acquisition of KXEN. Cautions include low customer-satisfaction scores and below-average marks for data-discovery and dashboarding capabilities.
Tableau Software remains the top vendor on the execution axis for its tendency to "land and expand" once customers start using its software. Tableau slipped somewhat on the vision axis. Cautions include Tableau's "limited product line" and the threat that rivals might match the vendor's data-visualization capabilities.
Visionaries:
Tibco is the only vendor to fall out of last year's Leaders quadrant. Tibco had a turbulent year in 2014, stumbling financially and gaining new (private) ownership. Tibco also acquired Jaspersoft in 2014, and Gartner notes its 2015 ranking is based on both the Spotfire (data discovery) and Jaspersoft (embedded BI) products. Gartner cites strengths, including a wide range of potential use-cases for both product lines. Cautions include minimal integration between Spotfire and Jaspersoft so far and weak metadata management for traditional styles of BI analysis.
Challengers:
Logi Analytics moved to the right on the vision axis, having introduced in 2014 a collaborative data-discovery platform, Logi Vision, and a clear roadmap to integrate it with its IT-oriented Logi Info product. Customers cite strengths, including low license cost and low implementation cost and effort. The products are good for basic, centrally managed reporting, dashboards, and basic ad hoc analysis needs, but complex analysis and decentralized data-discovery are not this vendor's strong suit, Gartner cautions.
Niche Players:
Pyramid Analytics is an "emerging and well-funded" company that's now near the top of this quadrant on the execution axis. Building on Microsoft's BI stack, Pyramid's strengths include ease of use for developers and users, according to Gartner. Cautions include below-average data-mashup and mobile BI capabilities, as rated by customers.
Again, the vendors noted above are those that seemed to buck the typical downward and leftward move from last year's quadrant to this year's report. Arcplan, Bitam, and Infor were dropped from the report because they failed to meet this year's inclusion requirements. Datawatch was added because it did meet those requirements, according to the analyst firm.
Gartner's analysis is based on 13 capabilities and four BI and analytics use-cases: centralized BI provisioning, decentralized analytics, governed data discovery, and OEM/embedded BI. Read the 46-page report (available as a free download) for the deep details. Regardless of whether you believe Gartner is 100% vendor-neutral and independent in its assessments or not, this latest report presents a mountain of valuable detail and context on vendors and products that is invaluable to would-be software buyers.
Attend Interop Las Vegas, the leading independent technology conference and expo series designed to inspire, inform, and connect the world's IT community. In 2015, look for all new programs, networking opportunities, and classes that will help you set your organization's IT action plan. It happens April 27 to May 1. Register with Discount Code MPOIWK for $200 off Total Access & Conference Passes.