(Continued from preceding page)
issuing a credit card to someone with no credit record. Without a credit history, a consumer has no FICO rating.
The new service gathers a consumer's history of paying utility and phone bills, along with how often they change addresses, in order to produce what it feels is a reliable credit picture.
That is far from the most exotic of "alternative" credit metrics that companies -- particularly fintech startups -- are pulling from big-data stores.
SharedLending, founded in 2013, asks credit applicants 37 questions, including how many steps they take daily. Other internet lenders are plumbing applicants' social media presence and their use of punctuation. One yearling, Cignifi, records how much time someone uses their mobile phone.
Not all financial services are deploying such innovative (and, to be candid, kind of creepy) Internet finance technology.
David Gumpert-Hersh, vice president of business analytics at $4 billion Wescom Credit Union in Anaheim, Calif., oversees data-analytics programs that find insights in the information customers ordinarily provide a financial-services company, combined with their account history.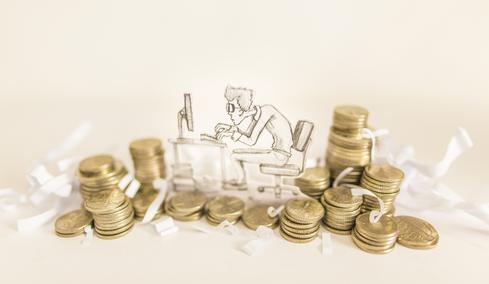 "Wescom built an analytical platform," Gumpert-Hersh said in an interview with InformationWeek, "that probably should be used by everybody in the firm to collaborate on the end goal: advancing our members' financial well-being." Although he did not say as much, the platform would also likely be used to improve its balance sheets.
"Do you know how you get preapprovals for loans in the mail?" he asked. "They're not really preapprovals." They are enticements to apply for a loan, for which a consumer may not be approved after filling out the forms.
"We send out actual preapprovals" based on insights gathered by Wescom's homegrown analytics application from its non-cloud big data stores, said Gumpert-Hersh. The marketing program began in 2011, about three months after the economy had bottomed out, which would demonstrate a high degree of confidence in the technology.
Gumpert-Hersh declined to give specifics about available data points collected to judge his members' creditworthiness, though he did say the credit union's average losses have declined compared with what it was experiencing in 2008.
[Are you ready for the bot invasion? Read The Rise of the Bots: 11 Ways Your Business Can Prepare.]
For example, he said, 60% to 70% of the firm's consumer car-loan business comes from preapprovals, a figure he said compares well across his industry.
"What is starting to emerge is a notion of being able to match assets and liabilities of a household on an ongoing basis," said Joseph, from accounting firm Grant Thornton. "In the past, that would have been onerous and challenging." An understatement to be sure.
Joseph said robo-advising, in which bots interact with clients to find the optimum products for them and the vendor, "is one piece of the puzzle." The goal is to have continuing conversations involving automation or person-to-person interaction supported by automation.
Joseph is optimistic about the near-term spread of internet finance technology.
"What's the issue at hand?" he asked. "We see Baby Boomers entering the retirement and savings space." They and much of the rest of the population have low savings rates.
"Financial-services firms as a whole have a lot of products that can help people save. The challenge is people are overwhelmed by the choices and decisions they have to make, and there's a general distrust of large financial institutions," Joseph said.
Internet finance technology can better deal with the millions of impacted people, and vendors are increasingly interested in selling from a customer-centric stance, with rafts of related products that address the needs of every individual.