IBM on Thursday revealed a computer chip designed to process information in a way that emulates the human brain.
Described in Science magazine, the Systems of Neuromorphic Adaptive Plastic Scalable Electronics (SyNAPSE) chip is a "neurosynaptic computer chip," capable of processing information over a network of 256 million programmable synapses and one million "neurons" that communicate via electrical bursts, like the neurons in the brain. SyNAPSE chips are based on a computing architecture that IBM calls TrueNorth.
TrueNorth departs from the traditional Von Neumann computing architecture that has dominated the industry since 1946. In a SyNAPSE chip, each core contains memory, computation, and communication circuits and is designed for parallel processing. This helps avoid the bottlenecks in traditional computer designs that arise from limited connections between systems.
[Learn how IBM is courting the CMO. See IBM Click-To-Buy Consulting: Gimmick Or Growth Engine?]
SyNAPSE chips are event-driven rather than clock-driven. They run cooler than other chips because they aren't running all the time. They're designed to work with one another, tiled together. Arranged in this manner, the chips can communicate in parallel to create a failure-tolerant mesh supercomputer.
When IBM debuted a prototype in 2011, SyNAPSE had a single core. The new second-generation model has 4,096 neurosynaptic cores, but consumes only 70 mW while operating. That's somewhere from hundreds to a thousand times less than the chips found in most desktop and laptop computers today.
Packed with 5.4 billion transistors, SyNAPSE boasts a power density of 20 mW/cm2, roughly four orders of magnitude less than current conventional microprocessors, IBM said.
Such energy efficiency, IBM hopes, will enable the simulation of a trillion synapses using only 4 kW of power. That's short of the 100 trillion synapses estimated in the human brain, but IBM already demonstrated that it can map the pathways in a Macaque monkey brain.
"These brain-inspired chips could transform mobility, via sensory and intelligent applications that can fit in the palm of your hand but without the need for WiFi," said Dharmendra S. Modha, IBM Fellow and chief scientist of brain-inspired computing at IBM Research, in a statement.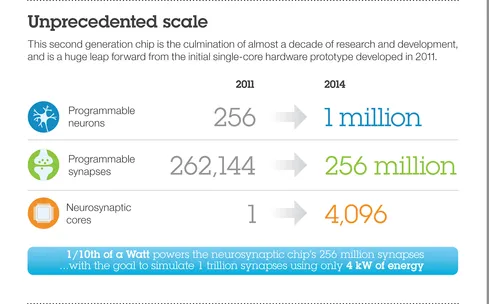 IBM sees potential in SyNAPSE chips as a way to capture real-time information, for applications that could, for example, help a blind person navigate through a crowded environment with moving obstacles. The technology could also be useful in self-driving cars or other automated systems that depend on processing vast amounts of sensory data in real-time.
The SyNAPSE chip is just one part of a larger ecosystem designed to support the TrueNorth architecture through development, debugging, and deployment. To help people understand how to write passively parallel cognitive code, IBM has developed a simulator called Compass; a neuron model specification; a programming model based on building blocks called "corelets"; a corelet programming library; and a laboratory teaching curriculum.
The Systems of Neuromorphic Adaptive Plastic Scalable Electronics (SyNAPSE) program has been funded by the Defense Advanced Research Project Agency (DARPA) since 2008. DARPA has invested $53 million in the project to date. Cornell Tech and iniLabs also participate in the research.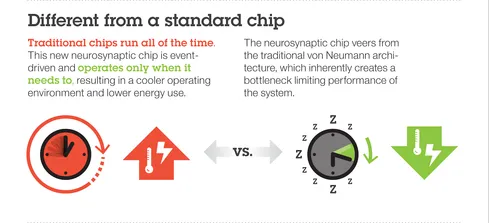 InformationWeek's new Must Reads is a compendium of our best recent coverage of servers. Find out which vendors are the Hadoop leaders, why Texas is a hotbed of IT training, how microservers and blade servers compare, and more. Get the new Must Reads: Servers issue of InformationWeek Must Reads today (free registration required).