IBM debuted a iOS app powered by Watson that aims to ease your holiday shopping. The IBM Watson Trend app is designed to help shoppers identify the trendiest products, understand what is driving those trends, and even help decide the best time to make purchases.
IBM Watson Trend is available as a mobile app for iOS and as a desktop app.
"We envision families kicking back on the couch after Thanksgiving and using it to target their holiday shopping," said Justin Norwood, an IBM Consulting Executive and one of the inventors of the app. "The idea behind this app came from an internal innovation session. We started dreaming about a scenario where individuals like us get some purchase advice from social media. What if we could harness all of those conversations, literally tens of millions of them, and use the power of Watson to understand those conversations, the meaning and tone, and serve those insights to shoppers at the holiday season?"
The IBM Watson Trend app pulls in conversations and information about products from more than 10,000 sources, including social media, major ecommerce sites, blogs, product reviews, and rankings. The app focuses on the 100 hottest trending products in each of three categories -- consumer electronics, toys, and health and fitness.
According to Norwood, IBM hopes to one day make this a useful tool for enterprises as well as consumers. But for now, the focus is squarely on helping consumers do their holiday shopping.
As with any other trend finder, some of the results will be obvious. It's no surprise that Star Wars Legos will be hot this year. But there are also less obvious trends. For example, Norwood said Watson discovered that Instagram has encouraged a generation of young people to seek out digital cameras beyond those on their smartphones.
Even within the obvious trends, Watson can offer useful data to help with purchasing decisions. For instance, Watson has gathered data indicating that Lego may not be able to keep up with demand for certain of its Star Wars products, so the app recommends buying those toys early in the purchasing cycle. It even identifies which of the Lego product lines will likely sell out first.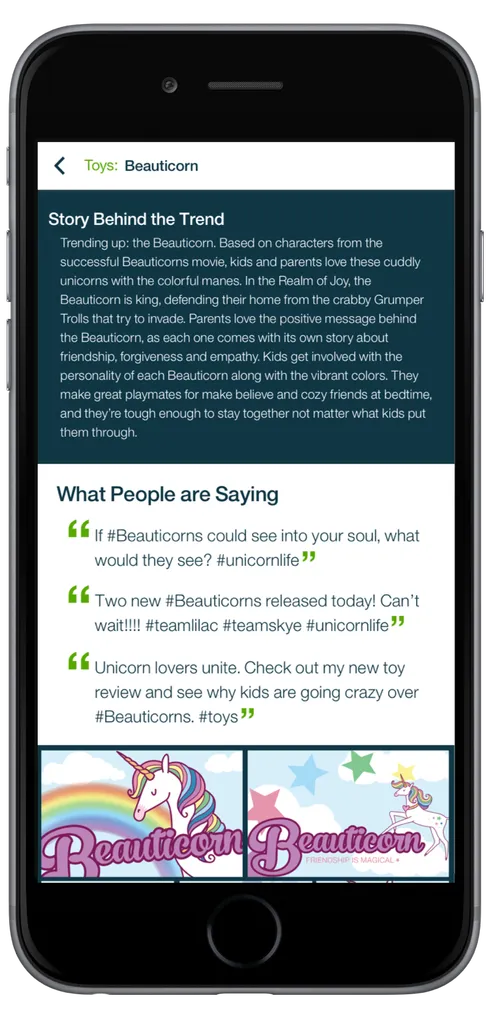 "If you had unlimited time and never slept, you could probably make all of these connections yourself," Norwood said. "Watson allows you to be an expert in three product categories at the click of a button."
[Maybe you'll have more time when Watson helps you with fantasy football. Read IBM Watson: Your Fantasy Football Secret Weapon.]
You're probably wondering what separates this app from countless other resources, including trend articles, gift guides, and online tools such as Amazon's "people who bought this, bought that" algorithms. According to Norwood, it comes down to variety of data. "First of all, there really is goodness in Amazon's data. I don't know how they do their gift-buying guides, but I'll tell you we are pulling, as part of the data, site reviews from 200 commerce sites, not just a single retailer. There is also this issue of independence. We aren't trying to sell anything."
The Watson Trend App uses a combination of API capabilities from IBM's open Watson Developer platform, including sentiment analysis, keyword extraction, concept tagging, and taxonomy classification.
IBM explained how it works in a prepared statement: "Using Watson's understanding of natural language and machine learning technologies, the app uncovers layers of consumer sentiment to pinpoint patterns and trends to reveal why people are choosing certain products or brands. The app also uses predictive analytics to forecast if a particular trend is a fleeting fad or will continue to remain strong. To uncover insights behind the top holiday trends and products, Watson's natural language engine aggregates insights into distinct trend groups: content, context, and sentiment. Each group is given a relative daily Trend Score, ranging from 0 to 100, based on the impact (size of the conversation) and the momentum (the rate of growth of the conversation)."
In the future, geographic and language data will be added, as well as an increased level of personalization catering to each consumer's unique interests and preferences. According to Norwood, personalization is "high on [the] list for where we take this app next. We think personalization is a good fit for where this will go. Not just for me, but for someone I might want to buy for."
When the app is further developed for enterprises, Norwood said, it will require different trending information. For example, whereas consumers want to see trend lines of about three weeks for holiday shopping, retailers need insights three to six months earlier, and manufaturers need up to to two years, Norwood said. IBM wanted to debut the insights with consumers, and then build out the timeline for business users from there, Norwood explained.
In the meantime, probably the only source of more data on holiday trends is Santa Claus himself.
**New deadline of Dec. 18, 2015** Be a part of the prestigious InformationWeek Elite 100! Time is running out to submit your company's application by Dec. 18, 2015. Go to our 2016 registration page: InformationWeek's Elite 100 list for 2016.