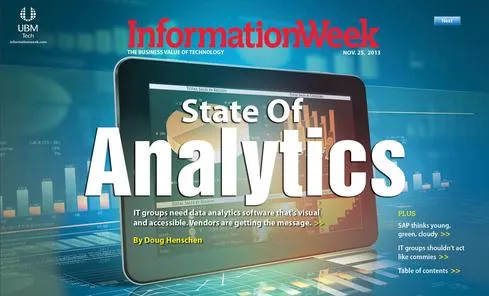 Download the entire November 25, 2013, issue of InformationWeek
, distributed in an all-digital format (registration required).
Those wonky, sophisticated analytics and business intelligence tools may be fine for power users, but most organizations want easy-to-use, easy-to-interpret visual data analyses they can share with executives, salespeople, and other business users -- preferably on a tablet as well as a laptop or PC.
We hear variations on this theme over and over from practitioners, and it's backed up by our 2014 InformationWeek Analytics, Business Intelligence, and Information Management Survey. In fact, the trends identified in this annual survey have been pretty consistent since 2011. Survey respondents have picked data visualization, for example, among their top three "leading edge" analytics and BI technologies for the last four years, and this year it tied advanced analytics and embedded BI in the No. 1 spot.
The demand for visual data analysis is a response to one of the biggest complaints about BI and analytics tools: complexity. Here, too, our survey results have been consistent since 2011, with "ease-of-use challenges" rated second only to "data quality problems" on respondents' list of barriers to successful analytics or BI initiatives.
Advanced capabilities such as predictive analysis, risk analysis, and variable data analysis remain in high demand. Interest in big data is also apparent in the growing use of Hadoop and NoSQL databases, information management trends we've been following for more than four years.
The move to self-service
What's the No. 1 impediment to information management success? "Accessing relevant, timely, or reliable data." Analytics and BI vendors know that IT groups are overwhelmed with requests for new data sources and new dimensions of data that require changes to reports and dashboards or, worse, changes to applications and data warehouses. It's no wonder that "self-service" capabilities seem to be showing up in every BI software upgrade.
Generator manufacturer Multiquip, a midsize company based in Carson, Calif., shares a pretty typical account of the need for self-service. "We were looking for a way to serve the end users better, faster, and more efficiently without always having to get IT involved," says Michael Hanken, the company's VP of IT.
Multiquip built a Microsoft SQL Server data warehouse four years ago, and it added Logi Analytics, a BI suite aimed at midsize companies, to handle its reporting, dashboarding, and ad hoc querying. To make the insights it gleaned more accessible, the company rolled out iPad-based reports and a sales-oriented price-quoting application based on Logi's software last year. That rollout still didn't fulfill what Hanken describes as "the IT manager's dream: reports written entirely by end users."
To fill this gap, Multiquip signed on as a beta customer for Logi Vision to meet self-service and data visualization demands. Using the software, Multiquip is exploring ways to let users solve customer service problems on their own.
"When there are delays, there's a ripple effect on the supply chain and customer service, and that's not something that shows up in a daily report or single pie chart," Hanken says.
Data exploration and visualization tools can't just serve up pretty charts and graphs. They must make it easy for business users to explore and correlate multiple dimensions of data. Multiquip's standard supply chain reports, for example, haven't included sales data that shows which important customers might be hard hit by a particular shipping delay.
"Now we have all this information in the Logi Vision data layer, and users can query the supply chain side and see the effect on the sales side," Hanken says. "That's something we didn't have before."
Data selection is a drag-and-drop proposition with Logi Vision, and the software automatically chooses a data visualization based on the data and style of analysis. Multiquip has 11 people in its IT department, and Hanken says now that users can create reports on their own, the one IT person who supports Logi has more time available to work on bringing Vision data exploration applications to the iPad. "We were skeptical about iPads because salespeople are tough to please, but we gave them two hours of training and they just took it away," Hanken says.
To read the rest of this story,
download the November 25, 2013, issue of InformationWeek distributed in an all-digital format (registration required).