Microsoft has all the components it needs -- event hubs, high-speed data-ingestion capabilities, and stream, machine learning, and Hadoop services -- to launch the Azure IoT Suite it announced Monday. And given Microsoft's massively scaled, global cloud, an Internet-of-Things offering only makes sense. But how quickly can the company catch up?
For now, the Azure IoT Suite is just an announcement, but that didn't stop Microsoft CEO Satya Nadella from touting it at this week's Microsoft Convergence Conference in Atlanta. Describing an early (private beta) deployment by Rockwell Automation, a global industrial equipment company, Nadella said the company is driving the kind of "transformational shift" that many companies are trying to spearhead by moving from static systems to data-driven "systems of intelligence."
[Want more on this topic? Read Industrial IoT: Creating New Business Opportunities.]
"We talk a lot about having more than a billion users on smartphones, but by 2019 we're going to have 26 billion connected devices," said Nadella, noting that that's expected to bring more than 44 zettabytes of data into the cloud. "The most interesting thing that happens once you have all this data is the transformation of business models."
Rockwell Automation, for example, is collecting data from industrial-equipment sensors using Microsoft service-bus technologies, and it's uploading that data into Azure. From there, Rockwell uses Azure Stream Analytics (set for release next month) and the Azure Machine Learning service to analyze the data. It then reports the results using Azure-powered portals.
Rockwell's dashboards measure pressures, temperatures, volumes, and performance data in mining and oil-and-gas operations, for example. If anomalies are sensed by Azure Stream Analytics, engineers can drill down to deeper data, including part and maintenance records. Azure Machine Learning can be trained on the performance histories of related parts to trigger predictive maintenance or, if need be, a remote shut down to avoid safety or environmental risks.
"That example shows you how every business, whether you're a provider of insurance or a manufacturer, can become a software business offering applications, advanced analytics, predictions, and SaaS services," Nadella concluded, noting the revenue and profitability potential of performance improvement and value-added services.
As compelling as such stories can be, transformations may not happen quickly. Rockwell Automation and elevator-maker ThyssenKrupp are the only two Azure IoT beta customers that have been identified, and the public preview of the suite won't arrive until later this year.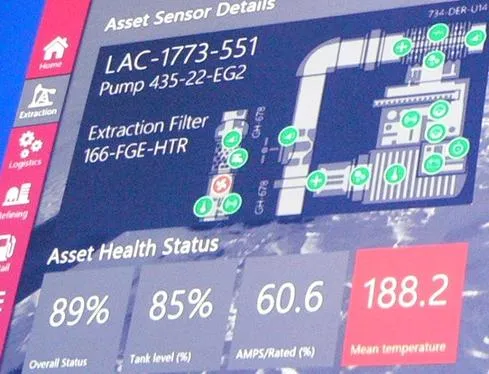 Nonetheless, Microsoft says it has a growing pipeline of customers ready to adopt, and at launch it's promising to have three, ready-to-customize applications: remote monitoring (for measuring remote devices), asset management (for controlling them in some way), and predictive maintenance (for monitoring and understanding performance histories in order to reduce service calls while avoiding outages).
It's a crawl-walk-run starting point for IoT apps, and Microsoft says it will offer competitive pricing and quick-start workshops to get proof-of-concept projects rolling. But there's a long list of companies that have stepped out ahead of Microsoft with some sort of IoT offering, from Intel and SAP to IBM and General Electric. GE is among the most advanced among these purveyors, having launched with some 10 services for its industrial equipment customers a couple of years ago and having since grown its portfolio to more than 40 services last year.
Still, each vendor has its special strengths. For GE its experience with remote monitoring and predictive maintenance applications for industrial equipment. As for Microsoft, few can match the scale of its cloud or its footprint in businesses.
On that last point, Microsoft is promising versions of its coming Windows 10 operating system that will include applications and driver models for a range of devices including IoT data gateways, ATMs, and industrial robotics. That, plus Azure and related services will undoubtedly make Microsoft an IoT player that others will want see as a partner rather than as a competitor.
Attend Interop Las Vegas, the leading independent technology conference and expo series designed to inspire, inform, and connect the world's IT community. In 2015, look for all new programs, networking opportunities, and classes that will help you set your organization's IT action plan. It happens April 27 to May 1. Register with Discount Code MPOIWK for $200 off Total Access & Conference Passes.