Automaker Nissan announced at the 2015 Tokyo Auto Show that it has begun testing its first prototype vehicle that demonstrates piloted driving on both highway and city and urban roads. The company is developing an advanced form of vehicle intelligence called Nissan Intelligent Driving, which is composed of various innovative features that will be introduced in stages.
For the first stage, Nissan will offer "Piloted Drive 1.0" by the end of 2016 in Japan, which allows for autonomous driving under heavy highway traffic conditions. By 2018, the company hopes to implement a multiple-lane piloted drive that can conduct lane changes on highways.
Two years later, the company will introduce a new system that allows vehicles to successfully manage city and urban roads, including intersections, autonomously. The prototype vehicle, based on the Leaf electric vehicle, will be tested in actual traffic conditions on both the highway and urban roads to develop and further enhance Nissan Intelligent Driving for public use.
The vehicle is equipped with features such as millimeter wave radar, laser scanners, cameras, high-speed computer chips, and other features that help allow the vehicle to operate in an autonomous manner. Currently in its prototype stages, the laser scanner determines the distance between the vehicle and its surroundings through the use of precise three-dimensional measurement that enables the vehicle to navigate routes in tight spaces.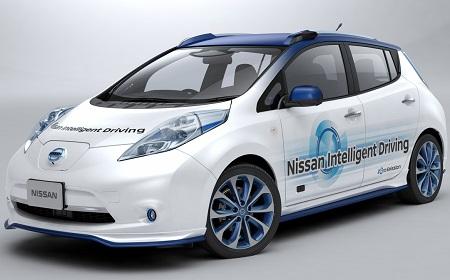 Nissan has also developed an 8-way, 360-degree-view camera system that allows for accurate routing decisions when driving through intersections and sharp curving roads. The company's Human Machine Interface (HMI), which ties all the technologies together, includes a piloted drive commander, meter cluster, heads up display, and center cluster.
Positioned on the center console, the piloted drive commander performs various functions, such as shifting between manual (normal) drive mode and Piloted Drive (autonomous) mode, and conducts automatic lane changes.
When in Piloted Drive mode, the driving path, including lane changes and intersections, is displayed in front of the driver on the heads-up display. In order to observe the driving landscape during Piloted Drive, a virtual bird's eye view is displayed on the large screen in the center cluster, while the meter cluster -- an LCD screen -- displays vehicle information based on the vehicle's driving mode and driving environment.
[A skeptical view questions the concept of self-driving cars: Autonomous Vehicles Vs. Helping Humans Drive Better.]
"We at Nissan are setting clear goals and preparing for the implementation of piloted drive," senior vice president of Nissan Takao Asami said in a statement. "The prototype that we're introducing here today is proof of how close we are towards the realization of this goal. Nissan aspires for a safe and trouble-free motoring future, and we plan on leading the industry in the implementation of piloted drive."
Development of self-driving cars is currently accelerating at an impressive pace, with companies like Tesla, Google, and Apple all developing similar technologies.
While Google may be testing its self-driving cars on roads in northwest Austin, in Europe auto giant Daimler has already hit the highway, bringing an automated series-production truck to the A8 between Denkendorf and the Stuttgart airport.