Location analysis adds an interesting element to a data story when used effectively. Some data stories are so tied to location that you cannot tell the story without the maps. With Shark Week upon us, people get focused on where shark attacks are more likely to occur. Even just mentioning the attacks seems to fill people with morbid curiosity about the data story.
In this figure, you can see where shark attacks occurred in Florida during the past 20 years. The larger the bubble, the greater the number of shark attacks. The location analysis isn't complete without some supporting information such as fatalities and activities. One figure to note is there were only 637 attacks and less than 1% of those were fatal. Considering the number of people who were in the ocean during the same period -- that is not an insignificant number. [Sadly, humans kill more sharks than vice versa.]
The largest bubble is New Smyrna Beach. I suspect you are getting curious now. Don't you wonder if people like to surf on this beach? After all, the most likely activity leading to a shark attack is surfing. When I click on the bubble for New Smyrna Beach, I learn that 80% of the 169 attacks were related to surfing. None of these attacks were fatal. Most resulted in lacerations or other minor injury.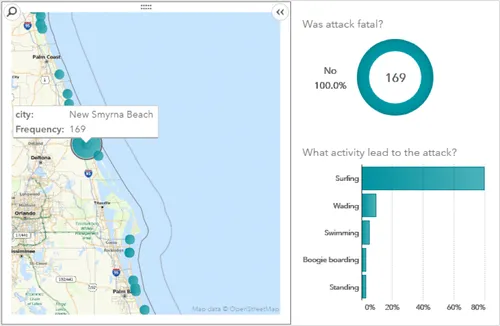 But we also learn where events are less likely to take place. This information is also useful. For instance, there are few attacks in Florida Keys -- only a handful in the past 20 years. However, another takeaway is that there may not be good surfing conditions in the Keys -- thus fewer shark attacks.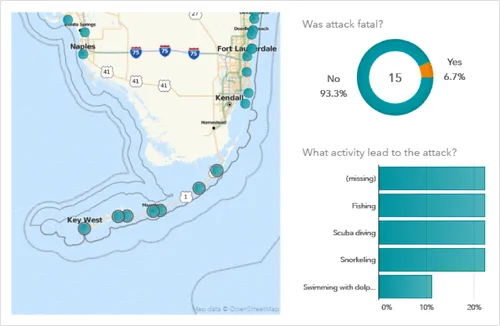 Here's another data story that uses location intelligence. The author, Jaime D'Agord, has a husband who loves to spearfish and was recently approached by a shark. Check out where this Bahama-based story leads.
There are times when location is not part of the story. If geography is not part of the story, then it doesn't make sense to force it to be. Your story or point will lose all effectiveness. The following figure is a quarterly sales report for Australian states. It seems useful to understand where sales revenue occurred but really this was a data story about how much quarterly revenue was earned and not where it was earned.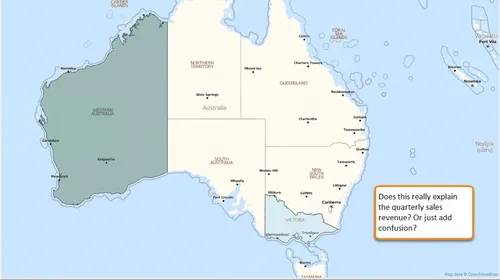 Your viewer does not have a useful takeaway, because the conclusion might be expected. With only two values to display, dare I suggest that even a pie chart would have been a better data visualization choice? The point of this example is to demonstrate that even if you can show a cool geospatial object, you should ask yourself if it makes sense for your data story.
With many of the most recent tools, such as SAS Visual Analytics, it is very easy to just use geospatial data objects for everything. Before traveling that path, though, consider if you really have a location-based data story. When used effectively, geospatial data can reveal previously unknown patterns or assist with confirming suspicions.
Author's Note: This data was sourced from the Global Shark Attack File (GSAF), which is a spreadsheet of raw data consisting of all reported human/shark interactions, compiled by the Shark Research Institute. Some of the locations were not reported completely and were omitted from the examples.