Storage is cheap until you hit the tipping point when data sprawl costs a bundle. But it's darned difficult to toss any of it away because data is an asset, right? If you trash data it may cost you later when you discover you need it. But if you keep all data, you're driving up costs and creating an unsustainable data management plan by default.
"Many organizations have adopted a storage strategy akin to a just-in-case method of collating data, so much so that it can be described as 'a hoarding strategy,'" says Mark Brown, managing director, cybersecurity and information resilience at British Standards Institution.
Data hoarding becomes a never-ending cycle unless you take action to stop it.
"CIOs need to develop a data governance framework and an enterprise-wide data strategy to counteract data mushrooming, data that keeps growing unchecked in the cloud, and siloed data, which could lead to duplication of data elsewhere," says Cenk Ozdemir, PwC's cloud leader.
This endless cycle of data buildup is hazardous to your company and the environment.
"This has many consequences beyond just excessive costs being incurred. There are environmental implications, while significant volumes of stored data can lead to increased and unmanaged cybersecurity and data privacy risks," Brown says.
To help you end the data-pocalypse from mushrooming growth, here are a few tips to give you better controls:
1. Rethink your virtualization strategy
Make no mistake, everything these days is expensive. You have to be careful that when you cut costs in one place, you're not adding costs somewhere else. One good way to try to reduce costs across the way and increase sustainability is to reconfigure how you're storing data.
"Look for virtualization solutions that let you reduce infrastructure TCO, across storage, network, and compute. Maybe you can reduce TCO by outsourcing or by optimizing your on-premises infrastructure or switching to a different platform. Or just outsourcing to a local provider. These are the conversations we have every day," says Joe Morgan, vice president, cloud at Virtuozzo, a developer of virtualization and cloud management software.
2. Clean up data accessibility issues
Sometimes workers can be a little squirrel-like, hiding nuts of data here, there, and everywhere that they can later retrieve and work with on their own.
"Data accessibility issues across business units, teams, and their partners also lead to additional data copies, so people can work independently. Data is duplicated due to inconsistent access patterns e.g., file copies to object storage but kept on-object," explains Matt Wallace, chief technology officer at Faction, a multi-cloud data services platform.
If you don't clean up data accessibility issues, you'll end up playing Wack-A-Mole when trying to end the mess.
"To solve this, enterprises need to adopt a platform that enables centralization, normalization, sharing, and collaboration with data. Organizations must keep their governance and catalog consistent and centralized," Wallace says.
3. Stop the cloud dumping
Some companies think they can hold on to massive data stores and prevent purging anything by dumping data in the cloud where costs are assumed to be cheaper. But no, that's not an answer and it won't help the environment.
"Cloud migration is typically a huge undertaking and results in a multi-year transformation project for larger enterprises," says Steffen Wittmann, CTO of LeanIX. "Simply moving an existing software landscape to the cloud will not result in any substantial benefits -- costs would not be reduced, eventually costs might even increase because the software/applications are not optimized for running on the cloud."
To realize better operational performance, lower costs, and reduce risks, you need a full accounting of your data, software, and other IT assets.
"Eventually, it will also greatly support sustainability since unused applications will be removed and idle processes stopped – like a car with a running engine, but zero mileage, which you just turn off," Wittmann says.
"Combining app rationalization with modern technologies for reducing data in transit to a minimum, such as GraphQL for fetching of data, will reduce the carbon footprint of your company and save resources of our planet," Wittman adds.
4. Cleanup your backup
Another place you're likely hoarding too much data is in your backups. Take a hard look at what you have going on there and clean it up if it needs it.
"Let's focus on one of the biggest culprits of storage overload that we can solve with technology -- an improperly utilized backup solution. Backups are, by design, redundant data, but many organizations are keeping more copies than they need or using suboptimal storage methods that can cause serious bloat," says Justin Cobbett, Product Marketing Manager at Akamai.
And watch out for any dirty data in the mix.
"Like an invisible virus, 'dirty data' plagues today's business world. That is to say, inaccurate, incomplete, and inconsistent data is proliferating in today's 'big data'-centric world," says Eliud Polanco, president at Fluree.
5. Don't forget to clean up both the front end and the back end
In most cases, you're looking to store change data rather than complete files after even minute changes.
"Rather than save files selectively, organizations can leave the heavy lifting to innovative storage solutions that offer cloud cost optimization features like front-end deduplication and 0-byte smart copying. For example, front-end deduplication compares new file versions to previous versions and only saves the differences between both, saving significantly more space than saving entire file duplicates," says Rahul Bhargava, CTO at Evolphin Software.
Make sure your data retention policy considers the entire lifecycle of data too.
"To have a successful data management strategy and keep storage costs low, you need to develop a data retention policy to drive strategy around what data your organization needs to retain. A strategic data retention policy will support different approaches to maintaining low data usage," says Nathan Bensch, enVista's VP of ERP Technology.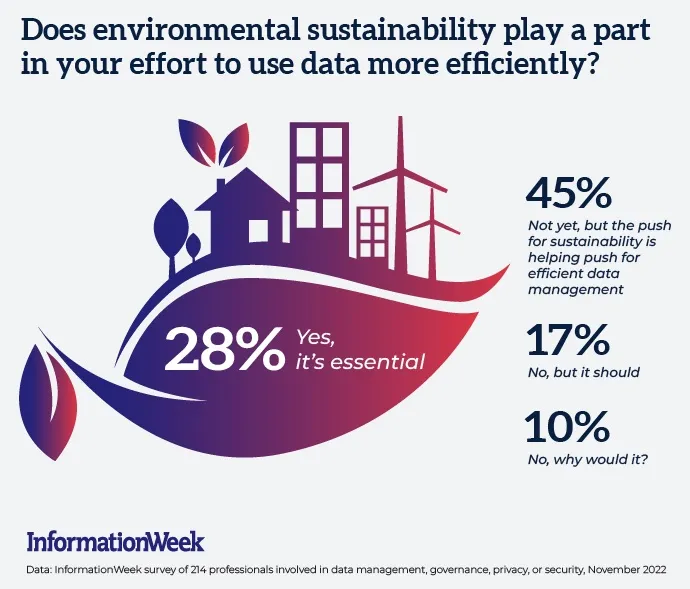 What to Read Next:
What Happens to Our Data When We Die?
Why Your Organization Needs to Embrace Data Resiliency