5 Chatbot Use Cases to Steal
Chatbots are the top use case of AI in the enterprise. If you are looking for a chatbot use case, here are five to consider.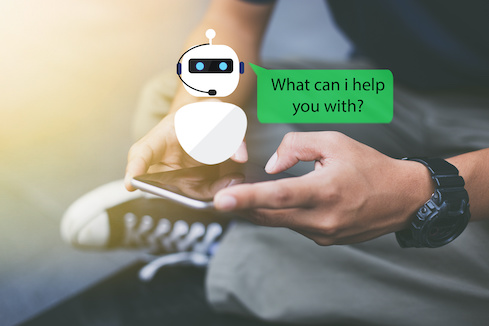 For some, artificial intelligence may conjure images of robots or some future complex intelligence. But here's a reality check -- the future is already here. It's in many enterprises in the form of the chatbot.
Chatbots are the biggest use case for artificial intelligence in enterprises right now for a few key reasons. First, their foundational technology, natural language processing, has improved significantly over the past few years. Plus, the tech has also been on the rise because it addresses a common enterprise problem -- the need to automate certain repetitive tasks in order to free up humans to work on more complicated problems. Also, unlike humans, chatbots can work 24/7 to be available at all times.
Finally, while chatbots have been on the rise for a few years already, the surprise appearance of a pandemic in early 2020 drove adoption of these tools even faster than expected. Or as the NASCIO organization of state CIOs said in a report earlier this year about adoption by its membership, "The 'right' business case seems to have emerged with the arrival of the COVID-19 pandemic in early 2020. States experienced unprecedented surges in online inquiries and transactions. Many digital services and call centers supporting government services were overwhelmed."
Chatbots came to the rescue at just the right time. If your enterprise is still looking for a use case for artificial intelligence, a chatbot may be your answer. But how should you go about choosing a specific use case for that chatbot?
Gartner VP and analyst Janelle Hill once recommended that companies looking for their first AI use cases steal one from a different industry and apply it to their own. You don't have to reinvent the wheel. Plenty of organizations have deployed successful chatbots already.
With that in mind, we offer you this slideshow collection of chatbot use cases for consideration as you think about how chatbots might improve processes and programs in your own enterprise. Whether driven by new demands created by the pandemic or simply the need to achieve more with less, we hope these use cases will spark some new ideas for your organization.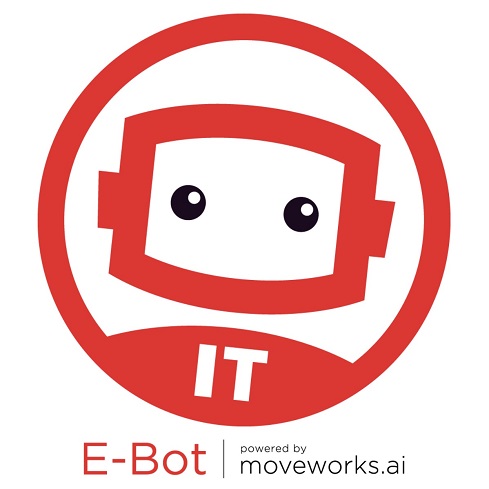 Equinix's E-Bot
Global data center and enterprise co-location company Equinix has been experimenting with ways for its IT service desk to use AI to support its employees around the world. The company includes 220 data centers across 26 countries with 11,000 employees and contingent workers. Equinix launched E-Bot in April 2019, leveraging the technology from a company called Moveworks. CIO Milind Wagle noted that part of its appeal was its easy integration with collaboration platforms such as Slack and Microsoft Teams. E-Bot appears as a contact in Equinix's Microsoft Teams window, enabling employees to chat and get assistance through that familiar interface.
When the pandemic hit, Equinix added a host of new questions and answers to the E-Bot knowledge base to cover employees' new work-from-home questions such as "Can I get reimbursed if I buy a headset?"
The chatbot has helped Equinix's CIO with a key goal -- automating more tickets to maintain the company's service levels for a growing organization while keeping the IT service desk headcount the same.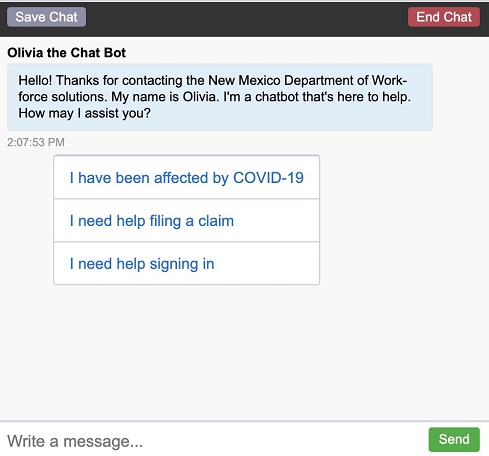 New Mexico's Olivia
When the pandemic hit, New Mexico's Department of Workforce Solutions (NMDWS) only had 100 active call center agents but was suddenly hit with many more inquiries. In normal times NMDWS's charter includes education and empowerment of citizens of the state in an effort to improve employment rates, reduce poverty, enhance employer services, and ensure fair labor practices and protections. It also facilitates delivery and dispersing of federal services, which in 2020 included managing a huge surge in demand to the state's unemployment insurance program.
NMDWS borrowed more agents from other state agencies, and also hired temporary agents, getting to a total of 300, but it still wasn't enough. Sue Anne Athens, CIO of NMDWS, and her team finally got some relief by layering a chatbot on top of their existing contact center platform. The technology for both came from Salesforce. NMDWS leveraged Salesforce's Einstein chatbot platform to collect basic information, suggest self-help resources, and categorize questions so they could be tagged and routed for follow up.
NMDWS named the chatbot Olivia and integrated it across the organization's customer service channels. In the first few days Olivia managed over 65,000 chat conversations, and now averages 7,500 chat conversations a day.
Following Olivia's success, NMDWS launched a sister chatbot app, Dorothy V, to manage technical support for questions such as password resets. Dorothy V has managed over 100,000 interactions.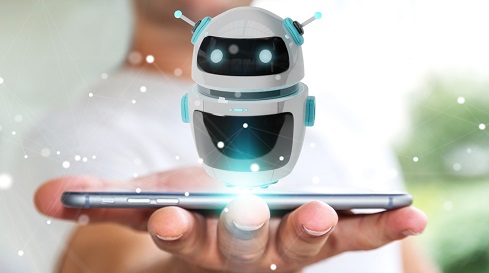 Liberty Mutual
If you've sent your entire workforce to work from home over the last year, perhaps you are looking for some help in assisting those workers in their day-to-day navigation of your organization's systems -- HR, finance, training, asset verification. Global Insurance Giant Liberty Mutual set out to help automate those notifications and services via chatbot for its more than 50,000 employees a few years ago. After evaluating several options, the company opted to use Amazon's Lex conversational engine as its foundation.
The Liberty Mutual tool was rolled out as a text-only chatbot that lets workers ask questions such as "how many vacation days do I have left?" Or it can open a help desk ticket on behalf of the employee. It can also handle simple tasks such as password resets.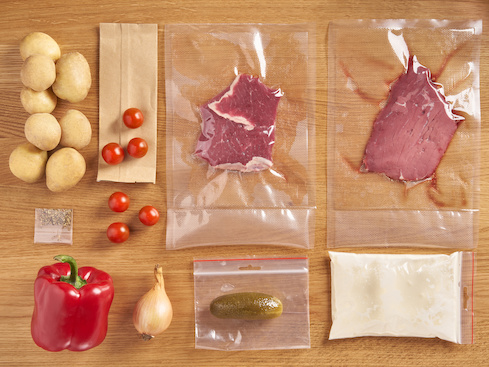 Sun Basket
Meal delivery services also enjoyed a huge surge in demand during 2020 as people stayed home from restaurants and tried to avoid crowded grocery stores as much as possible. That includes San Francisco-based Sun Basket, which doubled its customer base in the first few weeks of the shelter-in-place order. Another Salesforce customer, Sun Basket first deployed Einstein bots in 2018, and their customer-facing bot, Sunny Bot, helped the company quickly scale to support all the new customers, plus the existing customers who were ordering more meals more frequently than they had previously done.
When the pandemic hit, the existing chatbots helped Sun Basket manage the surge in customer questions and queries that needed to be resolved. The chatbots act as a first line of contact for customers, but often the bot routes queries to the appropriate "helpful humans."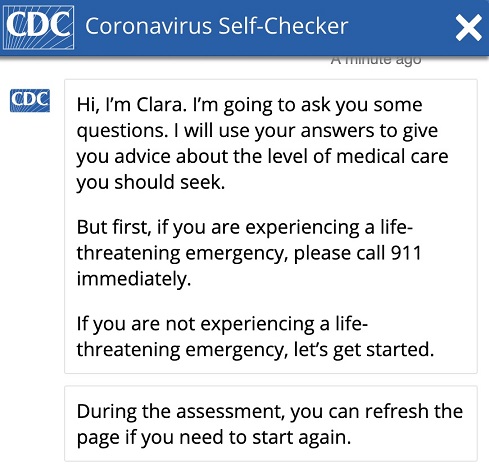 CDC Coronavirus Self-Checker, Clara
In April when coronavirus was hitting its first peak in the United States, the US Centers for Disease Control and Prevention (CDC) launched a COVID-19 assessment bot named Clara to help visitors quickly assess their symptoms and risk factors and then get a suggested next course of action.
The CDC's bot is built on Microsoft's Healthcare Bot service, which is the engine for many different healthcare related bots launched during the pandemic by various healthcare providers.
The CDC's simple bot asks visitors a series of questions and are provided with a few choices of answers. Questions include the visitor's symptoms, potential contacts, and some demographic information. Based on the responses, the engine recommends the next course of action, such as staying at home and monitoring for symptoms for a specified period of time or getting in touch with a doctor.
At a time when just clearing your throat can cause unwanted attention and a trip to the grocery store may feel like it could be a super-spreader event, these types of COVID self-assessment bots can help individuals gain a small measure of comfort and control along with important advice.
Jessica Davis has spent a career covering the intersection of business and technology at titles including IDG's Infoworld, Ziff Davis Enterprise's eWeek and Channel Insider, and Penton Technology's MSPmentor. She's passionate about the practical use of business intelligence, ... View Full Bio
We welcome your comments on this topic on our social media channels, or
[contact us directly]
with questions about the site.