How Voice Assistants Impact SEO, Machine Learning
Amazon is making an impact in voice search with its Amazon Echo and Alexa ecosystem of products. The rise of Alexa shows how machine learning strategy ultimately becomes an effective sales and business strategy.
If you think search engine optimization is waning, you'd better watch what you say. It's not going away. In fact, search engine optimization, or SEO, is evolving to include voice-enabled search and bringing deep learning aspects of machine learning with it.
The voice search trend fits the benefits originally planned from search engine optimization. SEO was meant to link queries from search engines to online content based on how that content was described through programming code. Be it in PHP or HTML, that content is described by web developers as the presentation layer.
But these days you are as likely to speak a keyword as much as you would type it.
Voice-enabled search has been with consumers for a while, thanks to mobile. Mobile devices with microphones allow people to speak their queries. They have lead search engine providers to develop algorithms to recognize voice patterns to increase understanding of the relevancy of what is being said and what the search engine "hears."
As more devices join the network, consumers have expanded their queries to new kinds of screens and devices. The most prevalent now are virtual assistants, a category that includes Amazon Alexa, Apple Siri, Google Now, and Microsoft Cortana. Their rise has led to the following developments:
Amazon has begun to expand the capabilities of its Echo device so it can perform queries on a wider scale, introducing more factors for search as a result. Take the Echo Show, a new device that is a variation of the original Echo device. The Echo Show queries videos on YouTube alongside standard Alexa results, and the device includes a display so that consumers can view those videos. Given that YouTube is the second largest search engine behind Google, the voice activation in Echo can now be a factor in query results.
Voice search is attracting industry attention. Marketing research firm eMarketer noted that voice search, the segment of search that includes Amazon Echo, is expected to grow 130% in 2017.
You may have noticed Amazon's prominent position. Amazon's position represents the growing comfort people have towards virtual assistants, and how marketers must take notice in planning search.
So now here's where I mention Google and its renown dominance in search. Google is not losing ground to Amazon, at least not anytime soon. Experts agree that search volume has not diminished as a valuable indicator of consumer interest.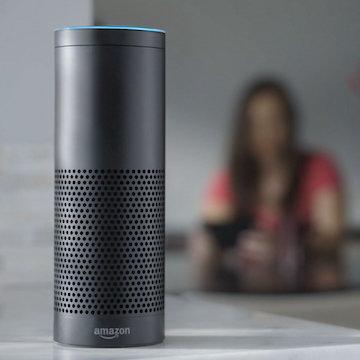 But Amazon has made headway for gaining consumer mindshare for search in a critical location -- the home. Bloomberg reported last fall that more than half of shoppers turn to Amazon for product search. And that is just from website activity. Virtual assistants -- the category that includes devices such as Amazon Echo -- are becoming more widely used as a starting point for search as well. eMarketer expects consumer usage of virtual assistants "will grow 23.1% in 2017." That trend is why Google augmented its search leadership by introducing an Echo competitor, Google Home.
What we should get from Amazon's rise and Google's evolution is how machine learning influences your choice for optimization. Machine learning, because it can assess queries, is linked to the demand for virtual assistance. That link is now a key essential in a business strategy.
Thus voice search optimization requires marketers and developers to consider device users' potential questions and the responses that virtual assistants can give. When a user speaks with a Google Home or Amazon Echo, he or she interacts with a voice user interface, and those interactions have links to digital media through the machine learning algorithms behind the assistance.
At an Alexa Developer Day here in Chicago, I learned how developers should map those conversations and links. Marketers map the question, response, and the range of results when they are a certain distance away from the device. Developers can also consider the timing in which the device will re-prompt the user to provide more information.
Machine learning addresses the frequency of those questions. Repeated usage creates permutations that require machine learning models to learn user preferences and how to tailor responses. Those responses are key to establishing personalization, which in turn leads to branding and sales.
Machine learning is essential when collecting data from disparate sources, especially as IoT consumer devices that offer web access. That collection creates a different set of context considerations, from device competing against smartphone or tablet access to having to reimaging partnerships based on how they manage and share data.
Thus responses mapped out can vary. A query of groceries at a refrigerator should have a different initial set of potential responses than those that can come up from an Amazon Echo or Google Home. Understanding the differences can help marketers identify challenges to maintaining a coherent customer experience across devices.
Marketers can expect a lot of work to make this response better, particularly with open source ideas to improve voice search algorithms and improve the voice query experience. Mozilla, the creator of the Firefox browser, started Project Common Voice, a project where people can donate a voice to help build an open-source voice recognition engine that developers can use.
But any work with establishing a SEO strategy for the future will have to include voice queries. Machine learning is adding a significant boost to the convenience virtual assistants achieve for consumers. As long as that convenience attracts users, marketers and analysts must attract customers through the right technical tactics and creative content that speaks to the customers' immediate needs.
We welcome your comments on this topic on our social media channels, or
[contact us directly]
with questions about the site.