Careers: 10 Analytics Jobs That Pay The Most
Before you decide which way to take your analytics career in 2018, take a look at this slideshow, highlighting the highest-paying job titles for data analytics professionals.
[Click on the image below to activate the slideshow]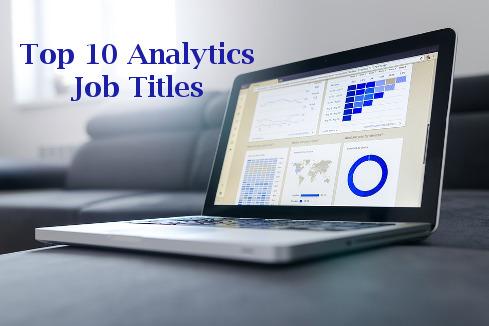 For professionals with skills in big data and analytics, 2018 looks like a great time to find a new job or to ask for a pay increase. Salaries continue to be very high as enterprises become more reliant on analytics to help them find critical insights that will help them attract more customers, improve customer service and increase revenues.
In its 2018 Technology and IT Salary Guide, staffing firm Robert Half noted that business intelligence (BI) analyst is one of the most in-demand job roles for 2018. It added, "67% of technology executive say digital marketing, big data, cloud or mobile initiatives are the greatest contributing factors to hiring."
Naturally, some analytics job roles pay better than others.
Which are likely to offer the best pay for 2018?
To find out, All Analytics pored through the salary data from the Robert Half Technology salary guide. And because not all analytics professionals work for the IT department, we also analyzed Robert Half's 2018 salary reports for accounting & finance and creative & marketing professionals. Based on those reports, the following 10 job titles are the highest-paying in the analytics field.
[Note: The line between what counts as an "analytics job" and what doesn't can be a bit fuzzy. Many job titles that include the word "analyst" -- such as a systems analyst, for example -- might not have anything to do with analytics. This slideshow focuses on positions where analytics is usually a primary part of the job role, whether or not the title includes the word "analyst."]
10. CRM Business Analyst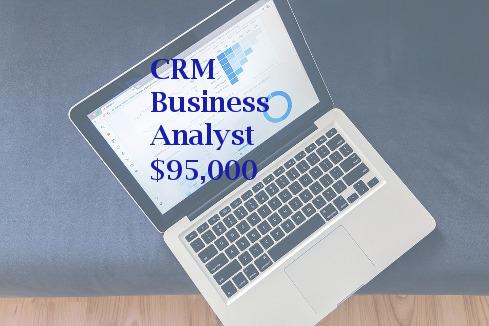 Improving the customer experience has become a priority for many organizations, and as a result, analyzing the data stored in customer relationship management (CRM) systems is more important than ever. The Robert Half Technology salary guide says that CRM business analysts earn a median of $95,000. Those in the 25th percentile make $80,000, while those in the 95th percentile get $134,750.
As you might expect, this role requires deep technical knowledge of an organization's CRM software, and possibly some coding skills. Candidates also need business knowledge and the ability to serve as a bridge between business management and technical staff.
9. Data Analyst/Report Writer
You don't have to become a manager or specialize in a particular type of technology in order to earn good money in analytics. Those with the more general titles of data analyst or report writer have median pay of $96,000. The 25th percentile for salaries with this title in the United States is $81,000, and the 95th percentile is $136,000.
Because this job title is more broad, the responsibilities that go along with it are also more broad. Professionals in this role need to be generalists, able to evaluate different types of data as necessary. These jobs typically require a college degree.
8. Data Modeler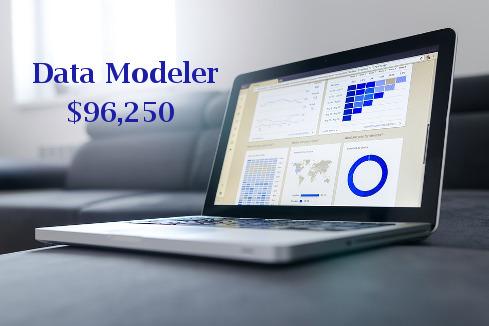 Data modelers work very closely with data architects to design and maintain the systems that organize a company's data. As machine learning and predictive analytics become more commonplace, data modelers often take on an expanded role, helping to define the data models used to train machine learning systems.
Average pay for these professionals is around $96,250. For 2018, those in the 25th percentile will earn $77,750, and those in the 95th percentile will earn $162,500. In general, data modeling jobs usually require a degree in computer science or a similar field, and some positions require advanced degrees.
7. E-Commerce Analyst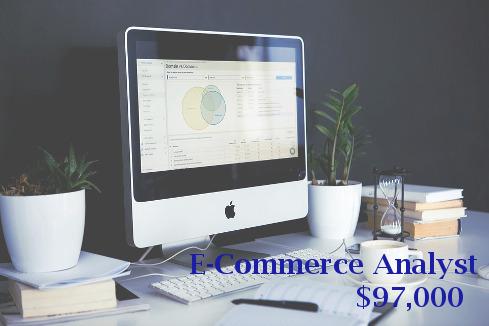 These days, nearly every type of business has an online component. And as digital becomes responsible for an increasing share of corporate revenues, the analysts responsible for examining the data generated by e-commerce systems are becoming more valuable.
According to the report on IT salaries, the median salary for an e-commerce analyst in $97,000. Those in the 25th percentile will earn $81,750 this year, while those in the 95th percentile will earn $137,500.
These professionals often work as part of a Web development team, and they may serve as liaisons between the Web team and business management. Accordingly, they need to have some basic knowledge about Web technologies, as well as analytics and business skills.
6. ERP Business Analyst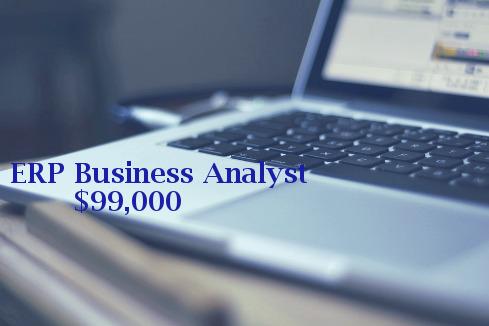 The ERP analysts on the business side have a median salary of $99,000. Those on the low end (25th percentile) earn $83,500, and those on the high end (95th percentile) earn $140,250.
While this role pays slightly less than the ERP technical/functional role, it still requires a high degree of expertise. Job candidates need very good understanding of how ERP systems work, and even more understanding of how businesses work. An MBA or many years of business experience might be helpful for someone seeking this type of position.
5. ERP Technical/Functional Analyst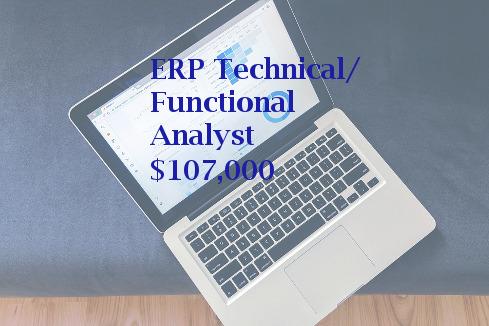 Today, most large organizations rely heavily on enterprise resource planning (ERP) software to track the metrics most important to the company's operations. The Robert Half Technology report includes data on two different types of ERP analysts: those that focus on the technical/functional side and those that focus on the business side. The technical/functional analysts usually earn more. Their salaries range from $90,000 in the 25th percentile to $152,000 in the 95th percentile, with a midpoint of $107,000. It's important to note that professionals in this role may need some software development skills (and possibly a computer science degree), as well as analytics skills.
4. Business Intelligence Analyst Manager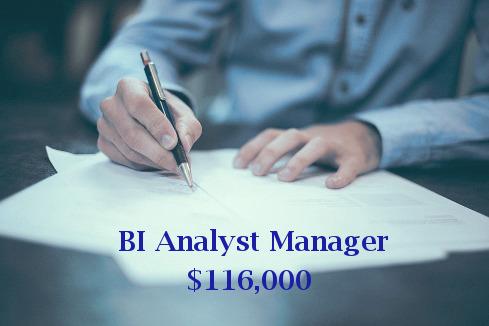 The salary report for financial professionals says that people with the title of Business Intelligence Analyst Manager make around $116,000, on average. Those in the 25th percentile earn $97,000 and those in the 95th percentile earn $184,000.
Both the salaries and the qualifications for this position are very similar to those of a data analyst manager. In general, the BI Analyst Manager will need more specialized understanding of the BI systems used by the company, as well as well-rounded business knowledge.
3. Data Analyst Manager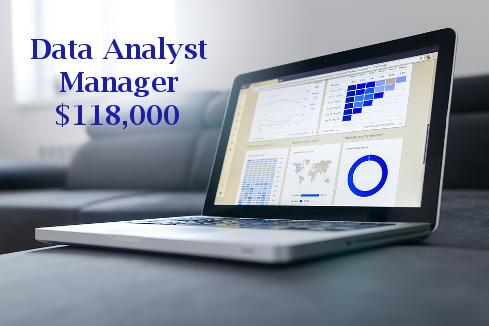 Smaller firms might employ only one or two analysts, but at larger firms, some analytics teams have grown so large and influential that they require several levels of management oversight. According to Robert Half's guide for financial professionals, someone who has reached the level of data analyst manager makes a median salary of $118,000. On the low end, someone in the 25th percentile earns 98,000, and on the high end, the 95th percentile commands $185,500.
Generally, a person who has been promoted to the manager level already has several years of experience working up through the junior and senior levels of the data analyst role. Candidates for these jobs also need exceptional people skills and business acumen.
2. Data Scientist
According to the report on IT salaries, a data scientist in the 25th percentile typically earns $100,000 per year, while someone in the 50th percentile earns $119,000, and someone in the 95th percentile makes $168,000.
The pay might seem attractive, but becoming a data scientist isn't easy. Most data science jobs require an advanced degree — at least a masters, but sometimes a PhD. Candidates also need several years of experience, as well as knowledge of both business fundamentals and technology. "Citizen" data scientists are becoming more common, but these roles typically don't pay as well as those that have more exacting requirements.
1. Data Architect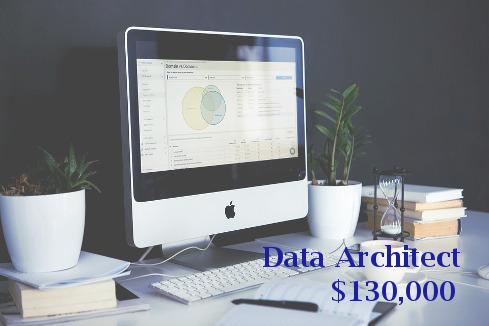 The Robert Half reports give typical salary ranges in the United States for various job titles. According to the technology report, a data architect in the 25th percentile is likely to earn $110,000. The median salary for the job title is $130,000, and someone in the 95th percentile would earn $184,000.
It makes sense that this is the highest-paying job title in the analytics field because it requires a very high degree of expertise. Data architects are responsible for designing, deploying and maintaining an enterprise's overall data architecture. That means these professionals need to have a broad understanding of the business's need for analytics as well as knowing how the technology works and how analysts use their big data tools on a daily basis. In general, they have many years of experience in data analytics before reaching this level of their careers.
We welcome your comments on this topic on our social media channels, or
[contact us directly]
with questions about the site.