Internet of Sports: How Seattle Sounders Track Performance
The US soccer powerhouse uses wearable devices and data visualization to analyze the fitness levels of stars like Clint Dempsey.
Watching the 2014 World Cup this summer, weren't you a little in awe of how these guys ran non-stop for 90 minutes or more?
Of course they train hard for it, but more and more these days that training is a data-driven process steeped in technology. The coach who knows his team's fitness data may just have an edge.
Major league soccer frontrunner the Seattle Sounders FC have, like other pro teams in the NBA, NFL, and NHL, turned to using wearable devices and data visualization software to monitor player fitness and reduce injury risk.
[Could you use a visualization lift in your life and work? Read How Data Visualization Helped Me Run Faster]
Does technology explain why the Sounders have the best record in the MLS this year? Well, having Clint Dempsey on the roster might have something to do with it, too, but the technology does have a direct impact on how the World Cup star and his teammates train.
Before pre-season training this year, Sounders sports science and performance manager David Tenney and data analyst Ravi Ramineni took a hard look at fitness data from previous pre-seasons that they'd captured using wearable devices but hadn't analyzed as deeply as they should.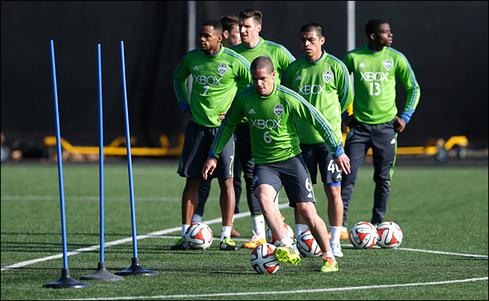 "We were able to see a correlation between distance and velocity training and injury," says Tenney. "We redesigned the pre-season around that data. There were thresholds we wouldn't cross with high-speed training because we know from the data that it can cause hamstring injuries."
Finding the sweet spot
During practices, Sounders players wear a tight-fitting vest under their practice jerseys containing two wearables: a device called the MiniMax S4 from Australian company Catapult Sports is attached in the back (between the shoulder blades), and a Polar heart rate monitor sits in the front.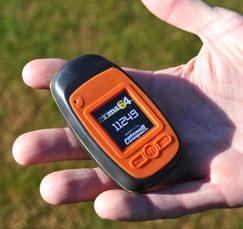 The Catapult MiniMax S4.
The MiniMax S4 combines GPS connectivity and an accelerometer, gyroscope, and magnetometer to track a player's velocity, body mechanics, distance, times, impact, and acceleration and deceleration rates (Catapult's customers also include the New York Giants, San Antonio Spurs, and Philadelphia Flyers, to name a few).
Tenney and Ramineni then download the data from both devices, storing it in a SQL server database and using Tableau data visualization software as the front end. With Tableau visual dashboards they can see the data and create their own metrics that they hand off to coaches. Coaches themselves are not mining data; they just see fitness category scores for each player.
The goal is to find what Tenney calls the sweet spot: the area where a player's training is enough to increase fitness but not so much that they risk injury.
"The Catapult device generates 370 columns of data," says Tenney. "It's up to us to hone that data using Tableau. The coaches don't want to look at
data dashboards -- they only need to see the tip of the iceberg. We come up with the metrics under the water."
When looking at athletic performance data, Tenney says there are two levels:
External load (measured by the Catapult GPS device). This looks at body mechanics. How much is the player running? How much work is he doing?
Internal load (measured by the heart rate monitor). This calculates how hard the body works internally to complete the external load. When there are odd spikes in internal load, a player is overtraining.
Ideally, the external load rating is high, and the internal load rating is low. "That way you have a big engine that doesn't need as much gas," says Tenney.
Players know their data
Professional soccer rules ban wearables during matches, which is a kind of a moot point, says Tenney, because there isn't a wearable yet that's small and comfortable enough for a game situation. "But there will be as the technology improves."
However, the league does capture player distance and velocity data during games via cameras placed throughout stadiums that create an X-Y coordinate grid of the field. This displays how much distance each player covers and at what velocity. Teams get access to that data, and although it's not as precise as what wearables can deliver, it's still useful. Tenney and staff load this in-game data into Tableau, hone it, and send results to coaches and players.
Not surprisingly, Sounders players are more interested in game data than practice data. But either way, players have become so in tune with data that they can accurately guess their numbers.
Says Tenney: "After a game recently, I asked Clint Dempsey how he felt, and he said, 'OK, but my total distance was down and my high-speed rate was down.' And he was right! Having seen his data enough he knows what an 11,000 meter game feels like."
Another player, midfielder Osvaldo Alonso, has been known to correctly guess his training distances within 200 meters of accuracy without looking at any data.
Sports science the new Moneyball?
Tenney sees a shift taking place in sports analytics away from the "Moneyball" method of exclusively poring over game stats, and toward more inclusion of GPS-driven fitness data. "Moneyball people are stats people who have no training in biometrics and physiology. It's a different decision-making process."
The trick for sports scientists and data analysts is to only give coaches and players the data that'll help them win.
"That's why you need good analytics people," Tenney says. "If you don't have that, you'll just end up with more fitness data than you know what to do with."
InformationWeek's new Must Reads is a compendium of our best recent coverage of the Internet of Things. Find out the way in which an aging workforce will drive progress on the Internet of Things, why the IoT isn't as scary as some folks seem to think, how connected machines will change the supply chain, and more. (Free registration required.)
Shane O'Neill is Managing Editor for InformationWeek. Prior to joining InformationWeek, he served in various roles at CIO.com, most notably as assistant managing editor and senior writer covering Microsoft. He has also been an editor and writer at eWeek and TechTarget. ... View Full Bio
We welcome your comments on this topic on our social media channels, or
[contact us directly]
with questions about the site.