Rising, Shining, or Falling Star: Where Are You in Your Analytics Career?
Are you just getting started with your data analytics career, are you in the zone, or is it time for you to reevaluate what's next. Take this quiz to find out.
As of January 2018, my analytics career will have been 34 years long. During this span, I have worked in academia, the private sector, and the public sector (municipal, state, and federal). Locations have stayed within the DMV (DC, Maryland, and Virginia). Technologies have ranged from mainframe, minicomputers, and microcomputers. And if I use my undergraduate studies as a starting point, my range of technologies spans from keypunch machines, decks of Hollerith cards (eventually made into Christmas wreaths), and the 'high speed' printers that produced output on green and white lined paper.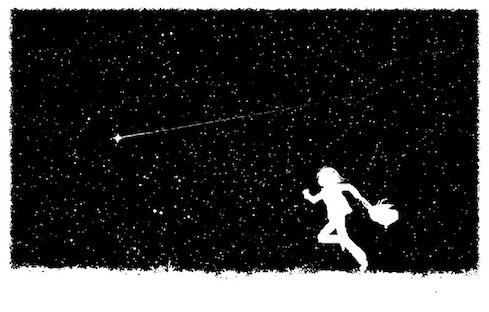 But beyond the variations in the type of work, the locations of work, and the technologies of work -- all specific to my journey -- is the common trajectory of a career in analytics. Metaphorically, I, like many before me, have gone from being a rising, to a shining, to a falling star. Over the course of my journey, I have found it advantageous to know which category I was in at any given moment. The advantage of knowing where you are in your career trajectory will help you to plan for the next stage of your career; those who fail to plan, plan to fail.
In that light, let me share this self-assessment tool to help you in knowing where you are in your analytics career. For each of the ten items below, please give yourself points that correspond to the answer selected (i.e. Answer (1) equals one point, Answer (2) equals two points, etc.):
Item 1 - Meetings: When project meetings are called (1) you go but sit off to the side; (2) you go and sit at the table, actively engaged in the discussion; (3) you get placed on the optional attendee list.

Item 2 - Mentoring: (1) you are assigned a mentor; (2) you are assigned to be a mentor; (3) you are assigned to document policies and procedures.

Item 3 - Recruiting: (1) you are recruited for a new position; (2) you are recruiting for a new position; (3) you are interviewed by the recruiter so that s/he can write a job description for the position the company wants to fill.

Item 4 - Training: (1) the company wants to send you to training; (2) the company wants you to train others or lead the training initiative; (3) you have to take the initiative to ask your manager if you can take a class -- budget money permitting.

Item 5 - Opinions: (1) your opinions are acknowledged; (2) your opinions are actionable; (3) your opinions are ignored.

Item 6 - Mistakes: (1) your mistakes are anticipated and accepted as growing pains; (2) your mistakes are overlooked or downplayed; (3) your mistakes may impact future work assignments and your evaluation.

Item 7 - Working Extra Hours: (1) your enthusiasm is affirmed but you are encouraged not to overdo it; (2) this is expected if you are to maintain your record of meeting mission critical deadlines; (3) you are asked why you cannot get your work completed during core hours like everyone else.

Item 8 - Presentations: (1) the questions seek clarity about your slides and encourage you to consider other ways of looking at the data; (2) relatively few questions -- pretty much accepted as gospel; (3) you get questions about emerging technologies or techniques missing from your presentation.

Item 9 - Business Trips: (1) you are encouraged to travel with a more senior co-worker; (2) you are expected to travel -- you are a designated agent of expanding the company brand and business volume; (3) you are asked travel to help take notes and pass out glossies.

Item 10 -New Projects: (1) you are assigned to work on new projects; (2) you will lead or serve as an advisor on new projects; (3) you are assigned to do quality assurance and documentation for new projects.
Now tally your points and use the ranges below to evaluate your star status:
10-16 points - You are a rising star; you are on a bright path -- keep going and growing strong.
17-23 points - You are a shining star; all of your hard work and fortunate breaks have brought you to this phase of your career. Take ground, plant your flag and maximize your earning potential.
24-30 points - You are a falling star. You still have time to reinvent yourself but not forever. Put in the time and effort to bring new value to the company, or demonstrate how to use old approaches in new ways. The shot clock is running down.
We welcome your comments on this topic on our social media channels, or
[contact us directly]
with questions about the site.