UC Berkeley Breeds Data Scientists Online: $60K, 18 Months
Want a data science Master's degree? UC Berkeley's $60,000 online program will make a data scientist out of you in 18 months.
The bad news about the University of California at Berkeley's new Master of Information and Data Science (MIDS) program is that it's expensive. Really expensive. The good news is that since data scientists are in such high demand, graduates are pretty much guaranteed a job with a generous income.
"If you can claim those skills right now in the Bay Area, you can work for any company you want and basically write your own salary," says Steve Weber, a professor at UC Berkeley's School of Information.
The 18-month MIDS course is quite new, having just completed its inaugural semester four weeks ago. The first class had just 28 students. The second has roughly the same number (28 to 30), with the third group rising to 45 students.
Oh, and the program is offered exclusively online.
This is "a function of the fact that we don't have a lot of physical space in our building, as we have an existing Master's and PhD program," says Weber, who attributes the online-only idea to School of Information dean AnnaLee Saxenian.
"Since it's a data science degree, the kind of people we're going to appeal to may be more comfortable than the average person with doing a Master's degree online," says Weber. "Many [students] are working professionals, so we can offer this degree in a flexible way, and they can take their classes in the late afternoons or evenings."
[To stay competitive, companies must maintain a data-savvy workforce. See The Data-Driven Workforce: 5 Critical Roles.]
While the initial number of MIDS students is small by design, that should change as the program expands.
"Because of the online environment, it can scale close to infinity," says Weber. "But we're trying to be super deliberate and make sure that the quality of the applicants and students we admit exceeds the quality of the students we have on Berkeley campus."
This approach, he notes, is designed to establish credibility early on.
"One of the things we're trying to do is prove to our own colleagues on campus, and to employers, that the students coming out of this purely online degree program are as good as, or better than, any resident student."
Universities are increasingly offering data science programs, many partnering with big data companies such as IBM, Predixion, and Teradata to teach marketable skills.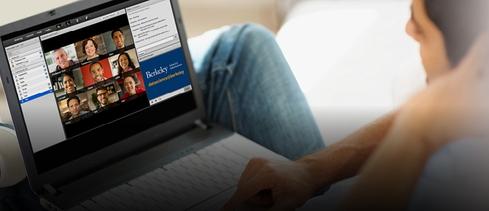 Berkeley's MIDS program focuses on business problem-solving and technical skills -- a key combination for aspiring data scientists, says Weber.
"Because most [data science programs] are spinoffs of computer science and statistics departments, they may have one course that says, 'Here's how you would use this stuff in the real world.' We have that course right at the very beginning, and it's the thread that goes through the entire program."
Each week the MIDS students get 90 minutes of "asynchronous content," or material recorded in advance.
"We've created these pretty elaborate and complicated 90-minute segments. They might include four minutes of a lecture, two minutes of a video clip, and then four minutes of an interview with someone."
This approach allows instructors to do things they typically couldn't do in a classroom.
"For example, in one of my classes I have an interview that goes on for six or seven minutes with the guy at IBM who sells Watson technology to the Department of Defense. And he talks about what Watson can and cannot do in highly unstructured intelligence problems."
Weber acknowledges that the UC Berkeley course's $60,000 price tag is steep but says enrollment interest is high nonetheless.
"In some cases, the current employers of students are subsidizing and/or paying for the whole thing, but that's not the case for everybody."
The program appeals to a certain niche of student, such as women who dropped out of the workforce to have children, currently have young kids at home, and now want to reenter the workforce with a new set of highly marketable skills.
"That's a fantastic niche for us," says Weber.
InformationWeek's June Must Reads is a compendium of our best recent coverage of big data. Find out one CIO's take on what's driving big data, key points on platform considerations, why a recent White House report on the topic has earned praise and skepticism, and much more.
Jeff Bertolucci is a technology journalist in Los Angeles who writes mostly for Kiplinger's Personal Finance, The Saturday Evening Post, and InformationWeek. View Full Bio
We welcome your comments on this topic on our social media channels, or
[contact us directly]
with questions about the site.