The question all companies face today isn't whether to embrace digital transformation, but how to best take advantage of digitalization advancements, especially considering change driven by COVID-19.
This mean that businesses must rethink their roadmap and long-term planning. Taking advantage of lessons learned from previous digital efforts, prioritizing the right technology before investing, developing holistic plans for data, and considering new organizational roles is needed to support these changes.
Prioritizing the right tech when digitizing
IDC reported that businesses will spend $2.3 trillion a year on digital transformation within the next four years, with worldwide digital transformation technology investments set to hit at least $7.4 trillion in the same time period. But before discussing the technology, it's important to note that many digitalization projects fail due to lack of competencies or a misunderstanding of complexity.
With many technology options available, it can be difficult to gauge what will benefit your organization. Prior to investing in any solution, businesses should conduct thorough quantitative and qualitative research. A qualitative investigation, featuring employee focus groups or interviews, can identify areas where workers need assistance. Quantitative research, leveraging analytics tools, collects data tracking performance, experience or engagement, which can then support the qualitative observations.
The average digital transformation project has a 45% chance of delivering less profit than expected. Poor planning is to blame for many transformation efforts falling short. A thorough roadmap is needed to keep up with the pace of innovation. One way to do this is to devise both long- and short-term digital plans to meet immediate and future needs.
Start by creating a cohesive timeline with monthly goals (ROI sales, website visits, etc). A short-term plan should last roughly three to six months, while a long-term plan should last about six to 12 months. To get an accurate picture of performance, organizations should regularly run performance tests on their systems. They can also survey employees to gauge how they are reacting to the technology.
In order to meet the demand for disruption, companies need to focus on data-driven innovation. This means businesses must consider the aspects of scope complexity and adoption. One element of this is assessing the learning curve for employees. When introducing new technology solutions, whether it be IoT or machine learning programs, you will need to train employees to use it.
To get a sense of both the learning curve the technology presents, and the scalability of it, consider undergoing a small-scale trial program before investing. This will provide visibility into how the technology performs and how employees react to it. From there, businesses can fully assess whether it is a fit for the company.
Creating a data-driven strategy for the long (and short) haul
It is critical for businesses to devise a holistic plan for data, taking into account whether there are any privacy concerns or how to manage a potential data increase. Often, businesses do not understand how to gain the most value from the data they have. In order to do this, they must conduct a thorough data audit. This consists of identifying the current technology you use and interviewing your teams on how they are leveraging it. This can allow your business to learn what data you have, how to use it and what is still needed.
Prepping your people
Prioritizing the needs of your workforce is often an afterthought. Businesses must look to hire new talent or create new roles within the organization to help oversee transformation efforts.
COVID-19 has accelerated the convergence of information and operational technology networks. Sixty-five percent of IT/OT professionals say their networks have become more interconnected since the pandemic began, and 73% expect them to become even more interconnected as a result of it. IDC research also found that 70% of G2000 organizations will have invested in a common IoT platform layer by 2024. With this situation, having a "connected worker" to oversee these changes can extend the life of your transformation. Organizations can drive projects forward and educate their workers by holding workshops on new technologies, providing employees with the opportunity to learn or potentially enter a specialized role within the organization.
Eight in 10 organizations fast-tracked some part of their transformation this year, and nearly 80% reinvented their business model as a result of the pandemic. To ensure lasting success, organizations need to conduct thorough investigations, trial their technology, and regularly audit results. Investing in new roles and in workforce education will help organizations make the most of digital technology. While COVID-19 has put the pressure on businesses to boost their digital transformation plans, there remains a need to stop, rethink, and properly assess before fully diving into a roadmap.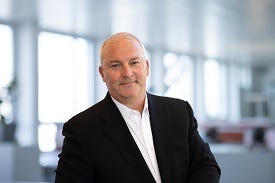 Dave Goddard is Head of Digitalization for Hitachi ABB Power Grids and responsible for driving the company's digital evolution. He was previously with Cisco systems in various executive leadership roles. Most recently, he was responsible for the global Internet of Things (IoT) practice for Cisco and, previously, led Cisco Customer Assurance, crisis response organization and the Security Research and Operations organizations. He holds a bachelor's degree in Telecommunication and Electrical Engineering.