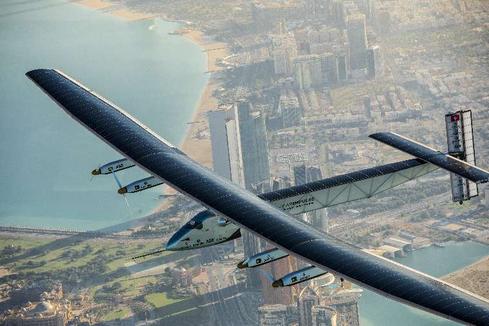 Solar Impulse 2: 11 Images From Its Awe-Inspiring Journey
(Click image for larger view and slideshow.)
Big data-as-a-service provider BlueData embraced the enterprise. NoSQL database provider Couchbase rolled out a new version that bridges the relational and NoSQL gap. Samsung bets big on IoT research in the US. Dell has sold Statistica to a private equity firm. Find out what you missed in this week's Big Data Roundup.
Let's start with the news from BlueData. This Santa Clara, California-based company has specialized in enabling big data-as-a-service, letting organizations spin up virtual Hadoop or Spark clusters and providing on-demand access to applications, data, and infrastructure to data scientists and data analysts.
This week BlueData announced that the enterprise edition of its BlueData EPIC software will run on Amazon Web Services (AWS), Microsoft Azure, Google Cloud Platform, and other public cloud services.
"The BlueData software platform is the first Big Data-as-a-service solution available for both on-premises and public cloud environments," said Kumar Sreekanti, CEO of BlueData, in a prepared statement. "The future of Big Data analytics will be neither 100% on premises nor 100% in the cloud. We're seeing more multi-cloud and hybrid deployments, with data both on-prem and in the cloud."
[How big will IoT get? Read IoT Revenue May Reach $357 Billion By 2018.]
Sreekanti adds that BlueData can meet the realities of these mixed environments for the enterprise.
The BlueData EPIC software platform will be licensed for public cloud services via either usage-based pricing or by an annual subscription price, the company said. Organizations can try the enterprise edition on AWS during a free trial period.
Couchbase Server 4.5
Couchbase this week announced general availability of its Server 4.5, which the company says fuses SQL, JSON, and NoSQL into a single platform. Couchbase's roots are in the NoSQL database market, but the company said version 4.5 will make it easier for enterprises with deep SQL experience and relational database technology to adopt NoSQL for mission-critical applications.
"With the innovations in Couchbase Server 4.5, we're extending our long-standing performance leadership to a new class of enterprise applications that require complex query processing, while also making it even easier for enterprises to undergo digital transformation by leveraging existing SQL-based skills and technology investments," said Ravi Mayuram, senior VP of products and engineering at Couchbase, in a prepared statement.
The release of the new generation server builds on Couchbase's SQL-based query language, N1QL, which has also been enhanced to include new features, such as graphical tools for visually exploring the data model and building ad hoc queries.
In addition, Couchbase Server 4.5 offers memory-optimized global indexes, array indexing, flexible JOINs, and fast partial reads and writes with JSON documents.
Samsung's $1.2 Billion IoT Bet
IoT and big data go hand-in-hand, and Samsung this week announced a huge commitment to the Internet of Things business. At an event in Washington, D.C., Samsung Electronics vice chairman and CEO Oh-Hyun Kwon outlined his company's vision for the future of IoT, which includes networked sensors and connected devices. The company is committing to spending $1.2 billion over four years on IoT research and development in the US.
Kwon also announced the National IoT Strategy Dialogue, a forum for industry and federal government that is run by the Information Technology Industry Council and intended to develop a national IoT strategy.
Dell Software Sold
Dell found itself in the Leaders quadrant of the Gartner Magic Quadrant for Advanced Analytics this year for the first time, but its place there will be short-lived. Dell Software has been sold to a couple of private equity firms.
That sale includes the company's Statistica line of advanced analytics software. Dell made the sale as part of its ongoing effort to slim down and raise funds in preparation for the biggest acquisition in technology history -- its deal to buy EMC for $67 billion.