Digital reality is far more than just an entertaining distraction, despite its success in consumer experiences. Virtual, augmented, and mixed realities along with other immersive technologies create a wall-to-wall digital experience for users, and many businesses are finally starting to incorporate it strategically into their operations. For example, UPS now trains its drivers using digital reality to hone their skills virtually before being sent out on the road. KFC gamified its employee training with a virtual "escape room" where the only way out is to correctly follow a 5-step chicken preparation process.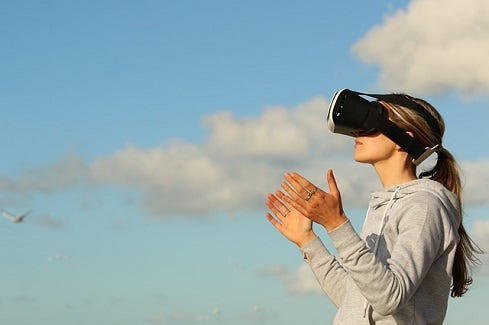 However, the applications aren't that simple for every company. Identifying strategic uses of digital reality requires a certain amount of courage and imagination, and business leaders who may have been burned by unsuccessful investments before may be reluctant to take on the necessary experimentation to reap results. Additionally, some leaders hesitate to adopt unproven technologies out of fear that technology's constant evolution will render the investment outdated and useless. That possibility will always exist, but it shouldn't deter executives from implementing digital reality into their business models.
However, with advancements in surrounding technologies, digital reality is poised to take off, and the companies that are wading into its possibilities now will have an advantage.
But where do you start? Even though the future is full of undiscovered possibilities, there are still some core fundamentals for getting started. For business leaders considering a comprehensive digital reality solution, you can start with the following three steps:
1. Build your resources. To fully work digital reality into your business model, leaders should invest in the necessary tools. That means acquiring assets to execute the move and adopting the correct design vocabulary to enact it. Designing for digital reality means using high-definition 3D image capturing devices, along with the mapping equipment to put images together. Gaming engines such as Unreal and Unity are gaining a foothold in this process, and VR tools can now recreate real-life environments for users to interact with virtually.
2. Begin experimenting. Your company's IT people may not have a lot of experience with digital reality yet. That's why it is important that you educate yourself and your staff on the ins and outs of your new strategy. As you gather your new tools and resources, give your teams time to get familiar and tinker with development kits. Garnering that knowledge sharpens the expertise of your teams and can help create a core group of people with hands-on experience that can begin thinking through larger applications.
3. Know that it's a work in progress. There is no set path for integrating digital reality into your business. Whether you emulate a competitor or dream up an entirely new use case, blaze your own trail and pioneer some of the most advanced technology on the planet. At the end of the day, the only limits for digital reality are the ones you set for yourself and your organization.
That said, innovation in the digital reality space will only accelerate, driven by the consumer market and widespread enterprise adoption. No one has created a perfect digital reality solution; make exploring your needs and coming up with your own use cases a top priority. Technology will always be evolving, and once you adopt it your strategy for using it will be able to evolve as well.
The market is accelerating
With all the uncertainty, it may seem like waiting to see how this technology develops is a safe move. However, doing nothing may be the riskiest position in a market that is accelerating rapidly, and this technology will likely change the way enterprise work gets done in the next few years. The time is now to create a strategy to build capabilities and incorporate digital reality into your business, because very soon -- like the cell phone -- digital reality may just be plain old everyday reality.
Allan Cook is Head of Operations and Strategy for Digital Reality at Deloitte Digital.