The digital transformation of brick-and-mortar stores may create an opportunity for organizations to better personalize customer interaction. The recent NRF Retail Big Show conference brought out the likes of Panasonic, Cisco, Samsung, and Tobii Pro who discussed how different data capturing technology could shed more light on customer habits.
While it can seem academic to amass data from online channels, technology providers are finding ways to capture information in the real world. That might open the door for organizations to craft marketing, sales, and product specifically for the individuals who roam their aisles.
Technology such as eye tracking has been in development for years, said Mike Bartels, director of marketing research for user experience with Tobii Pro, but now it can be applied in more refined ways. His company develops eye-tracking solutions used by businesses and scientific research into measuring human attention. He said the technology is a means to understand the decisional process underlying a variety of human behaviors. For example, eye-tracking built into glasses and other devices can be used to test what draws the attention of a consumer as they peruse a store for products to purchase. "It is literally a way to see the experience through their eyes and analyze that data," Bartels said.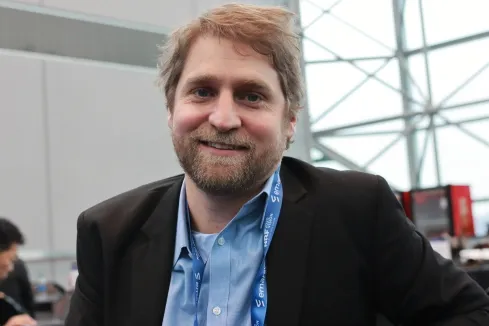 Though eye-tracking technology is incorporated into some virtual reality systems, he said eye-tracking can be a slower research tool compared with other methodologies companies might explore because of the analysis required. The lack of a dashboard that immediately interprets eye-tracking information into actionable data is a barrier to wide adoption for some companies, Bartels said. It can also be a challenge to combine it with older types of methodology, but he said this can lead to more effective marketing. "It requires an analyst to dig into the data and determine where people are focusing their attention, look at a series of different metrics and visualizations, and determine those results to come away with insights."
There are more static ways of gathering data about customers that retailers are already putting to work. Digital signage from Samsung, for example, uses system on a chip technology that turns store electronic displays in stores into computers that can capture data about shoppers that pass by. Mario DiAntonio, director of sales for professional display and memory with Samsung, said these digital displays can be loaded with software and analytics for retailers. "If you drive through a McDonald's, you're looking at one of our displays," he said.
The goal with such displays, DiAntonio said, is to give retailers actionable data about their customers that can be used to respond to their needs while in store. Retailers want ways to analyze information and then trigger intelligent, predictive responses, he said. "All of that describes several versions of AI," he added. "You've got deep learning and machine learning."
This could lead to something akin to the science fiction movie "Minority Report," where ads tailored to individual consumers appear on digital displays as they walk by. That level of personalization, he said, would require consumers to volunteer information to retailers.
There is a greater cross-pollination of information gathering techniques underway between the online world and brick-and-mortar stores, according to DiAntonio. Retailers naturally can gather data about the online shopping habits of their customers. "Those companies can tell when you showed up, how long you stayed on the page, how many pages you scrolled through, where you came from," he said. "Basically, they can come up with a metric for how long it took you to make a decision."
What brick-and-mortar offer, DiAntonio said, is the chance to use information and analytics platforms with in-store displays for in-person interaction. "When someone walks through the door, we can tell you who they are, what their facial expression and demeanor is," he said. "When they approach a product, we can tell you the delight or disgust that's in their face." This capture of information can also include demographic details to better frame strategies. "Now the retailer can modify their marketing and positioning," he said. "It really does personalize that end-user experience."
Panasonic is also active in this space, putting facial recognition technology into self-service kiosks customers use in stores. "If you've been to a McDonald's and see the big kiosk for ordering, that's ours," said Jim Dempsey, national sales manager for Panasonic's EDGE mobility program. He said kiosks with facial recognition technology can recognize frequent customers who sign up, volunteer certain information, and allow their photo to be taken.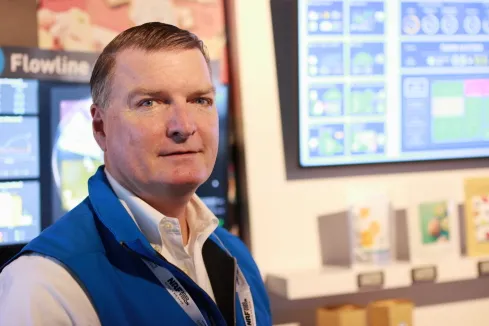 That way the kiosk can respond to the individual based on their prior orders, then change advertising and offers accordingly. Even if a customer has not opted in to share personal details, the facial recognition technology can try to match them with age and gender demographic resources and react based on that data.
The spread of sensors across production and distribution is another way retail can improve operations, according to Cisco. Bill Farnsworth, business development manager, spoke about ways wineries use such data inputs to be more efficient. For example, sensors installed at vineyards can help ensure a crop is healthy by sending out alerts if conditions change drastically.
The digital transformation possibilities for retail can extend from field to table with the help of data capturing devices. Farnsworth said sensors in vineyards, which are linked through a LoRaWAN gateway with a 10-mile range, can spot issues that otherwise might go unnoticed for weeks and put harvests at risk. "I can centrally monitor what is going on, like overwatering," he said. "If I see that the ground is too wet, I can turn off my sprinklers."
Read more of our articles on emerging technologies and digital transformation:
What Retail Can Build on and Get From Cloud in 2020