Smart Cities NY: A Mix of Civics, Big Data, Security
City officials meet technology innovators to pursue solutions that may improve life in urban centers as smart cities.
The size and scope of the departments, systems, and services maintained by large cities dwarfs many enterprises, yet it can be a challenge to put new technology to work in such hubs. This week's Smart Cities New York conference sought to change that trend by bringing the public and private sectors together.
In just its third year, the conference brought government representatives from as far as Sweden, the Netherlands, Israel, and Kosovo. They shared their pain points and plans to address them -- possibly with the assistance of the companies that were present.
Microsoft, Mastercard, Lyft, and Verizon were just some of the private sector organizations on hand to discuss services they could offer to help cities operate more efficiently.
Transforming cities can mean updating computer networks that local municipal departments use or creating services that might reach millions of residents and visitors. Such efforts can be stymied by policies or security compliance requirements. There may also be a knowledge gap within the bureaucracy that limits how quickly new solutions may be adopted. A variety of low-code or no-code development options have been tapped by public entities to create applications to improve efficiency.
Smart Cities New York is one effort to cultivate connections between local governments and novel innovations developed within the private sector. The multiday conference featured educational workshops, presentations, and exhibits that included discussions on how blockchain can be used by smart cities and ways to improve cybersecurity across a massive ecosystem. The presentations offered potential opportunities for enterprises to work with cities as well as lessons that private and public organizations could learn about transforming their operations.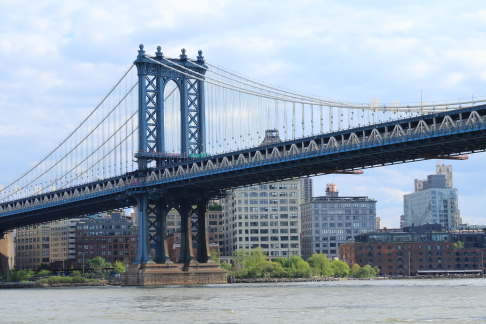 Blockchain and Smart Cities
Though blockchain can sometimes feel like an overused buzzword, there are tangible ways it can be implemented by city entities.
Jalak Jobanputra, founder of Future\Perfect Ventures; Karen Bhatia, senior vice president of the New York City Economic Development Corporation; New York State Assemblyman Clyde Vanel, District 33; and Sandra Ro, CEO of Global Blockchain Business Council discussed potential use cases in the public space. Vanessa Grellet, executive director, of ConsenSys moderated the panel.
Ro shared some preliminary results from a survey of members of the Global Blockchain Business Council regarding potential blockchain implementations. There was a significant belief among respondents that more knowledge is needed within the public sector. "[Some] 41.3% of respondents think lack of education among public officials is the greatest impediment to the adoption of blockchain technology," she said. More than 60% of respondents to the survey said they foresee blockchain increasing transparency and accountability.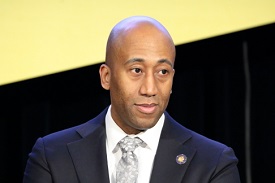 Vanel saw ways for blockchain to improve access to resources within communities. "Blockchain is an opportunity to close the gap with the underbanked and unbanked," he said. There are also ways to improve government record keeping, Vanel said, through blockchain.
As an investor with blockchain portfolio companies, Jobanputra said she took interest in the technology because of the growing urbanization trend. New urban centers have been emerging even as infrastructure fails in more developed cities, she said. "The whole concept of distributed connectivity could help both of these [use cases]," Jobanputra said.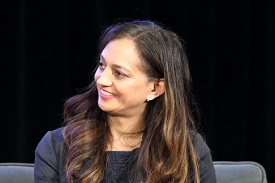 For instance, increased use of sensors in cities allows for greater data collection from the infrastructure, which she said requires improved information and transaction security that blockchain can offer. "If we have a traffic light communicating with a building or a car, how does that transaction happen without an intermediary?" she asks. "We cannot have intermediaries for every single data transaction. That is an area where blockchain can have an impact."
Big Data — Big Cities — Big Questions
With each day, cities add to the ever-growing mountain of data they collect, derived from the actions of citizens, businesses, and municipal operations. There may be ways to use these data sets, such as open data that is freely available, but this raises questions about how and why it should be accessed. Story Bellows, partner with Cityfi, moderated a panel on the topic that brought together Adrienne Schmoeker, deputy chief analytics officer for the City of New York; Ger Baron, CTO for the City of Amsterdam; and Liora Shechter, CIO for the City of Tel Aviv.
Schmoeker said there is a multitude of users of open data, including city staffers, startups, nonprofit staff, data journalists, and researchers. "There is a natural tension around open data programs," she said. "Do you publish the data that you have even if it's not super usable, but maybe then it's more trustworthy? Or do you clean the data?"
In Tel Aviv, personalized data, rather than raw open data, is made available to startups that need the information, Shechter says, to provide services and develop products for the community.
There is a desire, she said, to embrace open architecture to continue to nurture the city's startup community. "Get the permission to get the data about a specific person and allow startups to really invent and create," Shechter said. "We believe that will bring the best value to the residents."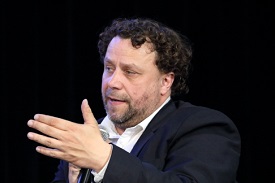 Previous assumptions that open data would generate vast value has not translated directly into actual revenue, said Baron. At the same time, he said government should make data available out of principle and transparency. There are companies, Baron said, that have been interested in combining their data with his city's data to create real value. Citizens still retain decision-making control over if or how their data is shared in order to receive certain services, he said. "You select who has access to your data. You can decline."
This still left an issue of trust regarding how private sector companies or government entities use data collected from the public, said Schmoeker. "We're in a phase now where a lot of those questions are being asked."
Creating City-Scale Services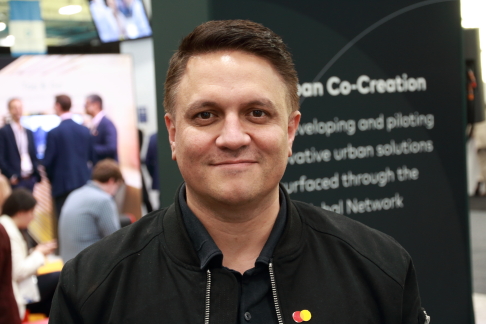 Mastercard has been involved in New York's testing of a plan to introduce a contactless payment method called OMNY for public transit and there is even more technology in the works. Miguel Gamiño Jr., Mastercard's executive vice president for global cities, spoke to InformationWeek about his company's plans to introduce a solution that would allow the public to make one payment to cover multiple modes of transport for one trip within a city. At the Smart Cities conference, Mastercard announced it was working with Kisio to create mobility as a service payment solution in an app that uses Mastercard's payment and security technology. For example, if a person rented a bike, took a subway, and then rented an electric scooter, all three would be covered in one go.
Gamiño has a deep understanding of how the government side of the equation works; he previously served as CTO for the City of New York, and prior to that was CIO for the City and County of San Francisco. "We're building the program that I wish existed when I was on the city side of the equation," he said.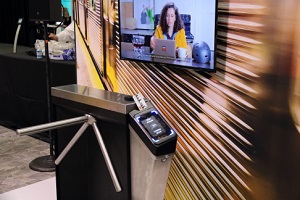 Almost 30 cities have already signed a memorandum of understanding to join the network for the mobility as a service payment solution, Gamiño said, with another 130 cities in the pipeline. The intent is to reduce friction in paying to get around cities and make trips more efficient. "I always felt that payment was critical to the multimodal [transit] opportunity," he said.
Finding Future Technology Leadership in Cities
Unless there comes a day when technology can spontaneously manifest itself, there will always be a need for innovators. On a panel moderated by Dawn Barber, co-founder of NY Creative Tech Week, the discussion focused on how gender inclusivity can further the plans and efforts of cities. "When we empower women in a variety of ways, we're empowering ecosystems for everyone," Barber said.
Sarah Haacke Byrd, executive director of Women Moving Millions; Faye Penn, executive director of Women.nyc; Avantika Daing, head of venture investments at Plum Alley; and Anu Duggal, founding partner of Female Founders Fund comprised the panel.
Penn said cities should be involved in encouraging more women to pursue training and careers in technology and computer sciences in order to meet the needs of the job market and to help communities thrive. "Fewer women are graduating in computer sciences than [there] used to be," she said. "The numbers are going down even as computer science is growing as an industry in New York." She said Womens.nyc is working with The City University of New York (CUNY) to reverse that trend and with Google and MotherCoders to help women who raised families to get back into the workforce with training in JavaScript.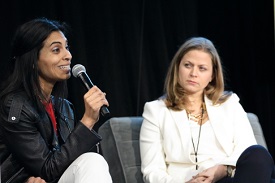 Supporting more women who want to pursue tech entrepreneurship is also part of the supporting the ecosystem. Female Founders Fund was established on the thesis that the next generation of technology companies will be built by women, said Duggal. Though women with the right skillsets working at large technology companies have had the drive to launch their own businesses, she said it can be especially challenging for them to get started. "A lot of women I met were having trouble gaining access to that first round of capital," Duggal said. "That's where I felt there was a white space."
Cybersecurity in the Metropolis
Digital transformation means cities and their occupants face the risk of bad actors who seek to abuse the data and networks being put to work for the populous. As cities work with multiple vendors and resources, big and small, there is potential exposure.
Maryam Rahmani, principal of Maryam Rahmani LLC, moderated a panel that spoke about working to improve cybersecurity for all. This is particularly of concern given the population migrations into large metropolises. "Cities will need to do what they can to address ongoing challenges such as sustainability, the aging population, growth in population, and to do that they have to utilize innovation in technology," she said. That includes sensors, big data, data analytics, and artificial intelligence.
Rahmani was joined by Mike Krygier, deputy chief information security officer for the City of New York; Adnan Baykal, global technical advisor with the Global Cyber Alliance (GCA); Kenneth Ker, CIO of city planning with New York County District Attorney's Office; and Alexander Niejelow, senior vice president with Mastercard Cybersecurity Coordination and Advocacy.
Baykal said there are some gaps in cybersecurity that can and should be addressed before the implications ripple up into waves. "We are trying to address what I call a failing in the cybersecurity industry," he said. "In the cybersecurity industry, we are failing to explain things in simple terms. We assume so much on the part of consumers that the solutions we develop are not applicable to them."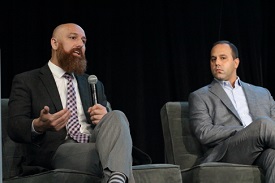 If the user does not understand how to make their systems secure, they will be vulnerable. Putting security tools together into a toolkit, developed in conjunction with Mastercard, Baykal said the GCA is helping to stem potential cyber threats. "We tried to make it very simple, nontechnical, and in a way that anyone can understand," he said.
Joao-Pierre S. Ruth has spent his career immersed in business and technology journalism first covering local industries in New Jersey, later as the New York editor for Xconomy delving into the city's tech startup community, and then as a freelancer for such outlets as ... View Full Bio
We welcome your comments on this topic on our social media channels, or
[contact us directly]
with questions about the site.