There is some truth in the notion that the enterprise precedes consumer technology breakthroughs, but there are shared concerns about policy found in both communities. At the CES Unveiled preview event held in New York, the Consumer Technology Association gave its usual glimpse of gadgets expected to be in demand in the coming year however legislative matters colored the conversation.
Gary Shapiro, president and CEO of the CTA, spoke about his concerns and observations of the current climate surrounding the entire technology sphere and the effect proposed policies might have. CES Unveiled is the preamble to the annual CES trade conference held in January in Las Vegas. While CES is primarily a showcase for new televisions, smart devices, cloud-based gaming, and tricked out automated cars, there is some crosspollination with elements of enterprise technology with planned discussions on innovation policy, privacy, and transformation across industries.
For instance, the CTA openly stated at CES Unveiled that the enterprise will lead the way for 5G wireless connectivity, setting the stage before consumers get a taste. Steven Hummel, senior research analyst with the CTA said the proliferation of 5G networks will be crucial to the evolution of the Internet of Things. "We're going to the 'Intelligence of Things,'" he said. "Without 5G, we won't have the Intelligence of Things." Hummel predicted that 5G will allow for greater connections among devices and AI on a massive scale, bridging the digital divide. That includes the infrastructure for self-driving vehicles. "Without 5G, we wouldn't be able to have devices in cars communicating together," he said.
Carriers and mobile operators are expected to present at CES 2020, Hummel said. Moreover, the CTA said companies expected to present at CES are also going through a period of transformation with concerns about data privacy and management, cloud services, and regulatory oversight. Shapiro spoke about the scrutiny the entire technology industry faces as congressional hearings continued on Facebook's data policies and other practices. "Technology is a tool and like any tool; it has good and bad uses," he said.
How technology is implemented and applied rather than the technology itself can be a benefit or detriment to society, according to Shapiro. "A hammer could build a house or hit someone over the head," he said. "But the hammer, for the most part, has not been regulated or legislated." He said there are instances of the government upholding appropriate restrictions such as not letting private citizens get their hands on nuclear devices or gadgets for eavesdropping on phone calls. Citing current headlines and chatter, Shapiro referenced the outcry to break up or restrict some companies. "There's a lot of negative mojo being sent technology's way -- which I don't love," he said.
Privacy ranks among the top concerns that surface in such discussions, Shapiro said. By comparison, countries such as China might invasively gather data on the public, he said, while some Europeans nations aim to give the public more control over their information, such as the right to be forgotten. "The challenge between Europe and China, it's like Goldilocks and the three bears," Shapiro said. "One's too hot; one's too cold. I like to think the United States is right in the middle."
He went on to say the country is trying to find a balance between the legitimate right to privacy versus commerce and innovation. The CTA's position, he said, is that there are types of data that are very private while other data should be readily available, such as the fact that a multi-car collision occurred on a highway.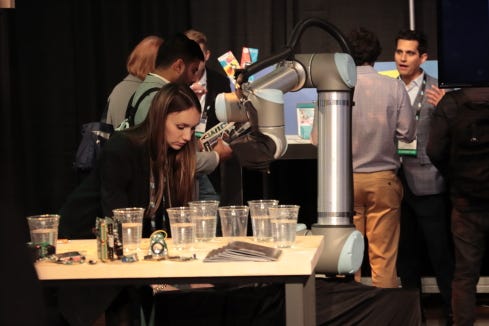 Further discussion on such matters will likely continue at CES 2020 and beyond. "There is an economic challenge going on about data-driven services around artificial intelligence, which is so much driven by data," Shapiro said. "China has a focus on artificial intelligence . . . and they are rushing to beat us. Europe has shut down the ability to do much in that area because they don't allow the spread of data too much. The U.S. is trying to figure out how we can be competitive in respect to privacy."