In 2013, management guru Steve Denning observed a fundamental shift from the 20th-century view of customers revolving around the "center of the universe" in the form of the enterprise, to the enterprise as one of many organizations revolving around a customer. More than five years later, most enterprises still haven't made the necessary changes to the customer-centric model that ensures success in the modern business world.
This is potentially dangerous, as customers have higher expectations of enterprises than ever before, and they possess incredible power to voice any dissatisfaction they might have. An enterprise facing dissatisfied customers is really facing the potential to lose serious revenue, so the stakes in meeting customer demands are high. Just think about how angry tweets on social media can lead to company boycotts.
We've determined some best practices that chief information officers, business leaders, managers, and execution teams can adapt to transform their companies into customer-centric and successful organizations:
Adopt people-first management processes
To support this new way of working, many leaders need to overhaul their management processes. This involves adding new roles to the organization's staffing lexicon, outlining the new roles' responsibilities, career management frameworks, and performance management programs. For senior management, that means changing the way performance is measured, providing informal feedback in more frequent cycles, and encouraging teams to collaborate for a shared success. For middle management, that means becoming a coach to the execution teams -- giving them the space to fail and to learn -- mentoring them, and providing feedback that is actionable, specific and kind. By being able to focus on what's best for individual employees, employers can prepare workforces for what's best for individual customers.
Break down internal business siloes
The open-office plan is designed to foster spontaneous collaboration and creativity within a group of employees. It's time to up-level that premise by driving interactions between different subject matter experts. This requires breaking down or reaching over organization silos and redefining structures to streamline the flow of value and insights across the organization. For senior management, rethink the talent hiring, incubation and reskilling process to meet this goal. For middle management and execution teams, they should work in smaller teams for greater agility with cross-team product reviews and other meetings. Ultimately, this pairs unique insights from an outsider's perspective with the insiders' know-how to manifest the design into viable products and services.
Ensure all departments interact with customers
This doesn't just mean the traditional customer-facing sales and marketing teams but even includes the IT department. With technology now being both the driver for changing customer behavior and the system of engagement, what was earlier an exclusive business domain is now a melting pot of system thinking, design, and domain. This is where the customer desirability, business viability, and feasibility by the company's IT team are synthesized.
Companies should change internal processes from being structured around functional capabilities to being structured around the flow of business value. Senior management should push organizational restructuring that reduces work handoffs and improves flow. For middle management, that means becoming an exemplar to the execution teams by demonstrating all the values that they need to embody and help the teams run faster so that the execution teams can focus on the value delivered. Additionally, the traditional customer-facing teams will need to become trainers to teach customer-management skills to inexperienced teams.
Adapt in real time to customer feedback
It isn't enough to convert insights rapidly into a product or service's next release. Instead, teams must be able to constantly adapt by incorporating customer insights. Companies need to ensure their culture is about working collaboratively and sharing accountability. For senior management, that means rewarding experimentation and customer-centric design thinking. Middle management should become a servant leader who exists to serve the team, listening to the team's problems, helping to resolve conflicts, removing impediments, and identifying team behavior patterns to grease the rails for rapid delivery. For the execution teams, they should develop the ability to work with a fuzzy future, one that instills a culture of innovation and continuous improvement rather than periodic release schedules.
Some leaders might think that becoming customer-centric isn't as vital as other preparations for the future such as technology investments. It's certainly true that businesses all over the world are placing big bets on digital transformation: Investments in the practice will reach nearly $2 trillion in 2022. However, there is a critical difference between "doing digital" and "being digital."
While digital transformation may seem to depend on better algorithms and more advanced hardware, its success rests on talented people being willing to break out of traditional methods of work. Becoming customer-centric is a key pillar of that. A successful digital transformation has everything to do with how an organization can create a new culture and take the talent along its journey of change.
Rajan Kohli, president of Wipro Digital, is responsible for Wipro Digital and Wipro's consulting business globally. Prior to this role, he led the Banking and Financial Services vertical at Wipro. He headed this business globally with the responsibility for client satisfaction, revenue, profitability and capability development. Rajan also has served as Wipro's Chief Marketing Officer.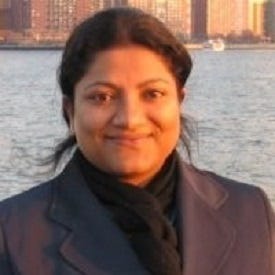 Rituparna (Ritu) Ghosh, is Wipro Digital's Agile DevOps Transformation Evangelist and leads the Agile DevOps transformation initiatives. She is an advocate of supporting teams to adopt and adapt to new ways of working. In her 20+ years, Ritu has worked with multiple clients, helping them define their transformation roadmaps and partnering with them in their journey. She is certified in Lean, Agile, CMM®, CMMI®, ITIL® and a Six Sigma Black Belt.