There's nothing fake about fake news. It's a serious problem. Misinformation took center stage during the 2016 U.S. election, and ever since then false claims have continued to hit across the entire political spectrum – left, right and center.
For instance, you may have heard of the story of Michael Brown. The 45-year-old FBI agent who allegedly killed his wife, Susan Brown, before turning the gun on himself. Right before that, he set their Walkerville, Maryland home on fire.
But who was Michael's real killer? Fake news.
That's because Michael Brown isn't real. Neither is Susan Brown, their burnt-down house or Walkerville, Maryland for that matter. Neither is the Pope's ringing endorsement of Donald Trump (and somehow also Bernie Sanders), nor Melania Trump's body double. All fake.
Understanding the scale of the challenge
In order to separate fake from real, experts at fact-checking service Snopes, recommend some general information hygiene techniques, like checking sources, vetting URLs, looking for spelling or grammar typos and seeking out sources. However, none of these techniques is 100% effective.
The truth is, assessing the truth of a fake news story is a complex task, even for experts.
And their expertise will never scale to match the immensity of the problem: Hundreds of individuals have their hands behind thousands of automated bots who are publishing millions of articles.
Fake news is a big data problem – not something we can solve only through human curation. Technology got us into this mess, and only technology that can match (or outmatch) its power will get us out of it.
The rise of the bots
Fake news is nothing new, but thanks to the Internet, it's cheaper and easier to perpetuate fake news since anyone can create and disseminate information through professional-looking channels. Nowadays, a fake news site can look just like the Washington Post.
Social networks have broken down the barriers that traditional print media used to prevent false information from spreading. On top of that, the emergence of automated bots – or fake social media accounts working together in groups to amplify messages online – have become one of biggest factors leading to the proliferation of fake news and online commentary.
Again, this is a big data problem; no one could possibly track down these bots manually.
The good news (bad news?) is that these bots are bipartisan: In January, the University of Washington released a report that found both left-leaning and right-leaning bots (about 10,000 accounts on each side) tweeting about police shootings and including hashtags related to #BlackLivesMatter.
This same behavior surfaced with Kremlin-backed Russian Twitter trolls that infiltrated the online conversations of millions of Americans during the 2016 U.S. presidential election.Their effort was sophisticated: They didn't favor one political party over the other, but created the appearance of heated discussion between the two that sucked in millions of real humans – wasting time, sowing frustration and leaving everyone more distrustful of each other.
Of course, these are just a few examples of how bots and impersonators can peddle fake news.
Taking on fake news
A few months ago, Facebook announced that it's killing its "Trending" news section and testing new products that identify trustworthy news sources. Twitter has announced similar efforts to improve their platform and identify fake news bots.
However, the cold hard truth is clear over the long term: As long as social media platforms have the potential to reach millions of people cheaply, fake news will be drawn to them like a moth to flame.
Graphs (but not the kind you think) to the rescue
Fake news detection is about understanding networks and relationships with datasets. Similar to uncovering fraud rings, graph technology helps identify hidden connections within massive datasets – between accounts, posts, pages, timestamps, IP addresses, websites, etc. – and has already been applied to the fight against fake news.
Full disclosure: my company offers graph technology, but I'm writing this because fake news is an issue that impacts us all, and this technology – regardless of the provider – can help.
You might not know it by that name, but graph technology is everywhere on the Internet. For example, Google maps out the entire web using graph-based technology (which also powers its search engine). Facebook CEO Mark Zuckerberg popularized the term "social graph" when describing his platform. When Microsoft acquired LinkedIn in 2016, they stated it was to acquire LinkedIn's "economic graph" of connected professionals.
Investigative journalists are also already using a graph-based approach to double down on uncovering previously hidden connections. Take the International Consortium of Investigative Journalists (ICIJ) for example.
The ICIJ used graph technology to break worldwide headliners like the Panama Papers (11.5 million financial and legal records), the Paradise Papers (13.4 million documents), and most recently, the West Africa Leaks (27.5M files).
The results of these investigations surfaced unsavory connections among powerful politicians, business owners, celebrities, banks, and offshore businesses, which are used to cover up tax evasion and other financial crimes.
The effectiveness of these investigations proves how graph technology could also be the answer to detecting fake news.
Justice for Michael Brown, and his descendants
Michael Brown – the fictional FBI agent who made fake news headlines – is the face of only one of billions of fake news stories to be published this decade. His kind aren't going away soon.
In order to bring his killer to justice (spotting the fake news bots and the people who control them), we need a technology that matches it strength for strength. It's far too challenging for us to spot the malicious or fraudulent relationships in a huge dataset without the right tools.
Graph databases aren't the only technology that can help solve the fake news problem, but they've already proven to be a powerful tool in the fight against fake news. We've only seen the beginning of what's possible.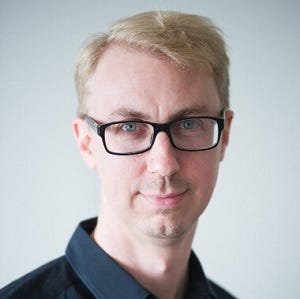 Emil Eifrem is CEO and Co-Founder of Neo4j.